Disney Deluxe Resorts
Out of all the Disney World Resorts, the Disney Deluxe Resorts are the most expensive and are considered to be in a different catagory according to its size and budget but they do offer more amenities and services. There are eight different properties that are considered to be Disney Deluxe Resorts. All of these Deluxe resorts offer beautifully landscaped grounds, top notch restaurants, elaborately themed pools, and enough services and amenities to keep everyone in the family happy. Another huge benefit is that most offer standard rooms that accommodate up to five people. Which is a must for our family when we travel. To help you find the perfect Disney resort or off site property try Hotel Guide - World Wide
.
The locations of these deluxe resorts provide an advantage that can't be beat. Three of these Disney World resorts, The Contemporary, The Polynesian and Disney's Grand Floridian are located on the Monorail loop which provides easy access to the Magic Kingdom and to Epcot. The Wilderness Lodge is also located near the Magic Kingdom which can be accessed by ferry boat or by bus.

The Yacht and Beach Club Resorts as well as the Boardwalk Inn are all within walking distance to the International Gateway entrance into Epcot and to Disney's Hollywood Studios. Even though the Animal Kingdom is not as conveniently located, it provides an unparalleled experience when it comes to observing wildlife from the balcony of your room.
Each Disney World resort has an unique theme which makes it easier than you might think to find one that will meet your needs and make everyone in the family happy too!
Have you found a Disney Deluxe resort that meets your needs and makes your family happy?
Click here to share your favorite Deluxe Resort and to make your recommendations about where to stay .
This Disney World Resort Lodge was designed to celebrate African wildlife, culture, cuisine and art so grab your safari hat and get ready for an adventurous stay at Disney's Animal Kingdom Lodge. This Disney World Resort opened in 2001 and is located near the Disney's Animal Kingdom Theme Park.


But, you don't have to leave the resort to get an up close view of African Wildlife. The resort is surrounded by 33 acres of savanna and grasslands where animals roam freely for guests to observe throughout their stay.
This resort is perfect for anyone who loves animals or likes to spend time learning about the African culture.
Disney's Boardwalk Inn
is a great place to stay if you like the energy and excitement found on the Boardwalk located behind the resort. We happen to love The Boardwalk for this very reason. There is always something going to keep us busy and/or entertained. Our favorite activity is people watching! Grab a seat on one of the benches found on the Boardwalk and you can amuse yourself for hours.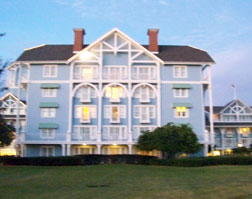 Disney's Beach Club Resort

is one of our favorite Disney World Resorts. One reason is because the resort has Stormalong Bay. This Disney Deluxe Resort has the best pool on Disney property! Another reason we like this resort so much is because of its location.

International Gateway, Epcot's back entrance is only a few steps away from the resort and Hollywood Studios is just a short ferry boat ride away. Guests can reach Disney's Boardwalk either by five minute ferry boat ride or by walking the path around the Lake.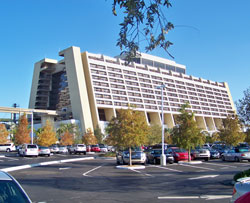 Disney's Contemporary Resort
is perhaps best known as the high-rise A frame structure that has the monorail running through it.

The convenient monorail service and the outstanding views the resort offer of The Magic Kingdom has long been a drawing card for many who are planning trips to Walt Disney World.

This Disney World resort also houses The California Grill, one of Disney's Signature restaurants and a character dinning restaurant, Chef Mickey's is located in the Grand Canyon Concourse on the 4th floor.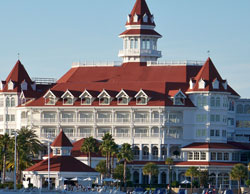 Disney's Grand Floridian Resort & Spa

is a Victorian-style Disney Deluxe Resort offering world-class dining, entertainment and luxurious accommodations. This Dsiney World resort is conveniently located on the Seven Seas lagoon and the Magic Kingdom Monorail loop.

To watch The Magic Kingdom's nightly Wishes fireworks, look for a seat out on the white sandy beach for the best view. This is also an excellent place from which to watch the Electrical Water Pageant as it is performed each night.

If you are looking for an upscale vacation experience, the Grand Floridian & Spa will pamper and spoil you in style.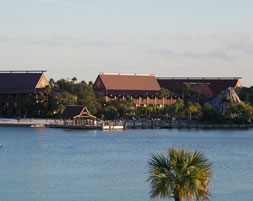 If you would rather stay some place tropical, then look no further than Disney's Polynesian Resort. This Disney Deluxe Resort has lush vegetation, thatched roofs, koi ponds and white-sand beaches make this resort a tropical paradise.

The resort has a relaxing environment that offers a warm welcome to guests looking for a respite from their hectic lives. Many guests prefer Disney's Polynesian Resort for convenience because it is located on the Magic Kingdom Monorail Loop.

Whatever your reason may be for wanting to stay at The Polynesian Resort the cast members or staff will make you feel like 'Ohana (family) from the moment you arrive.
The inspiration for Disney's Wilderness Lodge was taken from the National Park Lodges of the Great American Northwest. Just like Yellowstone National Park has Old Faithful that routinely erupts, This Disney Deluxe Resort has Fire Rock Geyser that shoots a 120-feet water plume up in the air every hour on the hour from early morning to 10:00 p.m. The lodge has a rustic charm that might just make you want to go camping.
Disney's Yacht Club Resort
is a Disney Deluxe Resort that is located next to Disney's Beach Club Resort. These two resorts share many restaurants, services and amenities such as the pool. Stormalong Bay is located behind the two resorts and is more like a small water park instead of just a hotel pool. The Yacht Club Resort is within walking distance to Epcot, Disney's Hollywood Studios and Disney's Boardwalk.
Recommend Your Favorite Disney Deluxe Resort
Which Disney Deluxe Resort would you recommend to your friends and family? Which property would you not recommend? We would like to hear about your experiences. Let us hear what you have to say.
What Other Visitors Have Said
Click below to see contributions from other visitors to this page...

We Love the Polynesian Resort Not rated yet
Our favorite Disney deluxe resort has always been the Polynesian. We do not visit Disney World all that often but every time we do, we always stay at …
If you can not find what you are looking for, you can search within our site by using the search box below.
Custom Search
Return from Disney Deluxe Resorts to Disney Resorts

Return from Disney Deluxe Resorts to Princess and Pirate Family Vacations Home