Disneys Polynesian Resort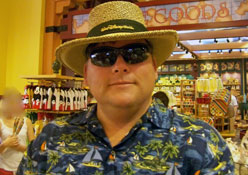 Disneys Polynesian Resort is one of the original hotels built at Disney World. The other original resort is the Contemporary Resort. Both are conveniently located near the Magic Kingdom which is accessible by Monorail.
The Polynesian has a family friendly environment that is casual and relaxing. The children say that the Polynesian is the perfect place for their daddy to wear one of his embarrassing tourist shirts. Why? Because the bright colors and bold flower prints fit right in with the theme of the Polynesian resort.
The Main building is called the Great Ceremonial House and it is the resort's main reception area. Here you will find the resorts main shops and restaurants.
The center of this great building resembles a tropical rain forest where water cascades over craggy volcanic rocks and coconut palms tower over more than 75 different species of plant life.
There are not any rooms located in the Ceremonial House. Instead, the rooms are housed in 11 2-story and 3-story village longhouses that flank the main building. All 847 luxurious rooms are decorated with rich tropical colors and furnished in traditional bamboo and rattan.
Disneys Polynesian Resort Rooms
Most standard rooms at Disneys Polynesian Resort includes two queen beds, a daybed, a small table with two chairs, a combination dresser and entertainment center with a flat screen television, a small desk with matching chair, two closets, a small refrigerator and a coffee maker. The rooms are decorated in earth tones like brown, green, and red; and are influenced by a modern interpretation of the resort's original South Seas theme.
If your family doesn't like the cramped feeling of staying in most hotel rooms then you will be glad to know that the resort has some of the largest standard rooms on Walt Disney World Resort property ranging from 415 -476 square feet. The maximum occupancy is five persons, plus one child under the age of 3. All first floor rooms have patios, and all third floor rooms have balconies. Only a few second floor rooms have balconies.
Bathrooms typically include a single or dual-sink vanity, toilet, and a bathtub. All rooms come equipped with an iron, ironing board, and a hair dryer.
All rooms are accessible by interior hallways like most resorts, but because the rooms are divided into separate buildings, it feels more like apartments instead of your typical hotel.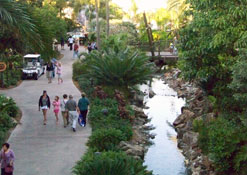 The tropical theme continues throughout the grounds of the resort with white sand beaches, torch lit walkways, lush landscaping, waterfalls, and koi ponds. The resort as a whole is very beautiful and it provides a peaceful haven in which to relax in after a hectic day in the parks.
Disneys Polynesian Resort Restaurants
Capt. Cook's - This quick counter service restaurant is located on the lobby level of the Great Ceremonial House. It is a good place to grab both pre-packaged and made to order items like sandwiches, salads or even just some fresh fruit.
'Ohana's Best Friends Breakfast with Lilo & Stitch - Start the day with Lilo & Stitch at this Character breakfast located at the 'Ohana restaurant. Mickey Mouse and Pluto have also been known to drop in to extend their Polynesian hospitality to you and your family. 'Ohana, in the Hawaiian language, means family. The food is served family style and includes American favorites like waffles, pancakes and eggs and breakfast meats like Hawaiian style pork sausage.
'Ohana Restaurant -Dinner is served family style and is all you can eat. Specialties of the house includes meat skewers roasted over an impressive 18-foot oak fire pit. You may choose from pork, turkey or steak, served with side dishes of stir-fried vegetables, noodles and dumplings.
There is a fixed menu so you do not order. Your server will simply deliver dish after delicious dish to the table. Occasionally, Polynesian singers entertain guests during the meal with hula dancing and coconut rolling contest.
Kona Cafe - is located in the Great Ceremonial House around the corner from the 'Ohana restaurant. The Kona Cafe serves a Asian inspired menu for breakfast, lunch and dinner. For lunch try the island chicken sandwich and homemade sweet potato chips. The dinner offerings include a selection of fresh fish, slow-roasted prime rib or coconut almond chicken. Entertainment during the meal comes from the open pastry kitchen that prepares divine desserts. Don't forget to try the Kona coffee. It goes perfectly with any dessert or meal.
The Disney's Spirit of Aloha Dinner Show at Disney's Polynesian Resort celebrates the rich traditions of the South Pacific within an open-air covered theater, including an all-you-care-to-eat, family-style dinner and spectacular live show with hula dancers and fire knife dancers. Guests share platters of authentic foods such as barbecued pork ribs, roast chicken, fresh pineapple, salad with mango poppy seed dressing garnished with Mandarin oranges, Polynesian-style rice and seasonal vegetable. Beer, wine and soft drinks are included for Guests 21 years of age or older (picture ID required).
We have only been to this show once and that was when the kids were very young. I spent more time trying to get them to eat and watch the show that it was not enjoyable for me. I would like to try it again now that the kids are older. Now I would have to opportunity to relax and enjoy the show.
Disneys Polynesian Resort Bars and Lounges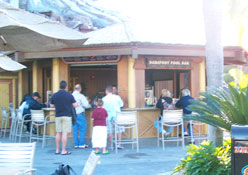 Barefoot Pool Bar - Located next to the Volcano Pool this thatched roofed bar serves beer, frozen tropical drinks and snack foods.
Tambu - Located at the 'Ohana restaurant, this bar serves Polynesian style appetizers, tropical drinks and has nice views of the Seven Seas Lagoon.
Disneys Polynesian Recreation and Activities
Arcade - Moana Mickey's Arcade is a high-tech game room located next to the Never Land Club. It has both classic arcade games and the latest in video game options. The arcade is open 24 hours and provides great entertainment for the kids and the occasional parent.
Beaches - Disneys Polynesian resort has three white-sand beaches that provide the perfect setting for sunbathing and sandcastle-building. Lounge chairs, cabanas and hammocks are available for guests to use which makes this a great place for viewing the Electrical Water Pageant or the fireworks at Disney's Magic Kingdom theme park area. Check your Times Guide to see what time the fireworks will begin.
Bike Rentals - Surrey bikes for 2 or 4 people are available at the marina.
Fishing - Excursion can be arranged at the Marina or by calling the Concierge at (407) WDW-BASS or (407) 939-2277.
Fitness Center
- Disneys Polynesian Resort does not have a fitness center but registered guests can use the facilities at the near-by Grand Floridian Resort free of charge.
Jogging Trails - There are several jogging trails at Disney's Polynesian Resort, including an enjoyable and scenic 1.5-mile jog on a trail around the Seven Seas Lagoon.
Mikala Canoe Club Marina - is located behind the resort and offers watercraft rentals, including canoes, canopy boats, pontoon boats, sailboats, and Sea Raycers. There are several different Specialty Cruises that can be reserved at the marina too.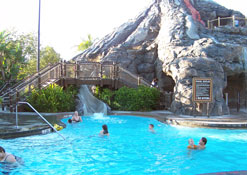 Swimming - The Nanea Volcano Pool, one of two heated pools at Disneys Polynesian Resort, features a 40-foot high volcano as well as a waterfall and a 142-foot tubular waterslide. There is also a children's wet-play area. The beach end of the pool is zero entry, and a specialized water wheelchair is available, allowing access directly into the pool. The Poly East Pool, also called the "quiet pool," is a nice change of pace if you are looking for a calmer experience.
Disneys Polynesian Services
Never Land Club - located near the bus stop, across from the Great Ceremonial House, is a supervised activity center for children ages 4 to 12 that is open daily from 4:00 p.m. to midnight for an additional fee. At this Peter Pan-themed play space, children are invited to play video games, enjoy dinner and snacks, watch Disney movies and interact with other kids their age.
Shopping at the Disneys Polynesian Resort
Bou-tiki - Disney clothing, resort wear, Polynesian style gifts, souvenirs. Located on the first floor of the Great Ceremonial House.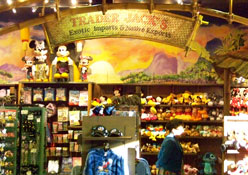 Trader Jack's - Gifts, children's fashions and toys, Disney Character merchandise, newspapers and magazines. Located on the second floor of the Great Ceremonial House.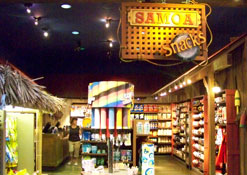 Samoa Snacks - Snacks, sundries, liquors, beer and wine. Located on the second floor of the Great Ceremonial House adjacent to Trader Jack's.
Wyland Galleries of Florida - Art with a sea theme, featuring marine-life artist Robert Wyland.
Disneys Polynesian Resort Transportation
Transportation from Disneys Polynesian Resort includes the Monorail which takes guests to the Magic Kingdom, Epcot via the Transportation and Ticket Center, the Grand Floridian Resort and The Contemporary Resort. Buses are available through out the day to take guests to Disney's Animal Kingdom, Hollywood Studios, Epcot, the water parks and Downtown Disney.
If you can not find what you are looking for, you can search within our site by using the search box below.
Custom Search
Return from Disneys Polynesian Resort to Disney Deluxe Resorts

Return from Disneys Polynesian Resort to Disney Resorts Return to Princess and Pirate Family Vacations Home