Epcot Center
Future World


Epcot Center opened on October 1, 1982. Its concept was based on Walt Disney's working model of a city of the future that he envisioned. Epcot is certainly a different kind of Disney Theme Park experience. The park is separated into two sections.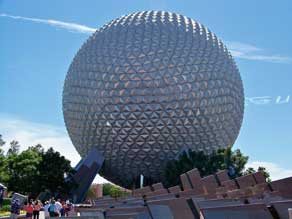 The focus in Future World is on research, invention and education in technology. You can also learn about some of our natural resources like the ocean and agriculture, all while using your imagination. If it sounds like school don't worry, Disney even makes learning fun!
While you are "learning" in Future World, don't forget to say hello to some of your favorite characters like Mickey, Minnie, Pluto, Goofy and even Chip and Dale. You can pose with them for the perfect picture at the indoor Character Spot. Just remember to say cheese and to smile. Do bring your autograph book, too.
Our children have done more than a little research in Future World at Epcot Center and offer their likes and dislikes on the eight pavilions in the form of Kid Commentary that can be identified with the icons below. When you see these icons, take a minute to read what the kids have to say.



Future World has a lot to offer in its eight pavilions. Click on the links below to do a little fun research for yourself. Click on the link provided to learn about the different special events offered at the Epcot Center throughout the year. Or for general Epcot Center Park Information click Here.
Or if you are interested in getting a closer look at any of the pavilions in Future World you might consider taking one of the Future World tours.


* The Seas with Nemo and Friends
* The Land

Future World Entertainment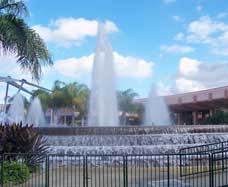 Innovention Fountain is located in the center of innovention plaza. Every 15 minutes the fountain springs to life and puts on a show of dancing water that is synchronized to upbeat music. The music plays randomly so you may not see and hear the same show twice. It is entertaining to watch and especially beautiful at night with the addition of dramatic lighting.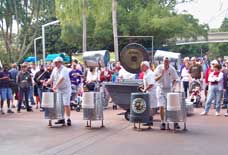 JAMMiters are young men who perform at different times throughout the day in the Innovention East and West breezeway. The members of the group use trash cans as drums and other percussion instruments to beat out interesting rhythms. Stop and take a few minutes to listen to them if you happen upon a show. It really is fun to see.

Future World Food Choices
Listed here are food choices that are not located in a specific Epcot Center pavilion. Information on the food choices located in the different pavilions can be found with the other information on their pages.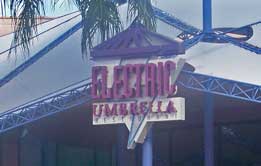 The Electric Umbrella is open for lunch and dinner daily. This fast food place serves burgers and fries, chicken strips, salads, wraps and a few desserts. This is a good place to stop and eat if you are leaving Future World and headed toward World Showcase but your children would rather not eat what you want to eat.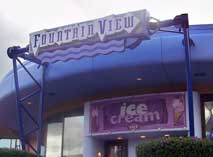 Fountain View is located in Innoventions West. They serve Edy's Ice Cream by the scoop and other fun ways like in floats, shakes and sundaes. If you really want to treat yourself, get one of their made-to-order ice cream sandwiches. Yum.
Joffery's Coffee has several locations throughout the park. The one in future World is located between Innoventions East and the Universe of Energy. They serve a variety of specialty coffees, fresh muffins and other pastries.
The Cool Cart is located near Test track. Enjoy an Ice cold beverage and a snack while you cool down from the hot Florida sun.
A Pizza Cart can be found across from the Cool Cart near Test Track. Grab yourself a hot individual sized pizza and enjoy.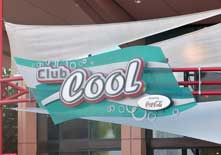 Club Cool is hosted by the Coca-Cola Company and is located in Innoventions West. Stop by and taste samples of popular Coke products from around the world. Some are good, some taste like medicine and some are down right nasty! At any rate, it is fun to try the different flavors and watch the people next to you make funny faces when it doesn't taste so good.

Club Cool is really cool. You can try soda from many different countries. Some are good but others are gross. The best part is that they are free to sample.

Future World Shopping
These are the shops that are not in a specific pavilion.



Mouse Gear: If you can't find what you are looking for at this shop then either it does not exist or you didn't really need it anyway. This place is huge. You'll be able to find everything from house wares, pet supplies, candy and clothing to scrapbook supplies and Christmas ornaments. It is a one stop shop for all of your Disney souvenirs.

The Art of Disney Epcot Gallery: This art gallery has a unique array of Disney collectibles. You can shop for animation art, production cels and character figurines.
Pin Central: Located in between Innoventions East and Innoventions West, they have a wide variety of pins available for collecting and/or trading. Have fun.
Click
Here
if you would like to view an Epcot Center Map and park guide.
To purchase Epcot tickets try
If you can not find what you are looking for, you can search within our site by using the search box below.
Custom Search
Return from Epcot Center: Future World to World Showcase

Return from Epcot Center: Future World to Princess and Pirate Family Vacations Home