Do you have a favorite Disney Food that you absolutely crave? Come on, you know the foods I'm talking about. These foods are the foods you can't leave Disney without having at least once while on vacation. I have so many favorites that it is difficult to choose just one as my favorite. I usually have a list of things I want to eat while on vacation at Disney World.
Click here to share your favorite Disney snack food, treat, or meal.
That being said, some of my favorite Disney Foods are snacks. More than likely, it's a snack food or a sweet treat that you crave too. Something that you normally would not indulge in but because you are on vacation you allow yourself to splurge.
The foods at Disney encompass a wide range in taste, style and price. So you can treat yourself to something simple like a Mickey shaped rice crispy treat or as extravagant as dining at the chefs table at Victoria and Albert's at the Grand Floridian Resort.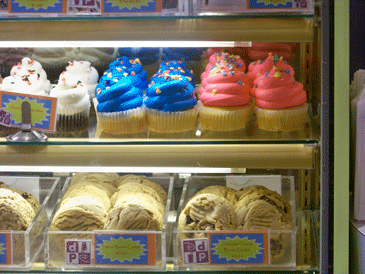 There is something about certain Disney Foods that attracts a huge following of people. The loyalty and devotion of some people is extreme and almost cult like. If you really want to follow the ins and outs of Disney Foods, visit The Disney Food Blog. I love to read the restaurant reviews and sometimes almost drool over the yummy looking pictures of food on the site.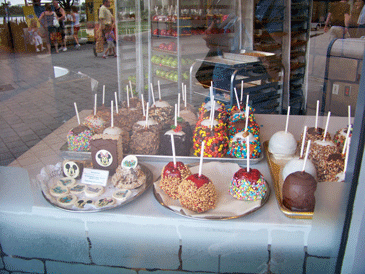 My absolute favorite treat is the made to order caramel apples at the Goofy's Candy Company located in the Downtown Disney Marketplace. I usually get my apple (a big crisp green Granny Smith Apple) dipped in Caramel, milk chocolate and then covered in mini M&M's. I can almost taste it now. The slightly sour taste of the apple and all that sweet goodness of the caramel and M&M's is simple delicious.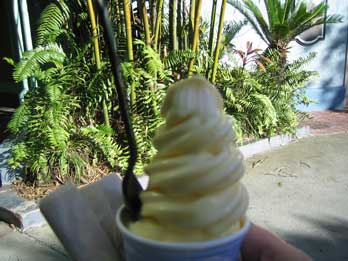 Photo courtesy of outletpro
Our kids have their favorite Disney Foods too. Our oldest daughter loves those little Mickey shaped waffles smothered in maple syrup. She also loves the Pineapple Dole Whip floats that you can get at the Aloha Isle snack stand in Adventureland in the Magic Kingdom. She will ask for these two treats until we finally allow her to have them. Of course we get to indulge ourselves too.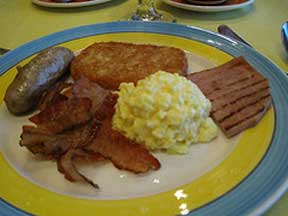 Photo courtesy of wyscan
We do not often eat a big breakfast at home in our family on a daily basis so our son enjoys going out to eat breakfast while at Disney. We usually go to a breakfast buffet so everyone can eat however much or as little as they want. He loves everything from the sausage and bacon to the pancakes, fruits and pastries that are offered on the buffet. He loads up several plates and eats until he can't eat anything else.
If we eat a late breakfast and book an early dinner, we can usually skip lunch and just grab a snack at some point during the day. Another favorite of our son is those giant smoked turkey legs that are sold throughout the parks. One of these huge legs is the perfect sized snack for a growing teenage boy.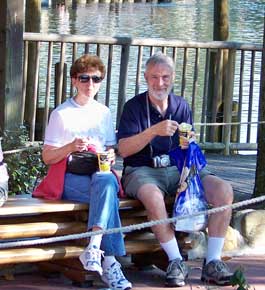 Now our youngest is often difficult to please when it comes to meals. For example, she doesn't eat breakfast so she hates it when we go out on vacation. But she loves simple snacks like the Frozen lemonade cups that are sold at the cold ice cream carts in just about all of the theme parks. She loves just about any ice cream treat for that matter.
Many people love the cheddar cheese soup from the restaurant in Canada while others go for the soft pretzels and beer from the Germany Pavilion. My husband and I both have a grown up frozen treat that we like to get from the France Pavilion over in Epcot. It is the Grand Marnier frozen cocktail that you can get from the stand located across from the Chefs de France restaurant.
The only other treat that I can't leave the park without really isn't a food at all. It is a drink. My Epcot experience would not be complete without a sugar rimmed Frozen Fiesta Margarita from the Mexican Pavilion. It is cold, refreshing, and fun to drink.
What is Your Favorite Disney Food?
Do you have a favorite Snack Food or Meal at Walt Disney World? Give us all the Yummy details!
What Other Visitors Have Said
Click below to see contributions from other visitors to this page...

If you can not find what you are looking for, you can search within our site by using the search box below.
Custom Search
Return from Disney Food to Disney Dining

Return to Princess and Pirate Family Vacations Home