Disney Resorts
The Disney resorts are divided into four different categories that are based on price and the amenities and/or services that are available at the resort. Choosing the right resort for your next Disney vacation can be simple and easy if you know a little information about each of the resorts. If you know what each Disney resort offers and you know your family wants and needs, you will be better prepared to make this important decision of where to stay on your next Disney vacation.
To help you in your research of Disney resorts and off site properties as well try
Hotel Guide - World Wide
.
Our family has stayed at many of the resorts at Disney. We will share our experiences with you so that you can choose for yourself what resort is right for your family. Let's face it. If you are not happy with where you are staying, your vacation will not be everything that you were dreaming it to be.
Each Disney Resort has benefits that off-property resorts do not offer. Listed below are some of these benefits.
* Disney's Magical Express. Disney's Magical Express service provides bus transportation to and from Orlando International Airport. Advance reservations are required to use this service.
* Disney Transportation. The use of Disney transportation to and from the theme parks, water parks, and downtown Disney are at your beck and call. Buses, watercraft and monorails carry you where you need to go.
* Key to the World Card. Your key to the world card, which is your resort room key, gives you the ability to charge your purchases to your room. This can be done by providing the front desk with a credit card number at check in. You can review an itemized bill at check out to make sure it is accurate.
* Package Delivery. Package delivery from the theme parks to your resort room is availale for free. This is a great service because you do not have to carry your shopping bags around all day.
* Extra Magic Hours. Extra Magic Hours are available daily for the theme parks. Usually, one theme park will open early for resort quests and another will stay open a few hours past regular closing time. This service allows for a little extra playing time.
These are just some of the services offered for resort guests. You get the idea that staying on property can make your vacation a little less stressful and a lot more convenient for everyone.
Another benefit to staying in a Disney resort that many people may not think possible is the fact that staying on Disney property could actually save your family money. How? By taking advantage of the All-inclusive-Disney vacation packages that are offered by Disney. Bundling your vacation into one Magic Your Way package could not only a money saver but a time (and frustration) saver for your family as well. Take advantage of Disney's seasonal and free dining specials and your could save even more on your Disney family vacation.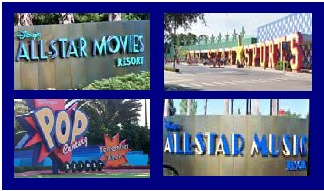 There are different categories of Disney Resorts. The Disney Value Resorts allow you to stay in the middle of the magic without blowing your budget. And you get to take advantage of all the services mentioned earlier too. All Disney Value Resorts are basically the same as any standard hotel but with a few Disney touches thrown in to make your stay a little more fun and exciting.
The rooms are small but comfortable. Be aware that you will not find hairdryers or those cute little toiletries in the bathrooms.
Each resort has one or more themed pools, but they do not have slides or hot tubs at the value resorts.
There is not a casual sit down restaurant at the value resort,s but there is one counter service eatery available at each value resort.
Disney bus transportation is provided to take you to the theme parks, water parks and to Downtown Disney.
Disney's Value Resorts are good for families on a budget, but keep in mind that with the decrease in price, you also give up some of the conveniences that you might be used to from a more expensive resort.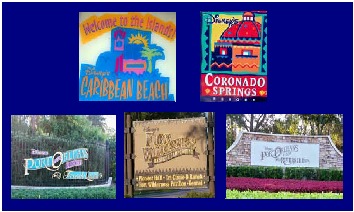 Disney Moderate Resorts have more to offer than the value resorts. The rooms are slightly bigger at around 300 square feet. Value resorts have only 260 square feet. Mini toiletries and hairdryers are provided in each room as are coffee makers and small refrigerators.
All of the moderate resorts have both a casual restaurant and a counter service food court.
The pools are themed and have slides for the children to enjoy. There are also hot tubs for the grown ups to enjoy.
The Moderate Resorts are more elaborately themed and have more of a resort feel to them instead of a hotel feel like the Value Resorts.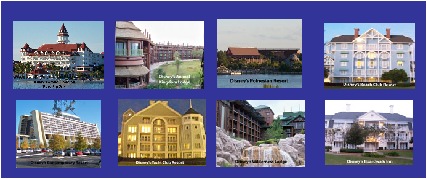 Disney has eight Deluxe Resorts. Each one is elaborately themed and beautifully decorated and landscaped. The lobbies of these resorts are big and some are quite beautiful. The lobbies at Disney's Animal kingdom lodge and wilderness Lodge are very detailed and breathtaking.
Most Disney Deluxe Resorts are located close to the theme parks and have more than one form of Disney transportation available.
The rooms are even bigger than the Moderate Resort rooms and instead of double beds, they have Queen beds.
Most Deluxe Resorts have a counter service restaurant and more than one casual dining restaurant. Character dining is available at most of these resorts.
The pools are larger and themed with slides and hot tubs. Each resort also has a fitness center and offers limited spa treatments.
The Disney Vacation Club Resorts have the same amenities and services as Deluxe Resorts. The difference is in the room sizes that are available. The Disney Villas offer room sizes ranging from studios that can sleep four people to three bedrooms that can sleep up to twelve people. The villas have more of the comforts of home available. Studios have kitchenettes that have a small refrigerator, a sink and a microwave. Larger rooms have full kitchens, washers and dryers, one or more full bathrooms and a separate living area.
As you can tell, you have a wide variety of Disney Resorts to choose from. To see what Disney resort would best fit your needs, take time to research each resort before you make your decision. I'm confident that you will find something you like.
If you can not find what you are looking for, you can search within our site by using the search box below.
Custom Search
Return From Disney Resorts to Princess and Pirate Family Vacations Home