Is a Disney Value Resort the Right Choice for your Family?
The choice to stay at a Disney Value Resort can make staying on Disney property a little more affordable for the family on a budget. Now that your decision has been made to take a Disney vacation, it is time to think about where you would like to stay when you get there.
Would you really like to stay at a Disney resort but think that it would just be too expensive? Well, it doesn't have to be. If your funds are limited or you would rather save your money to spend on other things, then a Disney Value Resort just might be the perfect choice for your family. Staying and playing at Walt Disney World on a Budget might seem like a difficult task but it is not impossible.
Staying in one of Disney's Value Resorts is a great way to save money and take the worry out of your vacation. I guess you could say that it is a way for you to have your cake and eat it too. Once you try out one of these resorts and decide you like, it tends to be hard to stay in anything but a Value Resort while vacationing at Disney.
Regardless of if you decide to stay in one of Disney's Value Resorts or at a resort off property, Hotel Guide - World Wide
provides a good starting point for your research.
Do you have a favorite Disney Value Resort? Click here to share your favorite Value Resort and to make your recommendations about where to stay .
All of our children get so excited about a trip to Disney that they just can't wait to get there. Not only because they can't wait to go to all of the parks, but they also get excited about the resort we will be staying at. Their excitement is due to the fact that staying on property at a Disney Resort adds to the fun and excitement of the whole Disney experience.
Our family usually decides where to stay on a Disney vacation based on the number of nights that we plan on staying. If we are only going for a quick trip or for a long weekend, we do not like to pay a lot for accomadations because we will not be spending that much time in the room. A Disney Value Resort is a good choice for this kind of quick trip.
Rooms at all of the Disney Value Resorts are standard size hotel rooms that have either 2 double beds or 1 king bed. That's not a tremendous amount of space, but each room provides a comfortable place to sleep after a long day of running around in the parks. And of course each room is decorated according to the unique theme of the resort which adds to the fun of the vacation for the children.
If your children love everything about sports then you might want to check out the Disney's All-Star Sports Resort. It might be the right choice for your family.
The theme is sports so the buildings are decorated with HUGE sports equipment like baseball bats, basketballs and even surf boards and lifeguard stands. The pools are cool sports shapes too.
But don't fret if sports just aren't your thing. There are two other resorts in the All-Star family.



Disney's All Star Music Resort is themed around different styles of music like rock, country and jazz. This resort is also the only one in the value category that offers family suites. Each suite can sleep 6 people. This option provides a great alternative to reserving two connecting rooms for your family.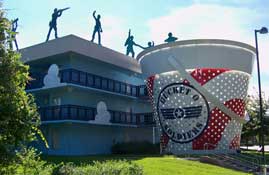 Disney's All Star Movies Resort is a value resort with a theme that is centered around some of Disney's popular movies like Toy Story and Herbie: The Love Bug. This resort ranks high with small children because of the larger than life sized movie characters that decorate the buildings and the courtyards of the resort.
If you just can't find an All Star resort that appeals to you, then check out the last resort in the value resort category.







Disney's Pop Century Resort is a Disney value resort that has a theme that is built around pop culture of the 50's through the 90's. It has fun reminders of days gone by that bring back a feeling of nostalgia.
Do you or your children have a favorite Disney Value Resort?
Recommend Your Favorite Disney Value Resort
Which Disney Value Resort would you recommend to your friends and family? Which property would you not recommend? We would like to hear about your experiences. Let us hear what you have to say.
If you can not find what you are looking for, you can search within our site by using the search box below.
Custom Search
Return from Disney Value Resort to Disney Resorts Page

Return to Princess and Pirate Family Vacations Home