Disney's All-Star Movies Resort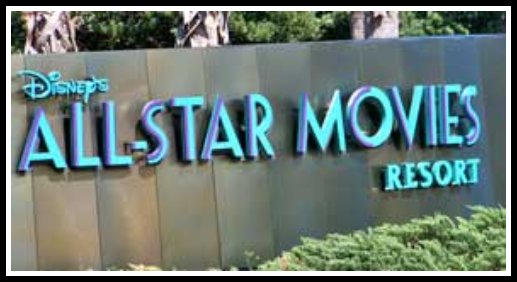 Do you have a favorite Disney Movie? Disney's All-Star Movies Resort is the perfect place to stay for any Disney movie fan. In my opinion, the success of Walt Disney World is in part due to Disney's beloved movies.
Think about it. Most, if not all of the rides and attractions at the theme parks are based on Disney movies.
One of my childhood memories is sitting in front of the TV on Sunday night at 7:00 pm with my sister waiting for The Wonderful World of Disney to start. It didn't matter to us what the movie was, we wanted to see it just because it was a Disney movie. I think that is when my love of all things Disney started, on Sunday nights watching Disney movies on TV.
Every time we vacation at Disney we get to revisit or relive our favorite Disney movies. You can be part of the fun and excitement of some of Disney's movies by staying at the All-Star Movies Resort. Only five movies are in the spotlight at this resort but I bet you will see one that brings back some fun memories for you and your family.
Just like the other All-Star resorts at Disney this resort has 1,920 rooms that are all housed in ten buildings. Each movie represented at the resort has two buildings decorated with its theme. The rooms are decorated to match that overall theme. And the exterior of the buildings are outfitted with huge movie characters that will amaze and delight the young and old alike.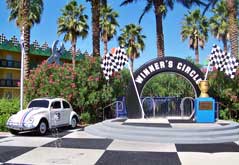 The movies highlighted or celebrated at this resort include Toy Story, Herbie: The Love Bug, Fantasia, The Mighty Ducks, and 101 Dalmatians. With such a wide variety of Disney movies represented, you are bound to find one that brings back special memories.
Herbie: The Love Bug is special to our family. Why? Because my children's beloved Grandma Neenie drove a white 1968 VW bug convertible. She absolutely loved that little car. And we love Herbie!. #53 rocks and he sits in the winner's circle at the resort.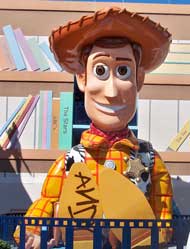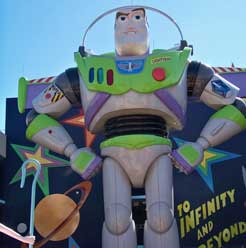 The All-Star Movies Resort has giant movie reminders ranging from Buzz, Woody and little Green Army Men to Pongo, Perdita and 99 spotted puppies. All of this big movie fun adds character to this Disney value resort. Even the lights in the rooms continue the movie theme with popcorn or star shaped fixtures.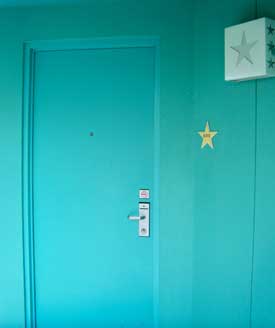 Just like the other All-Star Resorts, the rooms are standard size hotel rooms with 260 square feet. A bit small, but this is a value resort. Each room has either one king bed or two double beds. It has a small bathroom with tub, toilet and one sink and vanity. The furniture in the rest of the room consists of a night stand, a dresser, a table with two chairs and a TV. You will not find a hairdryer or an iron/ironing board in the room. You will need to call housekeeping to request these items. All rooms open to outside hallways. Disabled accessible rooms are also available.
The main building of the All-Star Movies Resort is Cinema Hall. This is where you we find the front desk and lobby for the resort. The food court and gift shop are also in this building. The food court has several counter service areas with a fairly good variety of foods available. But remember that this is the only dining location at this resort so you might have a bit of a wait during peak dining hours. Pizza delivery is also available in the evenings.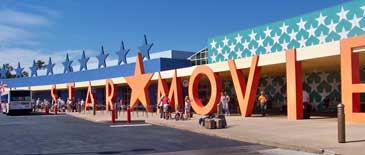 Outside of Cinema Hall you will find bus transportation to all of the theme parks. The buses run about every 20 minutes.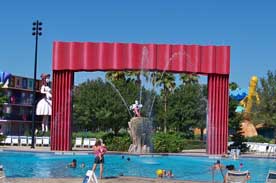 There are two swimming pools at the resort. The Duck Pond is located between the Mighty Ducks buildings. The main pool is Fantasia Pool. It is located near the Fantasia buildings and behind Cinema Hall. This area also has a kiddie pool for the younger crowd. Don't forget to bring towels from your room as they are not provided by the resort at the pool area.
Over all, Disney's All-Star Movies Resort is a great choice when you are planning your next family vacation. It provides the basics in service and accomodations. A stay here offers BIG fun at a small price.
If you can not find what you are looking for, you can search within our site by using the search box below.
Custom Search
Return from All-Star Movies Resort to Disney Value Resorts.

Return from All-Star Movies to Princess and Pirate Family Vacations Home