The Disney Dining experience can be good or it can be bad. With over 179 different places to eat at Walt Disney World, the choices can certainly be overwhelming. The ever present question of "what's for dinner?" takes on new meaning when you are vacationing at Disney World because there are so many choices available it is often difficult to make a decision. So, how DO you decide when and where to eat?
The best answer I can give you, based on the past experiences of our family, is to be prepared and plan ahead. This concept sounds simple but keep in mind that planning ahead goes against the norm for us most of the time. Usually we just wing it and the results are often disastrous. Deciding where to eat at the last minute is frustrating at best and disappointing in the worst case senario.
Why disappointing? Because most, if not all, of our favorite table service restaurants are booked well in advance resulting in us not being able to eat at our first choice in restaurants. Occasionally, we luck out and find something at the last minute because the restaurant has had a cancellation or a no show. BUT the chance of that happening is few and far between. So we usually end of eating at one of Disney's many counter service restaurants instead.
How do you avoid this frustration and disappointment? Do plenty of research and plan ahead of time before you leave for your vacation. Planning ahead will help you decide when and Where to Eat at Walt Disney World. Last fall, we decided to give this planning concept a try as we were using the Disney Dining Plan for the first time. It forced us to plan out each days worth of meals in order to make the dining plan worth the money. The result was a pleasant trip without all the last minute scrambling to find a place to eat.
Using the Disney Dining Plan is an expensive upfront cost but it was worth the money for our family because it allowed us to try some of the pricier menu items that we would have normally avoided because of the expense. In some cases, the price of one entree is more than the entire cost per day of the dining plan. It was like getting the counter service meal and snack for free.
There is no doubt that Dining at Disney is expensive. But, there are a few ways to cut cost and to save a little money. The Dining Plan was good bargain for our family but if it will be difficult for your family to justify the upfront cost of the plan there are other ways to save on your food costs while at Disney.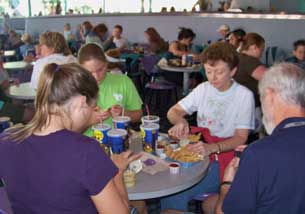 Most of Disney's table service restaurants are booked well in advance so I would suggest that you decide early which restaurants you would like to try then have a backup list prepared just in case you can't get in at your first choice. With list in hand and your reservation number handy call 407-WDW-DINE or log on to use the Disney Advanced Reservation system. Most Restaurants at Disney allow guests to book a reservation 180 days in advance so, if there is a restaurant you really, really want to try call or go online early on that 180th day. If you can't get your first choice on the first try, call on go online daily after that because reservations often open up as other people cancel. If you can't get your first choice, go ahead and book your second or third choices so that you want end up without a reservation.
We booked at least one table service restaurant per day of our trip because we were using the basis dining plan. Once we had a reservation, we then decided which park we would go to that day so that we would already be where we were dining that day. This strategy cut down on the amount of time that could have been wasted by running from park to park or to another destination.
Doing research doesn't sound like much fun but it is important for several reasons. By finding out about the many different restaurants you can make an informed decision about which restaurant best suits your individual or family needs. Some important things to think about and to consider when making a reservation include the types of food served, the atmosphere of the restaurant and if there is any type of entertainment available. Is it one of Disney's many kid friendly restaurants or is it better suited for a romantic dinner for two?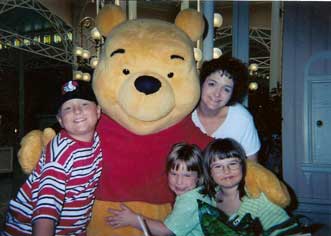 When I say Kid friendly, I am speaking more in terms of entertainment and atmosphere instead of menu options because most Disney restaurants have a standard kids menu available to children ages 3-9 that includes typical kid favorites like chicken nuggets, burgers, and pizza. A great kid friendly option would be a character meal. Booking one of these meals can be fun for the whole family.
When planning your Disney Dining experience and making reservations, keep in mind that only table service restaurants require reservations. Disney's quick counter service eateries and snacks from venders or shops are first come first served. I hope this information has been helpful and I wish you happy eating and a stress free Disney dining experience.
If you can not find what you are looking for here at Disney Dining, you can search within our site by using the search box below.
Custom Search
Return From Disney Dining to Princess and Pirate Family Vacations Home