Downtown Disney Marketplace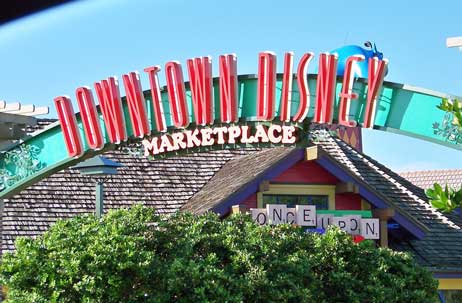 The Downtown Disney Marketplace is a family friendly environment that is enjoyable for family members of all ages. The Marketplace is a great place to enjoy the Magic of Disney without necessarily having to spend an outrageous amount of money.
The Downtown Disney Marketplace reminds me of a giant outdoor mall. And as with any mall, the Marketplace offers plenty of window shopping opportunities. I said that you could enjoy this area without spending a lot of money because it never hurts anyone's wallet to do a little window shopping at the mall now does it?
The shops in the Marketplace section of Downtown Disney offer a wide range of merchandise that will delight everyone in your group. The Once Upon a Toy toy store is a dream for any child but their parents might just think it a nightmare because they probably will not be able to get out of the store without purchasing at least one toy.
Even though most shops in the marketplace have a Disney theme, some shops do not. There are also shops that cater to teenagers, the sports enthusiast, the gourmet cook, and the artist.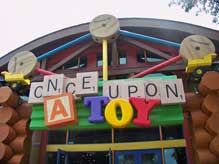 Click on the link provided to see a complete list and short description of all of the Downtown Disney Marketplace Shopping opportunities that are available.
Not only is there plenty of shopping available in the Marketplace section but there is also a variety of restaurants and eateries available as well. Most of these are what Disney considers to be quick counter service restaurants and snack shops but there are also several nice sit down restaurants too.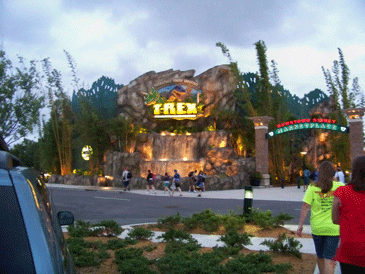 We usually visit the Disney's Marketplace every time we take a Disney family vacation so we have tried many of the restaurants that are available. On our restaurants page you can see what each establishment offers and which ones are our favorites.
Most of the entertainment at Downtown Disney takes place in the section known as (Downtown Disney Westside). The Marketplace section does however offer a few things that you can take part in or observe as you stroll along doing your window shopping.
My favorite thing to do, that doesn't cost a dime is to find a comfortable bench, sit back, relax and watch the people go by. It provides all the entertainment I need. Why does people watching fall under the entertainment category? Because I think that people are truly funny to watch.
If you can not find what you are looking for, you can search within our site by using the search box below.
Custom Search
Return from Downtown Disney Marketplace to Princess and Pirate Family Vacations Home