Downtown Disney Stores : Marketplace
There are many Downtown Disney Stores located on the Marketplace side of Downtown. All of these shops are family friendly and fun to walk through even if you are just doing a little window shopping.
Listed below are the Marketplace Downtown Disney Stores with a brief description so you will know which store you would like to shop at during your next visit to the resort. I feel sure you will find a store that will appeals to your personal preference and style. Have fun and remember that window shopping doesn't cost a thing.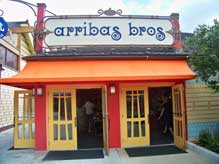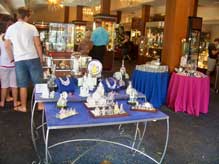 Arribas Brothers - is located in Downtown Disney's Marketplace, between Basin and Team Mickey Athletic Club. At Arribas Brothers guests can find a selection of full-lead crystal from around the world and marvel at the artists as they engrave and decorate custom designs. Many Swarovski items are also available with Disney themes. When our girls were little we bought them each a Cinderella Slipper that had their birthstones in them. They still have them to this day. Parents need to be aware that this shop has many breakable items that are within reach of little hands.
The Art of Disney - This Downtown Disney store has a huge collection of limited edition Sericels, lithographs, original paintings, sculptures, collectible figurines including the Walt Disney Classics Collection, crystal, Lenox, etc. The range of prices makes this appealing to both the serious collector and those wanting something special on a modest budget.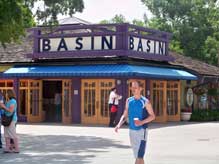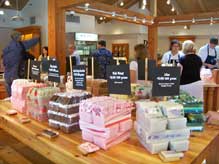 Basin - located behind Ghirardelli® Soda Fountain & Chocolate Shop and next to and behind World of Disney. This Downtown Disney store specializes in natural bath and beauty products. I have bought and used my share of bath salts, body creams, and giant fizzy balls but my favorite purchase is the small bags of variety scrap soaps that are sold next to the registers. You never know what fragrance or design you will get until you open the bag up at home. I love surprises!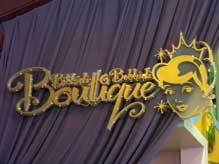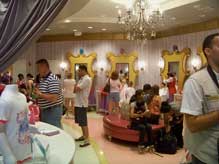 The Bibbidi Bobbidi Boutique - is tucked inside the World of Disney Store. At this special salon, girls (ages 3 and older) can be magically made-up into princesses, and boys (ages 3 and older) can get the Cool Dudes Package for their own terrific transformation!
Disney Tails - sells Disney-themed toys, fresh-baked treats and personalized ID tags for your pets.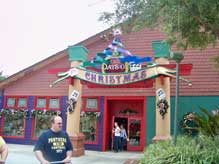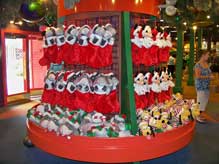 Disney's Days Of Christmas - Guests can celebrate Christmas all year long and get into the holiday spirit at this Disney Christmas shop. This special Downtown Disney store features Christmas collectibles, ornaments, animated figurines and other holiday accessories, including Hanukkah merchandise.
Disney's Design-A-Tee - One of the newest Downtown Disney stores, this is a fun custom T-shirt shop that is THE place to design wearable souvenirs and commemorative apparel. You can select your favorite T-shirt color, size and style, and choose from more than 400 pieces of character art. Add a pre-written phrase, or embellish your shirt with your own words. Then, watch your design as it's made! It makes for a fun way to celebrate a special occasion.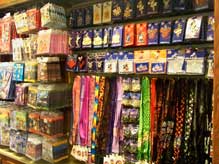 Disney's Pin Traders - is the biggest pin-trading location with the largest assortment of pins anywhere in Walt Disney World Resort. This open air shop is where you'll find almost every Disney pin imaginable. There are hundreds of pins displayed by characters as well as Limited Editions. Pin trading sessions are also hosted here. Pins are an inexpensive souvenir.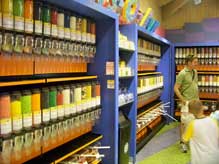 Goofy's Candy Co. - Of all the Downtown Disney stores this one is my favorite. Our family's Disney vacations would not be complete without a trip or two to this awesome sweet shop. Our favorite treats include the made to order caramel and chocolate dipped apples, marshmallows and rice crispy treats. We also love the cupcakes, cookies and the fudge. My blood sugar is going up just thinking about it all. In addition to the make your own options, there are pre-packaged candies and novelties for sale as well as glass displays that are filled with tempting treats of all kinds.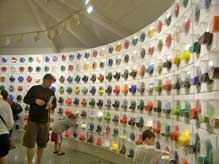 LEGO Imagination Center - You can find just about every type of Lego that is available here at this Downtown Disney Store. They have everything from the simplest set of blocks to the latest kits, clothing and games. Outside of the shop is a 3,000 square foot play zone. There are amazing Lego creations found around the shop, including a "sea serpent" in the lake. This is a great photo spot.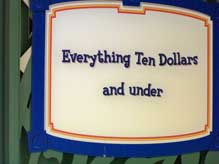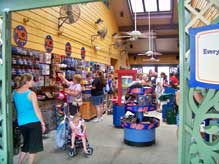 Mickey's Mart - 'Everything Ten Dollars and Under' - One of my favorite stores is The Dollar Tree and Mickey's Mart is the Disney Version of this shop, only everything is $10.00 and under. You can find bargains and deals on gifts and souvenirs. You can get the kids something they want and like without breaking the bank.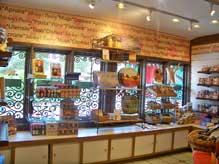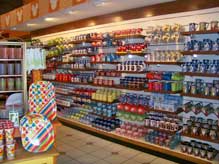 Mickey's Pantry - is located in the back of Downtown Disney's Marketplace, between Once Upon a Toy Store and Wolfgang Puck Express. This shop features many different types of mugs, dishes and utensils for decorating their kitchens with Disney-themed items.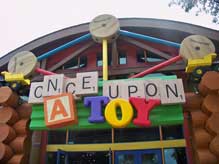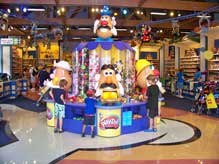 Once Upon A Toy - This store is for children of all ages. There are giant Lincoln Logs and Tinker Toys out front of the store which makes it very inviting. This shop has every Disney themed toy imaginable. Children love to stay and play and parents just want to make it out without going bankrupt.
The Rainforest Cafe Shop - is located in the Rainforest Cafe. They carry a full line of Rainforest themed merchandise including clothing, mugs, jewelry, private label condiments, postcards, toys, candy, mugs, and much more.
Rawlings Making the Game - desk is located inside of the Team Mickey Athletic Club. This is where you can purchase customized baseball bats, ball and mitts.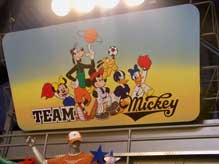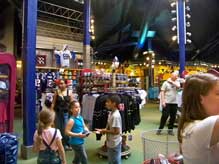 Team Mickey Athletic Club - Are you a sports fan? If so then this is the perfect shop for you or any sports enthusiast. They carry Disney themed sportswear for virtually all sports including golf apparel and accessories, athletic jerseys and footwear, ESPN brand merchandise and a limited selection of sports memorabilia. You can find a large selection of sports gear with your favorite College or Professional team too.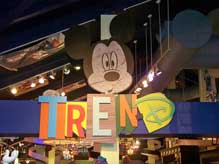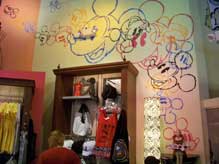 TrenD - is a new stylish boutique in Downtown Disney. It is the place to find the most chic, edgy and up-to-date Disney fashions and accessories-plus exclusive merchandise from cutting-edge designers. To find your favorite Disney designs try Disney Style Couture & More now open at DisneyStore.com! Shop Now!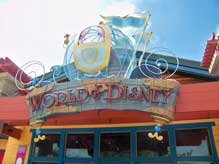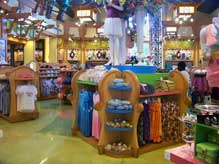 THE World Of Disney Store is the largest Disney character store in Walt Disney World Resort-and on Earth! It has everything you could possibly think of as far as Disney merchandise goes. This massive store has 12 rooms that overflow with an overwhelming collection of items, including: Men's, women's and kids' apparel, Disney Character merchandise, Collectibles, Arts and crafts, Baby needs, Food and candy, Plush toys, Pirate and princess accessories, Trading pins, and Watches. If you can't find what you are looking for here then it does not exist.
Return from Downtown Disney Stores to Downtown Disney Marketplace

Return from Downtown Disney Stores to Princess and Pirate Family Vacations Home