Click here to share your favorite Disney Counter Service Restaurant.
Feel better? Well you should. Over the past few years Disney has added new healthier options for their health conscious guests who want to eat well. In addition to adding new menu options, they have phased out the use of products that contain trans fats and added hydrogenated oils.
Although you can still get the typical fast food meal of a burger and fries or chicken fingers at most locations, you can also get healthier items like fresh fruit, grilled chicken sandwiches, and salads.
Kids' meals have healthy alternatives now too. Each meal comes with a beverage choice of low fat milk, 100% fruit juice, or water and a side of unsweetened applesauce, baby carrots or a fresh fruit like grapes. If your child refuses to eat anything good for them, you can substitute fries and a soda instead of the healthy stuff.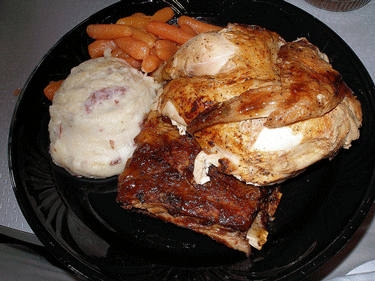 Photo courtesy of sanctumsolitude.
Depending on the location, each restaurant also has several specialty items available as well. For example, Cosmic Rays in the Magic Kingdom has rotisserie chicken and BBQ ribs on the menu and El Pirata y el Perico Restaurante has tacos and taco salads on the menu.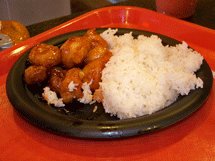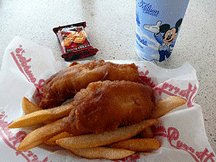 Fish and Chips photo courtesy of sanctumsolitude.
Epcot's counter service restaurants in the world showcase have an international flair with menu items that represent the food of the country it represents. The United Kingdom's outdoor fast food shop serves fried fish and chips and China's Lotus Blossom Cafe serves egg rolls, honey chicken and beef noodle bowls.
If you are craving a burger while in the world showcase, the Liberty Inn in the American Adventure has all of your American favorites. With so many different choices available, it is easy to find something to please everyone in your group.
The Disney restaurants at Hollywood Studios include several table service options and plenty of counter service options too. Toy Story Pizza Planet offers individual pizzas and salads and it has an arcade area with games to entertain the kids while the parents rest up a bit. The Sunset Ranch is an outdoor counter service area that has a wide variety of food served at several different counters. There are also plenty of opportunities to grab a quick snack on the run or a sweet treat to satisfy your sweet tooth.
Disney's Animal Kingdom has a counter service restaurant called Flame Tree BBQ that serves BBQ sandwiches, ribs, corn on the cob and baked beans. If you ask me, that doesn't sound like fast food at all. It sounds like delicious food served quickly in a convenient setting. You can't beat that.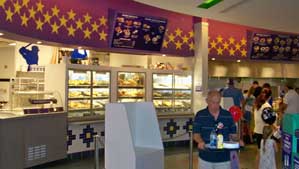 So far, I have only mentioned the counter service restaurants that are located in the theme parks , but you shouldn't forget that Downtown Disney the Boardwalk and most if not all of the Disney resorts have counter service restaurants as well. Just find one you think you might like and give it a try. The biggest benefit of eating on the run at a counter service restaurant is that you don't have to give up an hour or more to sit down and order a meal. You can eat then get right back to the action. It is fast, easy and relatively stress free.
To find out more about these counter service Disney restaurants please visit the restaurant section on our other pages. For example, on our Magic Kingdom page click on any of the park sections like Main Street, USA then scroll down to the dining section. If you still need more information, you should visit the official Disney website or allears.net.
What is Your Favorite Counter Service Restaurant at Disney?
Do you have a favorite Counter Service restaurant at Walt Disney World? Or is there a restaurant that you would not recommend? Give us your review.
What Other Visitors Have Said
Click below to see contributions from other visitors to this page...

If you can not find what you are looking for here at Disney Restaurants, you can search within our site by using the search box below.
Custom Search
Return From Disney Restaurants- Counter Service Eateries to Disney Dining
Return to Princess and Pirate Family Vacations Home