Disney Boardwalk Villas
The Disney Boardwalk Villas provides plenty of opportunities for fun and excitement. Guests of this Disney Vacation Club Resort can spend hours playing at the pool, gaming it up in the arcades, or they can find interesting activities to take part in at the resort's community hall.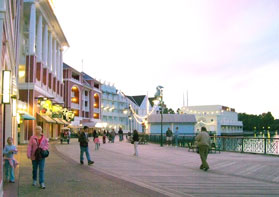 At night, the Boardwalk comes to life with live entertainment in the form of shows from street performers like jugglers, and magicians dazzling young and old alike with magic acts. If you want to take a more active part in the fun, try your hand at the midway games that are available at a nominal cost.
With so many things to do and to experience at the Disney Boardwalk Villas, you might not even want to venture out and into one of Disney's theme parks but if you do, the Boardwalk Villas is centrally located between the back gate entrance into the Epcot Center theme park and Disney's Hollywood Studios. Guests can walk to both of these parks or take one of the water taxis otherwise known as a friendship boat that can be accessed from the boat launch located on the boardwalk.
Disney Boardwalk Villas
Rooms
Just like the other Disney Vacation club resorts the rooms at the Disney Boardwalk Villas are available in several different sizes. The smallest room is known as a studio unit and the largest is called a three bedroom grand villa. A studio unit can sleep up to four and three bedroom units can accommodate up to twelve people.
These home-away-from-home vacation club rooms have more to offer than regular hotel rooms. To see everything that these rooms at the Disney Boardwalk Villas have to offer, please see the detailed list at our Disney Vacation Club Resorts page.
Disney Boardwalk Villas
Restaurants
There are many dining opportunities at the Disney Boardwalk Villas. To view a menu from these popular restaurants please visit Disney's new advanced reservations system.
Big River Grille & Brewing Works - is open for lunch and dinner at Disney's Boardwalk. It is not only a restaurant that serves sandwiches, salads and specialties of the house, like pan-seared Ahi Tuna, Flame Grilled Meatloaf and New York Strip Oscar but it is also is a microbrewery. The floor-to-ceiling glass walls in the Big River Grille & Brewing Works restaurant provide a glimpse into the beer-making process.
Boardwalk Bakery - This small bakery located on the Boardwalk whips up delicious treats as guests watch from the window. Available treats include cupcakes, brownies, tarts, donuts, and muffins. We like to get up early to get a hot cup of coffee and a chocolate croissant.
ESPN Club - a full-service restaurant and bar that serves American fast food, hamburgers and deli sandwiches, salads and wings with pitchers of beer and specialty drinks. Grab a juicy burger and brew as you catch the big game on a 90 square-foot high-definition video wall. Select from the hottest ESPN shows such as Sports Reporters and Up Close, as well as high-spirited sports-radio talk shows. You can watch your favorite sport on one of 100 video monitors with satellite feeds. You won't miss a minute of the game-TV monitors are even located in the bathrooms!
Flying Fish Café - on Disney's Boardwalk only serves dinner. The focus of the menu is on fresh fish and seasonal ingredients. Specialties are prepared before your eyes in the on stage kitchen.
Seashore Sweets - This sweet shop has homemade candy confections including fudge , hand dipped ice cream and soft serve frozen yogurt.
Kouzzina - is a new restaurant at Disney's Boardwalk. At this new restaurant you can savor celebrity chef Cat Cora's time-honored Mediterranean family recipes and personal favorites. The menu consists of creative and flavorful dishes that are cooked to order in the Kouzzina's wood-burning grill and oak-fired ovens. Some of the menu options are Oak-grilled steak and pork, Greek spinach pie (spanakopita), Lamb, Fresh seasonal seafood, Calamari, and Greek salad. Greek donuts or baklava are available for dessert.
Pizza Window - Not in the mood for a long sit down meal? Then walk up to the pizza window on the Boardwalk and place an order. You can order by the slice or the pie. You can watch the people on the Boardwalk while you wait for your dinner. Beer and Sangria are also available.
Disney Boardwalk Villas
Bars and Lounges
It is becoming easier and easier to find a place to order and enjoy an alcoholic beverage while vacationing at Disney World. Guests of the Boardwalk Villas have access to several Bars and Lounges. You will find them listed below:
Atlantic Dance - A full bar is located in the dance hall. Enjoy a cocktail while watching music videos or listening to the DJ plays some of the latest tunes.
Belle Vue Lounge - This full bar is located off from the lobby in the Inn. Enjoy a cocktail while listening to old time tunes from antique radios.
Big River Grille & Brewing Works - Sample the specialty beers and ales from this brewpub.
ESPN Club - Watch your favorite team at this ultimate sports bar.
Jellyrolls - This dueling piano bar is a fun, high energy night club. They serve beer and other cocktails.
Leaping Horse Libations - This grill and bar is located next to Luna Park pool. From 11 a.m. until dusk you can get Deli sandwiches, hot dogs, salads, ice cream, beer and specialty drinks.
Disney Boardwalk Villas
Recreation and Activities
It has been our family's experience that if the children are not kept busy, boredom sets in quickly. One would think that spending the day in one of Disney's four theme parks would satisfy their need to go and do, but even after running around in one of the parks for 8-10 hours the children still want to know what they will be doing next. Although mom and dad may want to relax a bit, the children want to keep busy.
The Boardwalk Inn and Disney's Boardwalk Villas has become our favorite resorts because both offer plenty of activities and entertainment opportunities that will keep everyone busy so that we never have to hear the children say "I'm bored." Listed below are some of the ways we like to keep busy.
Sideshow Arcade - In the mood for a little gaming fun? Head on over to this small arcade to play the latest in video games and pinball machines . It is located on the walkway leading to the pool area from the Village Green.
Bicycle and surrey rentals - Located on the Boardwalk just in front of the courtyard area known as the Village Green. You can rent 2-and 6-seater surreys. Single and tandem bicycles are also available for rent from community Hall
Children's Playground - a small play area for children is located near the Luna Park Pool.
Community Hall - is located near the quiet pool and is open from 8 a.m.- 10 p.m. daily. Equipment for family games like badminton, foosball, ping-pong is available to be checked out . Arts and crafts are also there for your enjoyment and bikes, books and videos can be rented.
Fireworks cruise - To have the ultimate viewing spot for Epcot's Illuminations laser and fireworks show you can arrange a private pontoon cruise by calling 407-WDW-PLAY for reservations.
Fishing - 1 hour guided fishing excursions for children ages 5-12 take place every Monday- Friday at 10 a.m. departing from Community Hall. 2 hour guided excursions can also be booked by calling 407-WDW-PLAY for reservations.
Jogging - Those of you who find it difficult to leave your exercise routine at home can use the 3/4 mile circular boardwalk as a jogging track.
Midway Games - are located on the Boardwalk across from the Big River Grille. They include games of skill and luck similar to those found at your local fair. There is a charge for these games.
Swimming - The Luna Park pool has a 200 foot water slide called Keister Coaster. It is a recreation of a 1920s wooden roller and the slide looks like the tongue of a clown. This area also has a kiddie pool and a play area. A smaller quiet pool and whirlpool is located in the Rose courtyard.
Sideshow Arcade - In the mood for a little gaming fun? Head on over to this small arcade to play the latest in video games and pinball machines . It is located on the walkway leading to the pool area from the Village Green.
Tennis - Two hard surface lighted tennis courts are located on the Boardwalk Villas side of the property. Use of these courts is complimentary to registered guests of the resort. To make reservations for private lessons call 407-WDW-PLAY.
Disney Boardwalk Villas
Services
Muscles and Bustles Health Club - This Health Club has work out equipment including treadmills, stair climbers and free weights. There is also a sauna, stream rooms and tanning beds available. Spa services and personal training are available for a fee by appointment only .
Disney Boardwalk Villas
Shopping
Character Carnival - Located on the Boardwalk this shop sells character clothes, toys, and other merchandise.
Dundy's Sundries - This shop is located off the lobby and carries a very small collection of necessities and a few resort logo apparel.
Screen Door General Store - This shop on the Boardwalk has a small supply of groceries, dry goods, Disney inspired kitchen equipment, scrapbook supplies ,liquor, and cigars.
Thimbles & Threads - Ladies, children and infant apparel, plus Disney character plush, toys and accessories.
Disney Boardwalk Villas
Transportation
Transportation - Guests can choose to walk to the International Gateway entrance of Epcot or take the Friendship ferry boats to Epcot or Disney's Hollywood Studios. Buses go to the Magic Kingdom, Animal Kingdom, Downtown Disney and the water parks.
To reach other Disney resorts outside of the Epcot area you must first bus to Downtown Disney then transfer to another bus for the resort you wish to visit.
If you can not find what you are looking for, you can search within our site by using the search box below.
Custom Search
Return from Disney Boardwalk Villas to Vacation Club Resorts

Return from Disney Boardwalk Villas to Princess and Pirate Family Vacations Home