The China Pavilion welcomes guests with Disney's recreation of Beijing's Temple of Heaven. The feeling most people experience when visiting this country in the World showcase is that of serenity. Guests can spend time in the peaceful rose garden listening to the traditional Chinese music that floats through the air as it is being played in the nearby temple.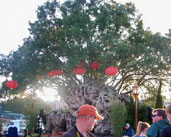 Spend time exploring in the shops of the department store, it is a good way to learn about the culture of the country. Experimenting with the different dishes offered at the Nine Dragons restaurant is another excellent way to immerse you in the culture of the country. Slow down, relax and enjoy the experience.
Disney China Pavilion Attractions Disney China Pavilion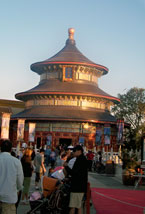 Reflections of China- This film is shown on a 360 degree circle vision screen. The theater has standing room only, there are not any seats. The 20 minute film shows popular destinations like the Great Wall and Tiananmen Square, as well as some of the lesser known places like Tibet and Mongolia. The film is hosted by Li Bai who takes you on a wonderful tour of this very beautiful and interesting country.
Disney China Pavilion Entertainment
Dragon Legend Acrobats- This is a group of young acrobats, usually between the ages of nine to twelve, that perform daily in the area in front of the Circle Vision theater. These children are amazing to watch as they twist, turn, flip and contort themselves in different positions.
Si Xian -is a harpist that performs for guests as they wait to view the film.

I like to watch the children's acrobatic show. They can twist their bodies into many positions. It is cool to watch. I also like to eat the honey chicken from the cafe.
Disney China Pavilion Exhibit
House of Whispering Willows- is an ever changing display of ancient Chinese art and artifacts. Currently you can see how full size terra cotta soldiers and horses were uncovered from a lost tomb. The display is called Tomb Warriors: Guardian Spirits of Ancient China.
Dining in China
Nine Dragons-Meals are served family style at this Chinese restaurant. Menu items are from the country's different provinces . Some of these dishes include honey chicken, beef with broccoli, sweet and sour pork with spicy noodles. Read a review of this restaurant for more information. Leave room for the red-bean or ginger ice cream for dessert.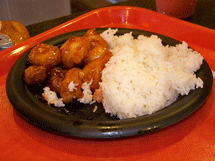 Lotus Blossom Cafe -This counter service eatery offers some of our favorites like orange chicken with steamed rice, sesame chicken salad, pot stickers, egg rolls, and Mongolian barbecue.
Shopping in China
Yong Feng Shangdian- This is one large department store where guests can find jewelry, clothing, furniture, items for the home and even dolls.
Opportunities for Kids in the China
Kidcot-tables are located in the back of the department store.
Characters- Mulan often appears in front of the Lotus Blossom Cafe.
If you can not find what you are looking for, you can search within our site by using the search box below.
Custom Search
Return from the Disney China Pavilion to the World Showcase.

Return to Princess and Pirate Family Vacations Home