My favorite Table Service Restaurant is Nine Dragons
by Laura
(Virgina)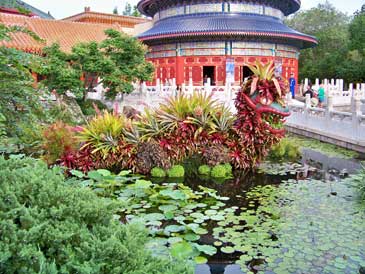 China Pavilion at Epcot Center
My new favorite table service restaurant at Walt Disney World is the Nine Dragons restaurant in Epcot. Our family was walking around in Epcot a few weeks ago and suddenly had the urge for Chinese food so we headed over to the China pavilion to take a look at the menu posted outside the restaurant.

We love Chinese food but for some reason had never even considered Nine Dragons. Why? I really don't know other than the fact that we eat Chinese food on a regular basis at home so it really isn't a special treat for us on vacation. But, the menu looked good so we decided to give it a try. Luckily, we were hungry at an off hour so the restaurant had a table available to seat us without having to wait.

I took advantage of the walk to our corner table (a great advantage point for watching Illuminations) to look at the food other people had ordered. It all looked so good that it didn't help me narrow down my choices so I finally asked our server Amanda what she suggested. It all sounded so good that we all ordered something different and shared.

For me, the best part of any meal is the appetizers so we ordered a few to pass around the table. We tried the Shrimp and Chicken Egg Rolls and the Pot Stickers. The Egg Rolls had chunky shrimp, chicken and fresh vegetables in them and was served with a plum-chili sauce and ginger-soy sauce. I only had one bite of these because the children ate them up before I even passed out the little plates. They must have been good because they never eat Egg Rolls at home! I did however get one Pot sticker and it was very yummy.

For the main meal we ordered the Honey Sesame Chicken, the Sweet and Sour Pork with lightly spiced spinach noodles (awesome), the Canton Pepper Beef which was stir-fried beef with onions, and peppers and the Kung Pao Chicken with peanuts and dried chili peppers. They were all so good but my favorite was the pork and noodles. The pork was tender and crisp and noodles were addictive. It was the perfect combination of sweet and spice.

We will certainly return to this great Table service restaurant when we return to Disney in November.

Join in and write your own page! It's easy to do. How? Simply click here to return to Favorite Table Service Restaurant.