Downtown Disney Restaurants
Cap'n Jack's Restaurant
Cap'n Jack's Restaurant is one of the Downtown Disney Restaurants. It is located next to the Rainforest Cafe. It has a panoramic view of Buena Vista Lagoon as it overlooks the waterfront.
The menu offers chef's specialties which include fresh seafood items and American cuisine. Favorite dishes include seafood pasta, clam chowder, and crab cakes, as well as a variety of chicken and beef entrées. Indulge in the restaurant's lounge's signature strawberry margaritas.
Earl of Sandwich


This is a Downtown Disney restaurant that is a sandwich shop that specializes in freshly prepared sandwiches with specialty sauces and spreads. They also offer made to order salads, and wraps. If you can't sit down to enjoy your meal, they also offer a pre-made "Grab 'n Go" selection of sandwiches and salads. They also offer a nice selection of turnovers, scones, cookies, brownies and ice cream sandwiches.
Forty Thirst Street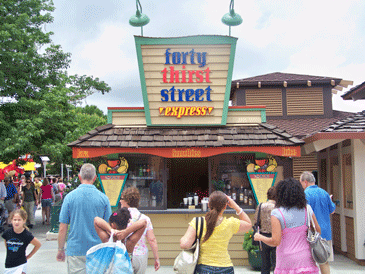 This little snack shop offers freshly-brewed coffee and coffee products by Joffrey's.
Ghirardelli® Soda Fountain & Chocolate Shop


The Ghirardelli® Soda Fountain & Chocolate Shop is a Downtown Disney Restaurant that features a wonderful menu of ice cream sundaes, malts, shakes and floats as well as the Ghirardelli line of chocolate.
My favorite item to get is a blueberry sundae. The kids love the hot fudge and the peanut butter sundaes. Yummy!
This fun snack spot now offers sugar-free and fat-free ice cream. This popular spot can get extremely busy, particularly in the evening.
Margarita Bar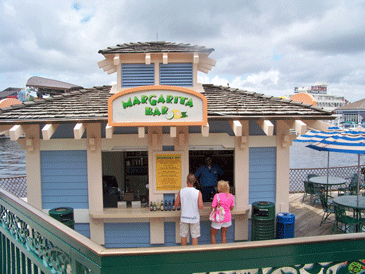 The Margarita Bar is located on the docks at the Downtown Disney Marketplace.
The bar offers four varieties of margaritas: The Strawberry margarita, the Don Julio margarita, 1800 margarita, and the Ultimate margarita. You can also enjoy Piña Coladas, Rum Runners, beer, and wine.
This is a great way to cool off on a hot afternoon. Remember that the legal drinking age in the United States is 21 and that Disney has a policy of only two alcoholic beverages per person with a valid ID.
McDonald's®


Disney has just announced that this location of McDonald's will be closing in the near future to make way for a new Downtown Disney restaurant.
Rainforest Café®


The Rainforest Cafe is a jungle-themed Downtown Disney restaurant that uses simulated weather patterns and animated animals to entertain and delight animal lovers of all ages. The sights and sounds place you in the middle of a tropical rainforest. There's an amazing saltwater fish tank with vibrant tropical fish, as well as waterfalls and banyan trees.
The wild setting adds adventure to the lunch and dinner table. The menu offers choices in American cuisine that includes huge salads, pasta, sandwiches, seafood, burgers and poultry dishes, as well as a variety of vegetarian selections and kid-friendly meals. Our girls love the Rainforest Rascal burgers off of the kids menu. The huge portions on this kid meal fill them up easily.
If you are in the mood to treat yourself, try the restaurant's signature dessert called the Sparkling Volcano. It is a chocolate brownie tower topped with ice cream, whipped cream and caramel and chocolate sauces-it's erupting with sweet gooeyness!
Just inside the entrance of the restaurant you'll see a large bar that sits under a 38 foot "Magic Mushroom." It's a great spot to relax and unwind while enjoying one of their specialty drinks.
Unless the policy of the restaurant has changed recently, they do not accept advance reservations. Instead, you sign in at the registration desk that is located in the front of the restaurant. The wait time can be over two hours during the peak seasons and at peak hours. The best advice I can give you about how to get around the wait times is for you to join the restaurant's Safari Club. It doesn't cost you anything to join and being a member entitles you to ten percent off of your meal and a bump to the front of the wait line once you sign in and show them your card. Now this doesn't mean that you will not have to wait, it just means that you will not have to wait as long as you would otherwise.
T-Rex


T-Rex is the newest Downtown Disney restaurant in the Downtown Disney Marketplace is T-REX®. As you might have guessed from the name, this family restaurant is a dinosaur-themed eatery that serves lunch and dinner meals amid life-size animated prehistoric creatures.
Menu choices include some exciting dishes such as Brachiosaurus Bruschetta, Layers of the Earth Lasagna, prehistoric pizzas, the Gigantosaurus Burger, sandwiches, steaks and seafood. Desserts include yummy choices like "The End Is Near" with the Chocolate Extinction.
The wait time can sometimes be an hour or more so be prepared to stand around for a while. T-Rex has a play area for kids in the front of the Dino-store called Paleo Zone. This is a complete T-REX interactive experience where kids can go on an archaeological Discovery Dig, pan for treasures in Discovery Creek and get schooled in prehistory on the Paleo Screens.
You can also pass the time by doing a little shopping in the Dino-Store. Here you'll find educational toys, apparel and Build-A-Dino® By Build-A-Bear Workshop® where you can build your very own Dinosaur to take home.
Wolfgang Puck® Express-Marketplace


The Wolfgang Puck® Express-Marketplace is a quick counter service Downtown Disney restaurant that offers a more casual take on the popular Wolfgang Puck Restaurant at Downtown Disney West Side.
The setup of the restaurant is almost like a cafeteria. Guests get a tray, place their order, fix their drinks and find a seat. When your food order is ready, it is brought to your table.
Breakfast: Wood-fired breakfast pizzas, French toast, pancakes, waffles, fruit, cereal, omelets, bagels, muffins, pastries, coffee, juice.
Lunch/Dinner: Wood-fired pizzas, salads, soups, sandwiches, rotisserie chicken. Ice cream, cookies and assorted items from Puck's Pantry, and beverages.
Our favorites include the bbq pizza and the ceasar salad. Guests can choose to dine inside or out under a covered patio.
If you can not find what you are looking for here at Downtown Disney Restaurants , you can search within our site by using the search box below.
Custom Search
Return From Downtown Disney Restaurants to Downtown Disney Marketplace

Return From Downtown Disney Restaurants to Princess and Pirate Family Vacations Home