Downtown Disney Marketplace
Activities and Entertainment
The Downtown Disney Marketplace is best known for its many shops and restaurants but it also has several activities and entertainment opportunities for guests to enjoy or experience. The prices of some of these activities are free while others are fairly expensive. These activities and their cost are listed below.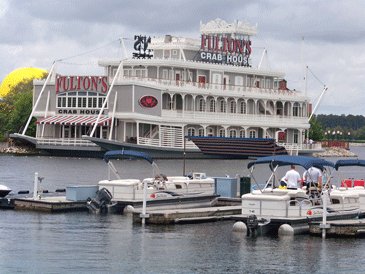 Boat Rental - Captain Jacks Marina is located across the water from Fulton's Crab House. The marina offers a wide variety of watercraft for rent by the ½ hour and by the hour. Available watercraft include two seater "Water Mice" that rent for around $20.00 for ½ hour to 21' (10 passenger) Suntracker Pontoon Boats that rent for $33.00 for ½ hour. Also available at Captain Jack's Marina is guided bass fishing excursions that start at $235.00 for 2 hours (maximum 5 persons).
Classic Carousel - This beautiful carousel has two carriages and 19 horses that were handcrafted in Italy. There is a minimum height of 42". Children not meeting this requirement must be accompanied by an adult. The cost is minimal.
Dock Stage - A Live entertainment stage is located on the docks behind the Ghirardelli® Soda Fountain & Chocolate Shop. An entertainment schedule of events can be picked up at guest services. Events are usually free.
Lego Imagination Center Playground - Kids will love this interactive playground, which is loaded with Lego blocks. Some life size creations are on display that will delight and even amaze the adults in your group. This activity is free.
Magical Water Fountains - These fountains are located on the Rainforest Cafe end of the Marketplace between the Art of Disney shop and the Disney's Days Of Christmas shop. The water dances intermittently around the fountains which makes children wait with excited anticipation for the water to come their way. Kids can cool off on hot days as they run around playing in the water and parents can sit and rest while watching the kids play. If you plan on letting your little ones play in the fountains, you may want to bring a bathing suit and towel. This activity is free.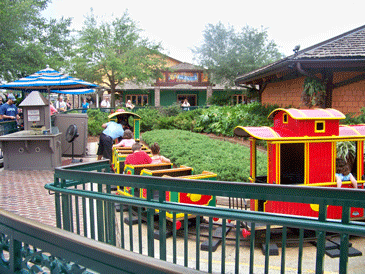 Sand Street Station - Walt Disney loved trains and this small play area and miniature train ride lets children share in his love for trains. The last time we were there the cost was 2.00 per ride per person.
If you can not find what you are looking for, you can search within our site by using the search box below.
Custom Search
Return From Disney Marketplace Entertainment to Downtown Disney Marketplace
Return to Princess and Pirate Family Vacations Home