Disney's All-Star Sports Resort will score big with the sports fans in your family. This Disney value resort is a fun place to play and stay for the young and the young at heart.
The All-Star Sports Resort was the first value resort to be offered by Disney. The resort has ten buildings and a total of 1,920 rooms. Each room has either two double beds or one king bed and has 260 square feet. It is a small but comfortable place to stay for a few days. Each bathroom has two areas. The tub and toilet are separated from the sink and vanity area which provides for a little privacy if needed. There is only one sink so be prepared to wait if you are traveling with teenage girls!
Each room also has a small table with two chairs, a small dresser and a TV. The closet consists of open shelves in the vanity area of the bathroom. Please be aware that hair dryers and irons/ironing boards do not come standard in each room. However, you can call housekeeping and they will gladly provide these for you free of charge.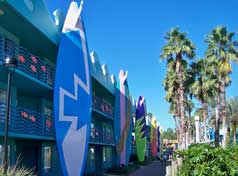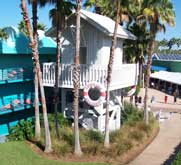 Disney's All-Star Sports Resort has ten buildings that are divided by theme, one theme for every two buildings. Buildings 1 and 6 are the Surf's Up! buildings and as you can probably guess the theme is centered around surfing. The Surfboard Bay Pool is located between these two buildings. There is a kiddie pool in this area as well. If you or anyone in your family loves to hang ten then you will not be disappointed here.
Buildings 2 and 3 are the Hoops Hotel and is a basketball fan's paradise.
Buildings 4 and 5 take Center Court with the tennis fan in your family. Giant tennis racquets decorate the sides of the building.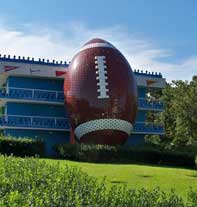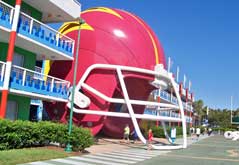 Touchdown buildings number 7 and 10 offer big entertainment for all football fans. If you still have energy after a long day in the parks you can get up a game of touch football in the courtyard between these two buildings.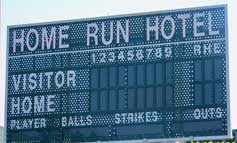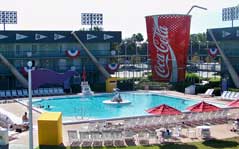 The last two buildings, numbers 8 and 9 are the Home Run Hotel. Every time I see these buildings, I want to break out and sing that song that says "take me out to the ball game", but because I would not want any of the children to die from embarrassment, I usually keep quiet. Strangely, I also want some popcorn and cracker jacks. Anyway, if you take a stroll between these two buildings you will find the Grand Slam Pool. It provides a nice place to rest and relax after a long day. Please be aware that towels are not provided for guests at the pool areas. You must bring the ones that are in your room.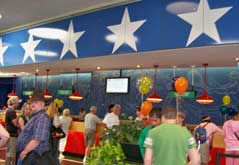 Disney's All-Star Sports Resort has one central building called Stadium Hall. This is where you will find the front desk. It is also home to Sport Goofy Gift and Sundries. It is kind of a one stop shop for most, if not all, of your travel needs from basic groceries to souvenirs.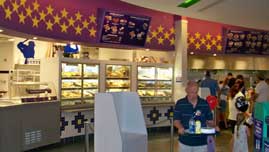 The End Zone Food Court is also located in Stadium Hall. This is a counter service style eatery that serves a variety of food throughout the day. If you can't find anything that appeals to your taste buds here, you can order in room pizza delivery in the evenings until midnight.
Disney's All-Star Sports Resort is a fun place to stay and a good choice if you are on a budget. Prices for this value resort usually range from $82.00/night during value season to 152.00/night during the holiday season. You might give up some of the small conveniences that you usually have at other hotels, but it is not a bad deal considering you have access to Disney bus transportation and you get to stay in the parks longer during the extra magic hours just because you are a Disney resort guest.
If you can not find what you are looking for, you can search within our site by using the search box below.
Custom Search
Return from Disney's All-Star Sports Resort to Disney-Value -Resorts
Return from All-Star Sports to Princess and Pirate Family Vacations Home