Disney Germany Pavilion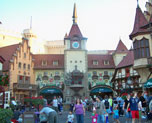 The Disney Germany pavilion in Epcot is a festive, picturesque little village complete with a castle, cobblestone streets, and shops. This area of the World Showcase is so charming. The buildings are so detailed that they remind of gingerbread houses. The village aquaria or the central plaza is known as St. Georgsplatz after the patron saint of soldiers.
Another charming little German village can be found further down the World Showcase promenade toward Italy. It is a miniature train village. Trains continuously loop around the tracks of this amazing village all day long. Little boys and some not so little boys often stand and watch the trains with delight as they chug along the tracks. The miniature village has plenty of houses, shops, trees, and tunnels to keep park guests entertained for quite some time.



Entertainment



Oktoberfest Musikanten - It is Oktoberfest everyday at the Biergarten restaurant. While you enjoy your meal, this group will entertain you with their singing, dancing and by the playing of folk instruments. Polka anyone?



Shopping in Germany




Das Kaufhaus - In this shop you will find hand painted eggs, glassware and house wares.
Volkskunst - This shop is packed with Cuckoo clocks, music boxes, beer steins, and watches.
Der Teddybar - This toy store sells porcelain dolls (you can create on of your very own for around $130), teddy bears, and trains.
Kunstarbeit In Kristall - Swarovski jewelry and crystal figurines.
Sussigkeiten - The sweet shop sells German candy and all kinds of confections including fudge, butter cookies, Gummy bears. If you visit during the Christmas holidays, make sure you try a gingerbread cookie.
Weinkeller - Located between the sweet shop and the crystal shop is a wine shop. The shop is stocked with a large selection of German wines.
Die Weihnachts Ecke - This Christmas shop offers a good variety of ornaments, nutcrackers, decorations and other gifts.
Glas Und Porzellan - Goebel made Hummel figurines and other porcelain and glass items.



German Dining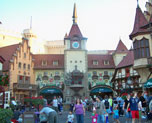 Biergarten - It is always Oktoberfest at this popular buffet restaurant. Food choices include different types of sausages, red cabbage, spaetzle and sauerkraut.
Sommerfest - This is an indoor counter service restaurant that serves German fast food like Bratwurst and Frankfurters.
Bierline - Beer, Wine and snacks.
Das Kaufhaus Cart - Big hot fresh pretzel, beer, wine.

The gingerbread cookies and the chocolate is what I like best in te Disney Germany Pavilion.

I like to get the special gingerbread Mickey from the sweet shop.








Germany for Kids



Kidcot - Tables are located inside the toy shop that sells teddy bears.
Characters - Snow White and Dopey appear daily in the area to the left of the pavilion for pictures and autograph opportunities.
If you can not find what you are looking for, you can search within our site by using the search box below.
Custom Search
Return from Disney Germany Pavilion to the World Showcase

Return from Disney Germany Pavilion to Princess and Pirate Family Vacations Home