Disney Grand Floridian Resort and Spa
Disney Grand Floridian Resort and Spa is the place to stay if you want a little bit of luxury and pampering while on your next Disney World vacation. This Disney Deluxe resort offers luxurious accommodations, world-class dining, unexpected entertainment and exceptional service.
The Disney Grand Floridian resort was inspired by the Victorian era beach resorts built along Florida's east coast during the late 1800s and early 1900s and the exterior of the resort ,which is said to be modeled after the Hotel del Coronado in San Diego, California, is a beautiful white with gingerbread trim. Overall, the resort has six stately red-gabled buildings.
The Grand Lobby, which stands over five stories high, welcomes guests with the sounds of a baby grand piano. The grand staircase that rises up to the mezzanine and the sparkling light that comes from the two brilliant chandeliers add a touch of romance to this gathering place.
The sounds of a Dixieland jazz band can also be heard throughout the day. The upbeat familiar songs of the band can effectively make you think about a different day and age. I expect that the Grandeur of this resort recalls Florida's golden era in many ways.

Disney Grand Floridian Resort Rooms
Guest rooms at the Disney Grand Floridian Resort are decorated as they might have been a century ago.
The decor includes Victorian accents such as pastel colors, printed wall coverings, light-wood armoire, marble-top sinks with period fittings and 19th century-style woodwork.
Amenities include high-speed Internet access for a fee, multi-line telephones and in-room safes. Most guest rooms also feature balconies. Refrigerators, coffee makers and microwave ovens are available on request.
Most standard rooms are located in the lodge buildings while club level rooms are located in the main building. Each standard room has around 400 square feet with two queen beds, a daybed and can accommodate up to five people. One, two and three bedroom suites are available and can accommodate from two to eight people.
Disney Grand Floridian Resort Restaurants
Citricos - the menu at Citricos specializes in Mediterranean cuisine and changes seasonally to make use of market fresh ingredients. Entrees include new and imaginative presentations of fresh seafood, chicken, beef and pork. The restaurant also has an extensive international wine list and the menu suggest pairing for every appetizer, entree, and dessert.
Gasparilla Grill & Games - located near the marina, this 24 hour restaurant serves hot dogs, hamburgers, pizza, grilled chicken sandwiches and ice cream. Indoor and outdoor seating is available as is a continental breakfast. After eating you can test your skill at video and arcade games.
The Grand Floridian Cafe - offers breakfast, lunch and dinner. This casual, light-filled restaurant offers American favorites and overlooks the gardens and pool of the Resort. You can start your day with a plate of Mickey Waffles or a breakfast skillet. For lunch, choose from an assortment of salads, soups, sandwiches and daily specials. Dinner selections include fresh seafood, chicken and steaks.
Narcoossee's - is a Signature Dining restaurant that specializes in seafood like seared grilled scallops, crab-crusted halibut, grilled wild king salmon and steamed whole Maine lobster from North American waters.
In addition to seafood, the menu also includes filet mignon, chicken breast and vegetable dishes. Be sure to save room for dessert, the almond-crusted cheesecake with cherry sauce is the perfect way to end your meal.
Because this eight-sided restaurant sits on the shores of the Seven Seas Lagoon it provides a great location in which to watch Wishes from the Magic Kingdom.
1900 Park Fair - at Disney's Grand Floridian Resort & Spa offers Character Dining opportunities at breakfast and dinner. Both are buffets with American-style cuisine and other menu selections that change often.
Character Dining opportunities at 1900 Park Fare are listed below:
Supercalifragilistic Breakfast — Join Mary Poppins, Alice in Wonderland, the Mad Hatter and other Wonderland characters for breakfast, and enjoy Mickey-shaped waffles, omelets, sausage, bacon and other traditional favorites.
Wonderland Tea Party — Alice and other Wonderland characters return in the afternoon to entertain children ages 4-12 for a hour filled with stories, games and cupcakes and tea(apple juice). Young guests get to "finger paint" designs and add decorations to the tops of cupcakes before they eat their creations.
Cinderella's Happily Ever After Dinner — at night, Cinderella, Prince Charming and other storybook Characters welcome and interact with guests to the Dinner buffet, where entrees may include seafood, salad, pasta, vegetables, breads, and carved beef.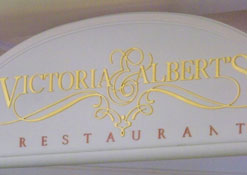 Victoria & Albert's - is the premiere restaurant at Walt Disney World Resort, blending fine contemporary American cuisine and world-renowned wine pairings from an award-winning cellar with personalized butler service and an elegant setting. All this comes at a pretty price. $125 or $185 with wine.
Chef's Table Dinner at Victoria & Albert's go a step further by offering you the opportunity to go behind the scenes and dine at a special table located inside the kitchen, where you can watch the chef and staff as they prepare a 7-course meal just for you.
During this 3-hour experience, a wait staff of 2—a butler and a maid—are on hand to tend to your every whim. And with the Royal Wine Pairing, the sommelier selects superb vintages for each portion of your unique meal.
The Chef's Table only seats one party each night at 6:00 p.m. The seating can accommodate up to ten people, but reservations can be made for parties as small as 2. Reservations are required and can be made up to 90 days in advance. The Chef's Table is slightly more expensive than a meal in the main dining room. Prices range from $175 -$245 paired with wine.
Disney Grand Floridian Resort Bars and Lounges
Beachside Pool Bar - Located next to the Florida Natural Springs pool this bar serves light meals and snacks including sandwiches, salads, and fruit plates. Guests can also enjoy cocktails, frozen drinks and beer.
Citricos - Located inside the restaurant serves international wines, martinis, and other cocktails.
Garden View Tea Lounge - the Disney Grand Floridian Resort & Spa turns back the clock to serve afternoon tea and host My Disney Girl's Perfectly Princess Tea Party in grand British tradition. Scones, tea sandwiches and desserts are among the treats.
Mizer's - This second floor lobby lounge has nice views overlooking the pool and courtyard. Guests can enjoy appetizers, cocktails, port, cognac and even a cigar.
Narcoossee's - Specialty drinks, wine, espresso, coffee, appetizers, and desserts. Outside the lounge guests can view the Wishes fireworks display and Electrical Water Pageant.
Recreation and Activities The Disney Grand Floridian Resort and Spa
Arcade - The game room has both classic arcade games and the latest high tech video games. It is located on the in the Gasparilla Grill.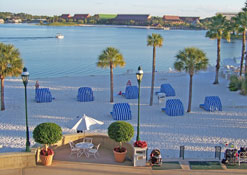 Beach - Soak up the sun on a crescent shaped white-sand beach located in front of the Florida Natural Spring Pool overlooking Seven Seas Lagoon. Please note that swimming in the lagoon is not allowed.
Boating - Various watercraft our available to rent at Captain's Shipyard Marina located behind the resort for use on Bay Lake or the Seven Seas Lagoon . For more information, please call (407) WDW-PLAY or (407) 939-7529.
Electrical Water Pageant - Best viewed from the beach or from the boat dock located near Narcoossee's. Think of this the same as the electric light parade at the Magic Kingdom only this one is a string of illuminated barges that float along the Seven Seas Lagoon and features King Neptune and his court of whales, sea serpents and deep sea creatures. Like any parade, this one may be canceled due to inclement weather.
Fishing - 2-hour bass Fishing Excursions and children's fishing excursions can be arranged at the marina. Excursions take place along Seven Seas Lagoon Bay and Lake. Fishing guides and equipment are provided. For more information, please call (407) WDW-PLAY or (407) 939-7529.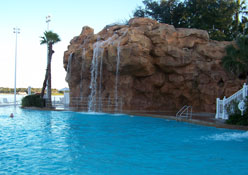 Swimming - Two pools are available at the Grand Floridian Resort and Spa. The newest pool is a Florida Natural Spring style that fronts the beach.
It has a beautiful waterfall, sunbathing deck, changing rooms, private cabanas, a slide and pool bar.
The second pool at the Disney Grand Floridian Resort is located in the central courtyard. There are also two hot tubs and a wading pool for little ones.
Tennis - There are two clay courts available at a cost of $8 per hour, per person. Lessons are also available. For reservations, call 407-621-1991.
Volleyball - A volleyball court is located on the beach.
Disney Grand Floridian Resort Services
The Ivy Trellis Salon - is located on the second floor of the main building. Hair styling, facials, manicures and pedicures are available by appointments.
Childcare - The Mouseketeer Club is located near the Gasparilla Grill and is open every day from 4:30-midnight for potty trained children ages 4-12. Children are entertained with video games, art activities and Disney movies.
Grand Floridian Spa and Health Club - Treatment hours are from 8 a.m. to 8 p.m. by appointment only. Services available include massage, Shiatsu, reflexology, facials, hand and foot treatments, body treatments and herbal wraps and aroma therapy.
The Spa also offers special treatments designed to introduce guests, ages 4 to 12, to proper skincare and healthy living. Guests ages 14 to 17 years must be accompanied by an adult while in the Spa and during massage, water or body treatments.
The health club is a full-service gym available at no additional charge to guests of the resort. A wide range of equipment is available, including treadmills, stair steppers, and upright and recumbent cycles, elliptical cross trainers, Smith machine, cable crossover and free weights. The Health Club also features a full circuit of Life Fitness and Precor strength equipment. Health club hours from 6 a.m. to 9 p.m.
Disney Grand Floridian Resort Transportation
Transportation at the Disney Grand Floridian Resort includes monorail service to the Magic Kingdom and Epcot via the Transportation and Ticket Center. Bus service is available to takes guests to Disney's Hollywood Studios, Disney's Animal Kingdom, Downtown, Typhoon Lagoon, and Blizzard Beach.
To get to other resorts from the Disney Grand Floridian, guests can use the monorail to reach the Polynesian resort and the Contemporary resort. To reach other Disney resorts during park hours it is faster to take the monorail to the Magic Kingdom then board a bus to your resort destination. After park hours, take a Bus to Downtown Disney then transfer to another bus to the resort of your choice.
If you can not find what you are looking for, you can search within our site by using the search box below.
Custom Search
Return from Disney Grand Floridian Resort to Disney Resorts

Return from Disney Grand Floridian Resort to Princess and Pirate Family Vacations Home