Journey into Imagination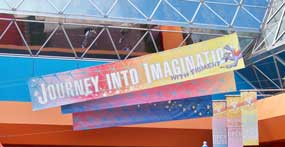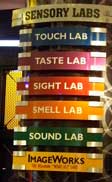 The main attraction in the Imagination Pavilion is Journey into Imagination. During the attractio guests visit the Imagination Institute and take a tour with Dr. Channing. Learn how your senses affect your mind with a visit to the institute's smell lab, sight lab and sound lab. During the ride you will get a glimpse into Figment's mind when you visit his upside down world. Figment, the little purple and orange dragon, believes that the imagination is something that is best captured when it is set free.

The figment ride really is not that much fun for the older kids. It takes you through a scientist convention that tests your senses. The smell part of it is kind of cute but I would still only recommend it to little kids.
Image Works: "What If" Labs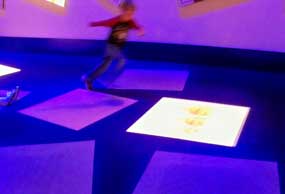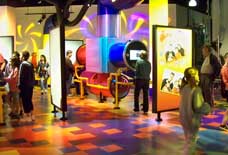 This is a hands on play area that will keep you busy for hours. You can play a musical game of hopscotch or even use your arm movements to conduct a symphony of sounds.

The Figment ride is neat. I like going through imageworks afterwards.
Captain EO
***UPDATE Captain EO temporarily replaces Honey, I Shrunk the Audience
The legendary Captain EO starring Michael Jackson returns to Epcot theme park! Join millions of fans who thrill to the music and be awed by the visual effects magic of some of the biggest names in Hollywood during this 17-minute interactive film.
Filled with show-stopping musical numbers performed by Michael Jackson, and stunning special effects orchestrated by executive producer George Lucas and director Francis Ford Coppola, Captain EO is a sight and sound spectacular with an enduring message.
Screening in the same Imagination! Pavilion theater in which it played from 1986 to 1994, Captain EO features improved sound, thanks to acoustical enhancements made to the theater in recent years. Captain EO is filled with unforgettable music and imagery that will take a new generation of Guests on a journey to the stars.
Honey, I Shrunk the Audience

Witness Dr. Wayne Szalinski accept the "Inventor of the Year Award" in this 3D presentation. This movie seems harmless, but be aware that young children and some adults might not like some of the special effects in the show. If you do not like creepy crawly critters like rats and snakes, I suggest that you either keep your eyes closed or skip the show all together. I personally keep my eyes shut.
During the show, Dr. Szalinski demonstrates some of his inventions when he accidentally shrinks the audience. Because the entire audience can now fit into a shoebox, the 3D effects seem much larger than life. It is a bit unnerving to see a toothy cat jump out at you. You'll also feel the mice scurrying through the theater. The effects really are very cool, but sometimes a bit too realistic. If you like the scare factor, watch it and have a blast. But if not, it might be better to skip it.
Shopping in the Imagination Pavilion
The only shopping available in the imagination pavilion is at the exit of the "What If" labs. The shop carries a good selection of Figment merchandise along with a few other souvenir type items.
One cool thing that you can have done is have your computer generated image reproduced onto different shaped glass objects. This makes a good keepsake or gifts for the family.
If you can not find what you are looking for, you can search within our site by using the search box below.