Disneys Wilderness Lodge Resort
Disneys Wilderness Lodge was inspired by the Great American Northwest National Park lodges from the turn of the 20th century. The resort as a whole, and especially the lobby, celebrates early American craftsmanship and artistry. The resort showcases the beauty and majesty of the unspoiled wilderness.
From the moment you walk into the massive lobby of this resort, your attention is captured by the two massive totem poles. Each hand carved totem stands 55-feet tall. The animals carved into these two totems depict Native American myths and legends. If you look up to the top of the poles no doubt you will be drawn to the beautiful teepee shaped chandeliers that decorate and illuminate the lodge. The theme that people can live in harmony with nature can be found on these light fixtures and throughout the Lodge.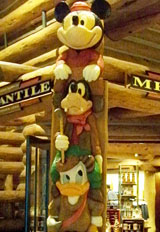 As much as I find these two totems and the lobby decorations interesting, my favorite part, another totem, is located at the entrance of the Mercantile store toward the back of the lobby. This pole has Disney Characters carved into it.
Humphrey Bear stands at the base and supports Donald Duck; Goofy's perched on Donald's shoulders. Sitting above Goofy and capping the totem pole is a ruggedly
dressed Mickey Mouse.
Other focal points in the lobby includes a 82-foot tall lobby fireplace and a bubbling spring that seemingly flows out of the floor and into a creek that flows under a window wall and then outside over a sparkling waterfall and then empties into the featured swimming pool.
Behind the pool stands Fire Rock Geyser, it is fashioned after Yellowstone National Park's Old Faithful. It erupts on the hour with a plume of water jetting 120 feet into the air.
Even though I grew up camping and loved it as a child I definitely like the idea of "camping" at Disneys Wilderness Lodge better than camping out in the wild now that I am an adult. Spoiled is what I am and spoiled is what you will be at The Wilderness Lodge. The atmosphere will make you feel close to nature without actually being out in the middle of it. Now that is my kind of camping!
Rooms at Disneys Wilderness Lodge Resort
The wildlife and nature theme carries over into the room decor. The wallpaper boarder has a Native American design and the bedspreads are bright and colorful. The furniture is made from pine and the armoire has painted woodland scenes on it. The only other furniture is a small table with two chairs that sit in the entrance way.
At 340 square feet, the rooms at Disneys Wilderness Lodge are a bit smaller compared to other Disney Deluxe Resorts. Standard rooms at the lodge have two queen sized beds and a balcony or one queen sized bed and a set of bunk beds. The bunk beds are fun if you have younger kids in your family. Our kids used to fight over who would get to sleep on the top bunk.
Concierge level rooms and Suites are also available. Staying in these rooms give guests access to the Old Faithful Club which is located on the 7th floor. Benefits include a continental breakfast in the mornings, light snacks and drinks during the day, appetizers and wine in the evenings and after dinner drinks and desserts. Other benefits include use of bathrobes, nightly turn down service and upgraded amenities.
Bathrooms are the same as most other Disney deluxe resorts only these are a little bit smaller. The vanity and sink area is separate from the toilet and tub.
Disneys Wilderness Lodge Resort Restaurants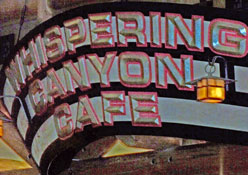 The Whispering Canyon Café - this family-style barbecue restaurant features all-you-can-eat skillet meals and other a la carte menu items. It is open for breakfast, lunch and dinner and features good-time games and fun for the entire family.
The breakfast offerings include skillet meals of scrambled eggs, hash brown potatoes, bacon, sausage, biscuits and gravy, and breakfast bread. Other favorites like buttermilk pancakes, French toast, and Kansas City hash are also available.
The lunch skillet meal usually includes pulled pork and ribs, chicken, baked beans, corn bread and other barbecue favorites. You can also order fried chicken, pulled pork sandwiches, a variety of salads or vegetable platters.
Dinner skillet meals has ribs, beef brisket, pulled pork, apple-rosemary chicken, garlic potatoes, salad, baked beans, cole slaw, corn and bread. You can also order steak, pork chops, pasta or vegetarian meals.
The rowdy entertainment from the wait staff here makes the meal. Don't be surprised if you see a group of them running through the dinning room riding wooden stick horses. Its good old fashioned cowboy fun.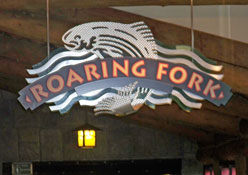 Roaring Fork - is a quick-service restaurant that is open from 6:00 a.m. to 12 midnight. Roaring Fork serves omelets, soups, sandwiches, salads, pizza, burgers and other snacks.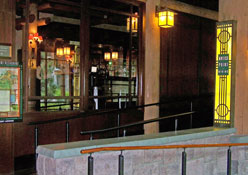 Artist Point - the menu at this Signature Dining restaurant offers cuisine inspired by the American Northwest. The specialty of the house is seafood, sirloin and game. They are only open for dinner.
Though menu options change seasonally, the kitchen's signature dish is a cedar plank-roasted salmon. For dessert, the chef's special creation is called an Artist Point cobbler: seasonal berries and house-made black raspberry ice cream.
Artist Point has an extensive, award-winning wine list that contains 131 selections exclusively from Washington State, Oregon and the Greater Pacific Northwest wineries. Wines are available by the glass, bottle or as part of the dinner and wine pairing for Guests 21 years of age or older.
This rustically elegant restaurant offers a relaxed and warm atmosphere. Guests can eat in the dramatic indoor dining room that has a beautiful stone fireplace and where iron lanterns hang suspended from Huge timber columns or dine outside to take in the stunning views of the Bay Lake and Silver Creek Falls.
Disneys Wilderness Lodge Bars and Lounges
Territory Lounge - is located next to Artist Point restaurant. It pays tribute to the explorers of the Great West. It is a pleasant place to enjoy a light afternoon snack or pre dinner treat. Appetizers, beer, wine, and specialty drinks are served here.
Recreation and Activities at The Wilderness Lodge Resort

Recreation at Disneys Wilderness Lodge center on the great outdoors and includes pools, playgrounds, watercraft rentals and a health club. Or you can spend some time strolling through the main lobby, lounging by one of the many fireplaces or watching the eruption of the Fire Rock Geyser.
Arcade - The Buttons and Bells arcade has nearly 30 games to keep everyone busy.
Beach - Grab a lounge chair and relax on the shores of Bay Lake.
Biking - Bikes can be rent from the marina to ride around the beautiful grounds of the resort or to explore the three-quarter-mile path that leads to the Fort Wilderness Campground.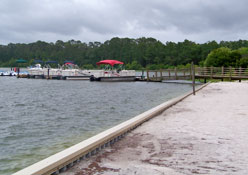 Boating - If you are a water lover, you can spend some time relaxing on the lake with a Pontoon Boat, Canopy Boat or Sea Raycer. For more information or for reservations call 407-WDW-PLAY. Specialty cruises are also available.
Chip'n Dale's Campfire Sing-a-long - Join Chip'n Dale around the campfire to sing songs, watch Disney movies and have some good old family fun.
Fire Rock Geyser - Fire Rock Geyser at Disney's Wilderness Lodge is located between the Silver Creek Springs pool and Bay Lake. It has been made to look like Yellowstone National Park's famous Old Faithful geyser. It shoots a water plume 120-feet in the air every hour on the hour from early morning to 10:00 p.m.
I went to Yellowstone National Park as a child so watching this small geyser at the Wilderness Lodge brought back good memories fro my childhood.
Fishing - fishing excursions for the whole family can be booked at the marina. Disney's fishing policy is strictly catch and release.
Jogging Trail - fitness enthusiasts can enjoy a scenic one-mile run along the bike path that leads to The Cabins at Disney's Fort Wilderness.
Playground - kids can climb, slide and play on this 24-hour playground located next to Wilderness Lodge Mercantile.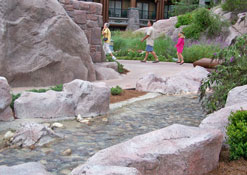 Swimming - The feature pool at Disneys Wilderness Lodge is the Silver Creek Springs pool. All the fun starts in the lobby of the resort. The springs that seemingly bubbles up from thee floor of the lobby flows under a lobby's window wall, then widens and becomes a creek in the Resort's upper courtyard.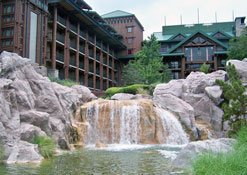 This quiet Silver Creek changes into a glistening 15-foot waterfall, that empties into the boulder and tree-lined pool called Silver Creek Springs.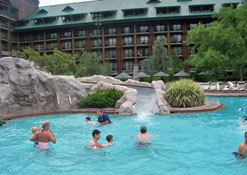 The pool has a water slide and a hot tub and it is open from 7:00 a.m. to midnight, with Disney-trained lifeguards on duty from 9:00 a.m. to 10:00 p.m. Swimming here feels like you are swimming out in the middle of the forest.


The Resort's second pool, Hidden Springs, also has a hot tub. This pool is located near the villas section of the property . It is often quieter than the main pool.
Video Rentals - Guests can rent movies to watch at the Mercantile in the lobby.
Disneys Wilderness Lodge Resort Services
The Sturdy Branches Health Club - is located off the lobby area for The Villas at Disneys Wilderness Lodge. The club has the latest in fitness equipment available for guests to use including treadmills, ellipticals, bicycles (regular and recumbent) and stair climbers. The weight room includes weight machines and free weights. After a workout, you can relax and unwind in the sauna.
Sturdy Branches Health Club is open 24 hours a day is available to Resort Guests 14 and older at no additional charge. Guests 14 to 17 must be accompanied by a parent or guardian.
Babysitting and Child Services
Babysitting and child services - are available at The Cub's Den located outside the main lobby which is near the Wilderness Lodge Mercantile. Here Disney Cast Members provide a supervised dining and entertainment club for children ages 4 to 12. Children are invited to create arts and crafts, play video games, enjoy dinner and snacks, watch Disney movies and interact with other kids their age. The club is open daily from 4:30 p.m. to midnight.
Shopping at Disneys Wilderness Lodge Resort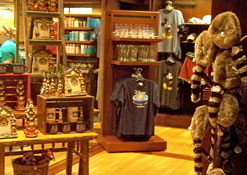 Wilderness Lodge Mercantile - This shop located in the lobby sells resort logo clothing along with Daniel Boone and forest ranger hats. Miniature Mickey Mouse and friends totem poles make cute little souvenirs to remind you of your stay at the resort.
A small selection of sundries, snacks, basic food staples ,wine and liquor and are also available.
Disneys Wilderness Lodge Resort Transportation
The Magic Kingdom can be reached from Disneys Wilderness Lodge by boat or bus. Other destinations throughout Walt Disney World Resort, including Disney Theme Parks and Disney Water Parks, are also accessible from Disneys Wilderness Lodge by complimentary bus and boat transportation.
If you can not find what you are looking for, you can search within our site by using the search box below.
Custom Search
Return From Disneys Wilderness Lodge to Disney Deluxe Resorts

Return From Disneys Wilderness Lodge to Disney Resorts

Return to Princess and Pirate Family Vacations Home