Magic Kingdom
Fireworks


Dreams Come True Parade
The Magic Kingdom fireworks and parades are special events that take place daily at specific times. This is one of Disney's newest parades and it can be seen everyday at 3:00 pm in the Magic Kingdom as it makes its way down Main Street, USA.
It starts in Frontierland and ends in town Square. It first started in 2007 and is a tribute to Walt Disney himself and the success he achieved throughout his life.
The first float carries Mickey Mouse. The floats that follow are filled with Disney characters from some of Disney's most beloved animated films. You'll see characters from films like Aladdin, Mary Poppins, Snow White and the Seven Dwarfs and Peter Pan. You will also get to see some of Mickey's favorite friends like Minnie Mouse, Donald Duck, Goofy and Pluto.
The Disney Dreams Come True parade will certainly put a smile on your face and in your heart as you watch your favorite characters float by. So have a seat on the sidewalk and get your waving hand ready to say hello to them all.
---
TheMagic Kingdom fireworks and parades change every so often at the Disney them parks. There has been a change at the Magic Kingdom that we thought you would like to know about.


Celebrate Dreams Come True Parade
This new "celebrate" parade has temporarily replaced the "Dreams Come True Parade at the Magic Kingdom. Every day at 3 p.m. guests line the sidewalks along Main Street USA and through Frontierland. The parade is packed with floats loaded with Disney characters and in between the floats, dancers costumed as party goers, dance and sing to the parade theme song "Celebrate You." The floats and costumes are brightly colored and the party music upbeat and fun.
The video below was filmed over Memorial Day weekend by our 15 year old son. You might get a little dizzy watching it because he apparently had trouble holding the camera still. Even so,I think it is good enough to give you a pretty good idea of what the parade is all about. I hope you enjoy it even though I do not think that the "magic" of the parades and fireworks at Disney could ever really be captured on film or video.
I could not fit all of my new pictures of the "Celebrate" parade on this section of the parades and fireworks page but I have uploaded them to another page for you to enjoy. Check them out on the link above.
---


Spectromagic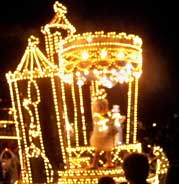 Spectromagic is a beautiful light parade that uses fiber optics and miniature light bulbs to light up the floats and characters. It is a wonderful display of changing light patterns that move in perfect timing with the musical score.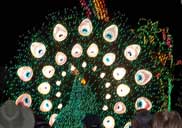 Spectromagic has always been a favorite of our family. In fact, we have a picture of our son when he was two years old watching Spectromagic for the first time from the vantage point of his dad's shoulders. His reaction was precious. His mouth was open and his eyes were wide with excitement as he experienced this awe inspiring parade for the first time.
It begins with Sorcerer Mickey Mouse as he leads the way for the other floats that display scenes from some of Disney's early films like Mickey and the Beanstalk, Sleeping Beauty and Fantasia. The parade comes to an end with Cinderella's colorful pumpkin changes into an all white carriage. And on the very last float Jiminy Cricket faces backward and says "So long! See ya later!" And he waves goodbye to the crowd.
Magic Kingdom Fireworks - Wishes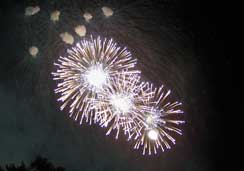 The Magic Kingdom fireworks display is called Disney's Wishes. This beautiful show is synchronized with dialogue and classic Disney music. Jiminy Cricket and the Blue Fairy from the movie Pinocchio narrate the show that emphasizes the power that a wish can have when made upon a star.
Tinker Bell flies over the crowd and into Tomorrowland after the initial narration ends. Fireworks then fill the shy and you hear the voices of different Disney characters as they recall their own wishes. As each character says their wish, the fireworks in the sky are the same color of his or her famous wardrobe. An example of this is that Cinderella's dress is blue therefore the fireworks for her wish are blue.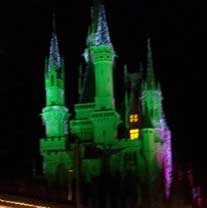 The explosions and the music become more intense during the villain section of the narration. The color lights of the castle even change to represent the darker colors of evil. The colors change from bright happy colors to darker evil colors like dark green, orange and purple. Even a frown appears high in the sky.
Calmer music and softer colors reappear when the Blue Fairy starts to speak again. The show ends with Jiminy Cricket saying, "Wishes can come true. And the best part is, you'll never run out. They are shining deep inside you."
This Magic Kingdom fireworks show is fabulous. You will especially think so is you are an emotional old sap like me. For me, it brought back childhood memories of when I would wish on the first star that appeared in the night sky. The entire show brought about a warm and fuzzy feeling of nostalgia that only Disney could accomplish. Make sure to see it at least once or twice. It really is worth your time as are all of the parades and fireworks that Disney has to offer in all of the theme parks.
If you would like more information on the different parades and Magic Kingdom fireworks or the different types of live entertainment at the Magic Kingdom, please visit Disney's Official Web Page.


If you can not find what you are looking for on this Magic Kingdom fireworks page , you can search within our site by using the search box below.
Custom Search
Return from Magic Kingdom Fireworks to the Magic Kingdom

Reture to Princess and Pirate Family Vacations Home