Disneys Yacht Club Resort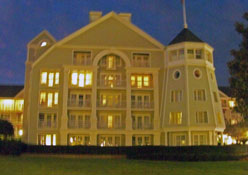 Disneys Yacht Club Resort welcomes guests into a sleek lobby that has polished hardwood floors, nautical inspired decorations, and glass encased ship models.
The resort offers easy access to Epcot and Disney's Hollywood Studios via walking or by the Friendship ferryboat that picks guests up at the loading dock behind the resort. Disneys Yacht Club shares amenities and services with the Beach Club. The Stormalong Bay Pool is considered to be the best that Disney has to offer. We very much enjoy everything that these two resorts have to offer.
Rooms at Disneys Yacht Club Resort
The rooms at Disneys Yacht Club resort have a nautical theme with blue and white spreads, headboards that have a ship's wheel motif and brass lamps. The rooms here have more of a casual elegance to them than those found at the nearby Beach Club resort.
The standard rooms at Disneys Yacht Club resort have about 380 square feet and have two queen beds and a daybed. Each room sleeps up to five people. The white furnishings make the room bright and cheerful.
Bathrooms have marble vanities with double sinks. Hairdryers and makeup mirrors are provided for your use as well as ironing boards and irons. The blue and white tile tub and shower area are separate from the sink area.
A variety of different sized suites are also available. The bed configuration allows sleeping space for up to 8 people. Regardless of size or floor location each suite receives concierge service and amenities.
Concierge level rooms are located on the top floor. These rooms are basically the same as standard rooms except these offer private check-in and check-out, turn down service each night and they have bathrobes for your use while staying in the room. The biggest benefit of booking a concierge level room is that it allows access to the Regatta Club. The club serves a continental breakfast, tea and midday snacks, and hot and cold appetizers in the evening. After dinner drinks and desserts are served later in the evening.
Disneys Yacht Club Resort Restaurants
Captain's Grill - Ala carte menu for breakfast, lunch and dinner or you may enjoy a breakfast buffet.
Beaches and Cream Soda Shop - This classic ice cream and soda shop is located between the Yacht and Beach Club Resorts. They offer shakes, malts, sundaes and ice cream by the dish or cone. Yummy.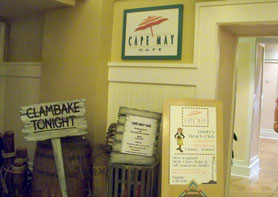 Cape May Cafe - This restaurant is located inside the lobby area of the Beach Club. A character breakfast takes place daily featuring Mickey and Minnie Mouse, Goofy and Donald Duck. Characters are dressed up in swim suits and life jackets.
The breakfast is a buffet that has a big selection of fresh fruits, pastries and hot dishes like sausage, bacon, waffles, biscuits and gravy, eggs with asparagus. There is even an assortment of cold cereal for those little ones that will not eat anything else.
Dinner at the Cape May Cafe is a tradition Clam Bake. The buffet includes clams, mussels, as well as beef ribs and chicken dishes. An assortment of soups, salads and vegetables are also available.
Hurricane Hanna's Grill - This grill is located pool side and serves burgers, sandwiches, salads and other snacks. A bar is located pool side as well.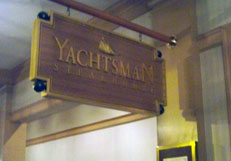 Yachtsman Steakhouse
- open for dinner only, this white linen covered table service restaurant is a meat lovers dream. Steaks are cooked to perfection and are accompanied by the perfect side of au gratin potatoes, creamed spinach or sautéed onions. Seafood entrees are available for the non meat eater.
Disneys Yacht Club Resort Bars and Lounges
Hurricane Hanna's Grill - Frozen specialty drinks, cocktails, beer, and nonalcoholic drinks.
Ale and Compass Lounge - This Lobby bar serves beer, wine, coffee and specialty drinks..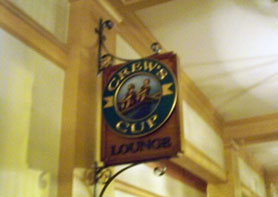 Crew's Cup Lounge -This seaport inspired lounge is located next door to the Yachtsman Steakhouse. Enjoy a glass of wine or have a beer while sampling some of the light appetizers. The oysters Rockefeller and the jumbo shrimp cocktail are the perfect taste of the sea.
Recreation and Activities at Disneys Yacht Club Resort
Lafferty Place Arcade - Take a break from running around the parks and enjoy the 60 or more video games and pinball machines offered at the arcade. It is located on the walkway overlooking the pool area.
Beaches - Lounge chairs are provided on the shores of Crescent Lake for guests to use as they relax on the white sandy beach. This area is perfect for sunbathing, watching the activity over on the boardwalk or watching the fireworks from nearby Epcot each night. Please note that swimming is not allowed in Crescent Lake.
Boating - The Bayside Marina located behind Disneys Yacht Club rents water craft for your enjoyment. Choose from a variety of boats including, but not limited to Pontoons and personal Sea Raycers. Firework cruises and fishing excursions may also be booked at the marina. To find out more information or to make advanced reservations call 407-WDW-PLAY.
Children's Playground - a small play area for children is located near the Stormalong Bay Pool.
Jogging - Those of you who find it difficult to leave your exercise routine at home can use the 3/4 mile circular boardwalk as a jogging track.
Swimming - In my opinion, the Stormalong Bay pool that is located at the Yacht and Beach Club resorts is the best pool complex offered by any of the Disney resorts. It is more like a small water park rather than just a pool.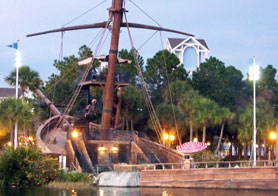 It has a 300 foot awesome slide that starts out from an old shipwreck located on the Beach of Crescent Lake. It also has a tidal whirlpool, a sandy bottom, a sand bar, a lazy river and several hot tubs.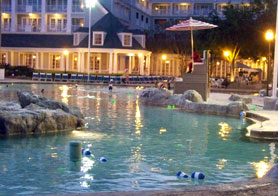 When the children were smaller, they enjoyed the sandy beach area where they could play in the sand and build castles. There is also a separate kiddie pool area for younger children. Now they enjoy the slide and the currents of the lazy river. Inter tubes can be rented for floating along the lazy river.
Tennis - A lighted tennis court is located on the Yacht Club side of the property. Equipment may be rented from the Bayside Marina.
Volleyball - a sandy volleyball court is located on the Beach Club side of the property near the beach front walkway. Balls are available from the Ship Shape Health Club.
Disneys Yacht Club Resort Services
Child Care - The Sandcastle Club is available to potty trained children ages 4-12 everyday from 4:30 p.m. - midnight. The cost of this programs $11 per child per hour. Reservations are required; call 407-939-3463. This service is only available to registered guests of the Yacht and Beach Club resorts. Entertainment for the children includes toys, games, videos, and computer games. Dinner and snacks are provided and are included in the price of the service.
Hair Salon - The Periwig Beauty and Barber Shop is located on the walkway at the back of the resort. It is next to the ice cream shop and the health club. The services that they offer include haircuts, perms, color and even manicures and pedicures. Operating hours are 9 a.m.-7 p.m. daily. Walk ins are welcome.
Health Club - The Ship Shape Health Club has work out equipment including treadmills and free weights. There is also a sauna and tanning beds available. Spa services and personal training are available for a fee by appointment only.
Shopping at Disneys Yacht Club Resort
Fittings and Fairings Clothing and Notions - This shop has resort logo clothes, swim wear, souvenirs, sundries, snacks, watercolor prints of the resort. You can also find books, magazines and camera accessories.
Disneys Yacht Club Resort Transportation
Guests of Disneys Yacht Club Resort can choose to walk to the International Gateway entrance of Epcot or take the Friendship ferry boats to Epcot or Disney's Hollywood Studios. Buses go to the Magic Kingdom, Animal Kingdom, Downtown Disney and the water parks.
If you can not find what you are looking for, you can search within our site by using the search box below.
Custom Search
Return From Disneys Yacht Club Resort to Disney Deluxe Resorts

Return From Disneys Yacht Club Resort to Disney Resorts

Return to Princess and Pirate Family Vacations Home