Disneys Contemporary Resort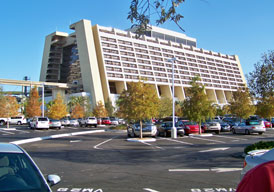 Disneys Contemporary Resort is a classic at the Walt Disney World resort. Most people recognize it as being the futuristic looking building that has the monorail running through it.
The resort has recently undergone renovations that transformed it from a resort that looked like it belonged in a futuristic space cartoon to a very modern, indeed contemporary resort with bold colors and sleek designs.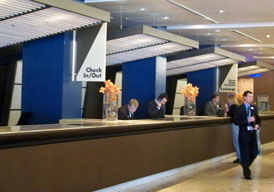 When you walk into the lobby of this resort, it is easy to see why it is named the Contemporary. This expansive room has a clean stark feel that has dark colors and straight lines.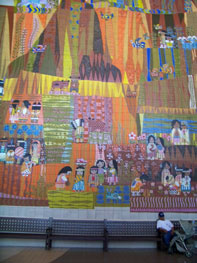 To see the activity center of Disneys Contemporary resort, take the escalators to the fourth floor Grand Canyon Concourse. This is where you will find the monorail station, shops, restaurants and a 90 foot high Mary Blair mural with a Southwestern theme.
Rooms at Disneys Contemporary Resort
The rooms at Disneys Contemporary Resort are among the largest on Disney property (excluding vacation club villas). Most rooms can accommodate up to five people plus an additional child under the age of three. The rooms usually have either two queen beds and a daybed or one king bed and a daybed. Besides the beds,standard tower rooms also contain a sitting table, a credenza with a TV and a coffee maker, a small refrigerator, and a closet.
The bathrooms are family friendly with a separate room for the toilet, allowing for personal hygiene multi-tasking. Like I have said before, having a separate vanity area is very important if your family has teenagers who fight for bathroom time like ours do.
The rooms have recently undergone renovations. Instead of bright primary colors, the rooms now are decorated using muted browns, reds, purples and greens. Some rooms come equipped with its own computer. High speed Internet access (another plus for a family with tech savvy teenagers)is available. Internet access is billed at $15 for one day.
Disneys Contemporary Resort also offers suites, as well as two levels of concierge service on the 12th and 14th floors.
All tower rooms have private balconies with either views of Bay Lake or of the Magic Kingdom. Rooms with Magic Kingdom views have a slightly higher rate. Garden Wing rooms do not have balconies. Rooms on the first floor have a small patio with two chairs and a table . These patios are not private, they are shared with your neighbor.
Disneys Contemporary Resort Restaurants
California Grill - This Disney Signature restaurant is located on the 15th floor of the resort. In addition to serving up a spectacular California fusion cuisine, the restaurant also serves as a spectacular viewing location for the nightly firework display at the Magic Kingdom. The last time we ate at the Grill, we walked out onto the observation deck to watch the fireworks while we waited to be seated at our table. It was a little cool out but the view was worth a few minutes of being chilled.
Our family considers this is a special event restaurant because it is on the pricey side. However, the views and the food was worth the splurge. I particularly enjoyed the roasted beet salad and the filet while Michael enjoyed the sushi!
The restaurant itself is on the 15th floor of Disney's Contemporary Resort, but Guests should check in at the reception desk located on the hotel's 2nd floor. When your table is ready, a host or hostess will take you up to California Grill in a special express elevator.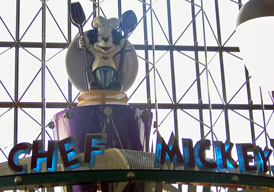 Chef Mickey's - This all you can eat buffet comes with a side of Mickey Mouse and friends. Breakfast offers Mickey waffles, fresh fruit, and pastries as well as eggs, bacon and sausage. Dinner offers carved meats, prime rib, fresh vegetables and plenty of desserts.
Contemporary Grounds - is a gourmet coffee bar located on the first floor of the Contemporary Tower serving cappuccino, espresso, latte, flavored coffee, iced coffees, juices, smoothies, beer and wine, specialty liquors and imported bottle water.
Disney's Contemporary Contempo Cafe - is open from 6 a.m. until midnight. Menu items include the Concourse Steakhouse salad, a hot, open roast beef sandwich, honey lime chicken sandwich, chicken basil pasta, a spice crusted mahi sandwich, marinated beef flatbread, vegetarian and whole-grain items.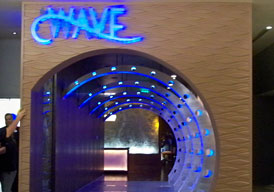 The Wave - The Wave is a new restaurant at Disney's Contemporary Resort. It offers casual health-conscious dining choices at breakfast, lunch and dinner. The Wave features new dining ideas with healthful choices, world flavors and original cocktails.
Disneys Contemporary Resort Bars and Lounges
California Grill Lounge - located adjacent to the award-winning California Grill offers an assortment of cocktails, appetizers and desserts for dinner.
Contemporary Grounds - This coffee bar is located in the Lobby. Guests can grab a specialty coffee along with pastries and other light snacks.
Outer Rim - is located on the fourth floor over looking Bay Lake. They serve cocktails and other specialty drinks as well as a few appetizers.
Sand Bar - is a pool side eatery and bar that serves up various meals and snacks for the entire family, including hamburgers and ice cream.
Recreation and Activities at Disneys Contemporary Resort
Arcade - The Game Station game room has both classic arcade games and the latest high tech video games. It is located on the fourth floor of the Contemporary Tower and it is open 24 hours a day. There is also a smaller arcade near the pool.
Beach - Soak up the sun on a white-sand beach conveniently located next to the pools, overlooking Bay Lake.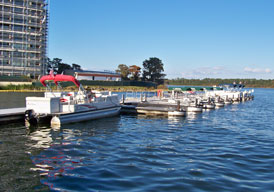 Boating - Various watercraft our available to rent at the Marina located behind the resort for use on Bay Lake or the Seven Seas Lagoon . Parasailing and special cruises can also be booked at the marina. For more information, please call (407) WDW-PLAY or (407) 939-7529.
Electrical Water Pageant - Think of this the same as the electric light parade at the Magic Kingdom only this one is a string of illuminated barges that float along the Seven Seas Lagoon and features King Neptune and his court of whales, sea serpents and deep sea creatures.
Fishing - Bass Fishing Excursions and Children's Fishing Excursions at the marina. Excursions last about 2 hours and take place along Bay Lake and Seven Seas Lagoon. Fishing guides and equipment are provided. For more information, please call (407) WDW-PLAY or (407) 939-7529.
Jogging Trail - Take off on a scenic 1.1-mile run around Disney's Contemporary Resort, passing picturesque Bay Lake and Seven Seas Lagoon.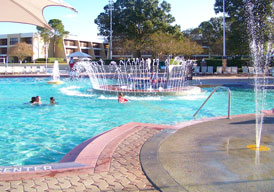 Swimming - Two pools are available at Disneys Contemporary Resort. The larger pool includes a 17-foot high curving slide and is the perfect place to cool off and have fun. It is located directly behind the main tower. The second pool is a round, quiet pool located closer to the garden wing of the resort. There are also 2 hot tubs and a wading pool for little ones.
Volleyball - A volleyball court is located on the beach outside Disney's Contemporary Resort. Hotel Guests may check out complimentary volleyballs on a first-come, first-served basis.
Disneys Contemporary Resort Services
Disneys Contemporary Resort Salon - is located on the third floor of the towers. Hair styling, facials, manicures and pedicures are available by appointments.
Childcare - Together with independent childcare provider Kids Nite Out, Disney's Contemporary Resort offers you the convenience of one-to-one in-room babysitting for an additional cost. You can even reserve a childcare specialist to accompany you and your family during your visit to the Parks, providing a helping hand where needed.
The Olympiad Fitness Center - Weight machines, treadmills, exercise bikes, saunas. Massages are available by appointment only.
Shopping at Disneys Contemporary Resort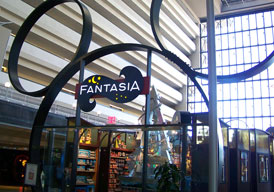 Fantasia - Disney character merchandise including clothes, toys and stuffed animals.
Concourse Sundries & Spirits - Books, magazines, newspapers, snacks and liquor.
Bay View Gifts - Contemporary result logo items, jewelry, souvenirs, home decor items and kitchenware.
Disneys Contemporary Resort Transportation
Guests can reach the Ticket and Transportation Center (TTC), the Magic Kingdom, the Polynesian and the Grand Floridian resorts by monorail. Epcot can be reached by bus or by monorail via the TTC. All other theme parks, water parks and Downtown Disney are accessible by bus.
If you can not find what you are looking for, you can search within our site by using the search box below.
Custom Search
Return from Disneys Contemporary Resort to Disney Deluxe Resorts

Return from Disneys Contemporary Resort to Princess and Pirate Family Vacations Home