The Disney Beach Club Resort
The Disney Beach Club resort is a relaxing and comfortable resort to stay at while vacationing at Disney. The look and feel of the resort is that of a casual beach house. The thought of relaxing while at Disney is inviting because lets face it, a vacation at Disney can sometimes be hectic and exhausting. But, the Beach Club environment almost immediately puts you in a beach bum state of mind.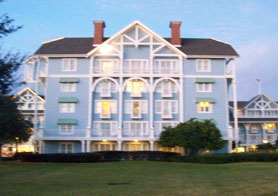 We always enjoy visiting the Disney Beach Club resort simply because it feels more like home. It is a relaxing and fun resort instead of a stuffy, formal hotel or resort where you are afraid to relax or have fun. Even the color scheme is relaxing. The exterior of the resort is in pastels of blue and white and the interior of the lobby and rooms are pale pinks and blues.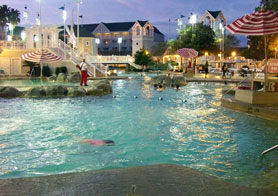 The fun part comes in the form of a fabulous pool called Stormalong Bay. The pool is shared by both the Yacht and The Beach club resorts and is located centrally between the two.
It has a sandy bottom and a 300 foot long incredible slide that starts at the top of a shipwreck that sits on the shore of Crescent lake. This massive pool also has a lazy river, a sand bar, and several hot tubs.
Little bridges allow you to cross over from one side of the pool to the other without having to go completely around the outside of the pool.
Another fun thing to do while taking a break from the activities at the pool is to grab an ice cream cone or sundae from the Beaches and Cream ice cream shop located near the pool area.
The Beach Club resort is definitely one of our favorite resorts. Not only because it is relaxing and has so many fun things to do but because it is located at the back door of Epcot and within walking distance to Disney's Hollywood Studios.
Take your time to look at the information and the pictures that are provided and decide if you and your family would enjoy a visit to the Beach Club resort.
The Disney Beach Club Resort Rooms
The standard rooms at the Disney Beach Club Resort have two queen beds or one king bed in 380 square feet of space. Some rooms also have a day bad which allows room to accommodate up to five people. Each room has a small refrigerator, a coffee maker, a small table with two chairs, armoire with TV and plenty of drawers to store your clothes.
Bathrooms are separated into two areas. The tub/shower and toilet are closed off from the vanity and double sink area. This separated area is convenient if you have teenagers like we do. It allows one person to shower while another person gets ready. You will not need to pack a makeup mirror or a hair dryer because Disney has provided these for your use.
Other categories of rooms include Deluxe Standard rooms with 533 square feet and a variety of different sized suites. Concierge level rooms are on the fifth floor and give guests access to a private lounge area that provides complimentary food and beverages throughout the day and evening. Other amenities include the services of the concierge staff, private check-in and check-out, bathrobes and a nightly turn down service.
Not all of the rooms at The Disney Beach Club resort have balconies so if this feature is important to you, please ask specifically for a room with a balcony when making your reservations. Keep in mind that requests are not guaranteed.


The Disney Beach Club Resort Restaurants
Beach Club Marketplace - This counter service area offers a small selection of breakfast items, salads sandwiches and desserts. We stopped in for sandwiches one day on our last trip and had a warm roast beef and Brie sandwich. The spicy mustard and horseradish mayo made it a nice treat.
Beaches and Cream Soda Shop - This classic ice cream and soda shop is located between the Yacht and Beach Club Resorts. They offer shakes, malts, sundaes and ice cream by the dish or cone. Yummy.
Cape May Cafe - This restaurant is located inside the lobby area of the Beach Club. A character breakfast takes place daily featuring Mickey and Minnie Mouse, Goofy and Donald Duck.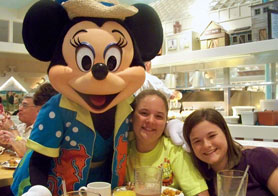 Characters are dressed up in swim suits and life jackets. The breakfast is a buffet that has a big selection of fresh fruits, pastries and hot dishes like sausage, bacon, waffles, biscuits and gravy, eggs with asparagus. There is even an assortment of cold cereal for those little ones that will not eat anything else.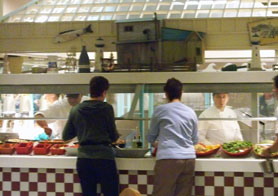 Dinner at the Cape May Cafe is a tradition Clam Bake. The buffet includes clams, mussels, as well as beef ribs and chicken dishes. An assortment of soups, salads and vegetables are also available.
Hurricane Hanna's Grill - This grill is located pool side and serves burgers, sandwiches, salads and other snacks. A bar is located pool side as well.
The Disney Beach Club Resort Bars and Lounges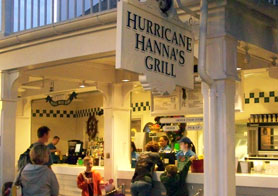 Hurricane Hanna's Grill - Frozen specialty drinks, cocktails, beer, and nonalcoholic drinks.
Martha's Vineyard - This quiet lounge located next to the Cape May Cafe offers a selection of American and International wines served by the glass or bottle. A full bar is also available.
Riptide Lounge - A small lounge located off from the lobby that offers evening cocktails.
Recreation and Activities at The Disney Beach Club Resort
Lafferty Place Arcade - Take a break from running around the parks and enjoy the 60 or more video games and pinball machines offered at the arcade. It is located on the walkway overlooking the pool area.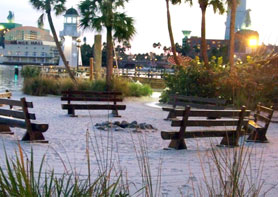 Beaches - Lounge chairs are provided on the shores of Crescent Lake for guests to use as they relax on the white sandy beach. This area is perfect for sunbathing, watching the activity over on the boardwalk or watching the fireworks from nearby Epcot each night. Please note that swimming is not allowed in Crescent Lake.
Boating - The Bayside Marina located behind the Yacht Club rents water craft for your enjoyment. Choose from a variety of boats including, but not limited to Pontoons and personal Sea Raycers. Firework cruises and fishing excursions may also be booked at the marina. To find out more information or to make advanced reservations call 407-WDW-PLAY.
Children's Playground - a small play area for children is located near the Stormalong Bay Pool.
Jogging - Those of you who find it difficult to leave your exercise routine at home can use the 3/4 mile circular boardwalk as a jogging track.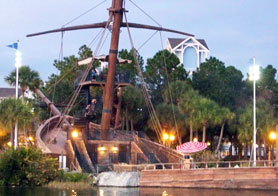 Swimming - In my opinion, the Stormalong Bay pool that is located at the Yacht and Beach Club resorts is the best pool complex offered by any of the Disney resorts. It is more like a small water park rather than just a pool. It has a 300 foot awesome slide that starts out from an old shipwreck located on the beach of Crescent Lake.
It also has a tidal whirlpool, a sandy bottom, a sand bar, a lazy river and several hot tubs. When the children were smaller,they enjoyed the sandy beach area where they could play in the sand and build castles.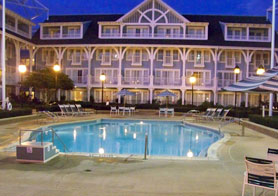 There is also a separate kiddie pool area for younger children and a quiet pool for guests who want to relax in an area that is a little less active .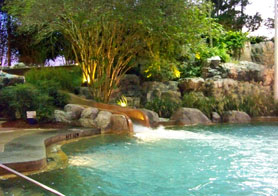 Most everyone, children and adults like to enjoy the slide and the currents of the lazy river. Inter tubes can be rented for floating along the lazy river.
Tennis - A lighted tennis court is located on the Yacht Club side of the property. Equipment may be rented from the Bayside Marina.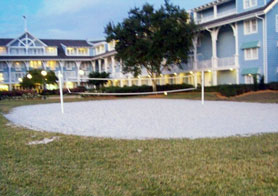 Volleyball - a sandy volleyball court is located on the Beach Club side of the property near the beach front walkway. Balls are available from the Ship Shape Health Club.
The Disney Beach Club Resort Services
Child Care - The Sandcastle Club is available to potty trained children ages 4-12 everyday from 4:30 p.m. - midnight. The cost of this programs $11 per child per hour. Reservations are required; call 407-939-3463. This service is only available to registered guests of the Yacht and Beach Club resorts. Entertainment for the children include toys, games, videos, and computer games. Dinner and snacks are provided and are included in the price of the service.
Hair Salon - The Periwig Beauty and Barber Shop is located on the walkway at the back of the resort. It is next to the ice cream shop and the health club. The services that they offer include haircuts, perms, color and even manicures and pedicures. Operating hours are 9 a.m.-7 p.m. daily. Walk ins are welcome.
Health Club - The Ship Shape Health Club has work out equipment including treadmills and free weights. There is also a sauna and tanning beds available. Spa services and personal training are available for a fee by appointment only .
Shopping at TheDisney Beach Club Resort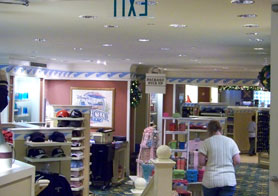 Atlantic Wear and Wardrobe Emporium - This shop has resort logo clothes, swim wear, souvenirs, sundries and a small collection of groceries.
The Disney Beach Club Resort Transportation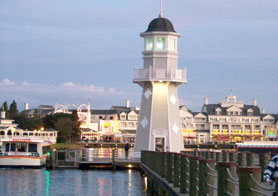 Transportation - Guests of the Disney Beach Club Resort can choose to walk to the International Gateway entrance of Epcot or take the Friendship ferry boats to Epcot or Disney's Hollywood Studios. Buses go to the Magic Kingdom, Animal Kingdom, Downtown Disney and the water parks.
If you can not find what you are looking for, you can search within our site by using the search box below.
Custom Search
Return From The Disney Beach Club Resort to Deluxe Resorts

Return From The Disney Beach Club Resort to Princess and Pirate Family vacations Home