Disney Animal Kingdom Lodge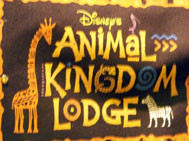 Disney Animal Kingdom Lodge is the place to stay if your family loves animals. And I'm not talking about just any animal; I am talking about the wild African safari kind of animals that live in the savannas outside this amazing resort. This Disney Deluxe Resort is ideal for anyone who wants to spend a little quality time at their resort or for anyone who enjoys learning about and being immersed into a different culture.
The African culture is well represented at the Disney Animal Kingdom Lodge resort. It is evident from the moment you first enter the lobby of the main building otherwise known as the Jambo House. Jambo House has a gorgeous display of African art that is housed in glass cases for guests to see and enjoy.
This 4-story area has authentic African inspired architecture. There are real African artifacts and hand carved furniture in the lobby and even a massive mud fireplace for guests to sit in front of to relax or warm themselves if needed. There is also a huge ceremonial mask representing the Igbo people of Nigeria that stands in one corner of the lodge lobby. I think I remember reading that the mask stands 16 or 17 feet tall.
Another part of the cultural experience at the resort can be found is in the people or cast members who work as greeters, restaurant hosts, savanna guides and activity leaders. These young people are actually cultural representatives from different areas in Africa. They each have a wealth of knowledge and information about the country, culture and people and are eager to share this information with anyone who is willing to listen. It is evident in the way that they speak that these representatives are passionate about their heritage and about their home land.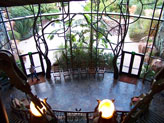 The Disney Animal Kingdom Lodge has plenty of activities to keep everyone in your family busy and/or entertained but I would have to say that the biggest "Must See" is, of course, the animals that call Disney's Animal Kingdom Lodge home.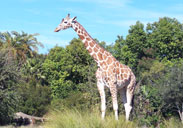 The resort has over 30 different types of animals and they can be observed from several viewing areas throughout the resort. Three sides of the resort are surrounded by 30 acres of savanna which is divided into three sections with 10 acres each. The three sections are called the Sunset savannah, the Arusha savannah and the Uzima savannah.
Each savannah is home to different types of animals. Animals can be seen from most room balconies too. I am not sure what savannah our room overlooked but we could see giraffe from the balcony. It was nice to watch the animals without having to hurry on along so that others could have a chance to see too.
Disney Animal Kingdom Lodge Rooms
The African theme of the lobby carries over into the rooms at the Disney Animal Kingdom Lodge as well. Upon entering the room you might notice that there is an African shield covering the door. Once inside you can see that the color scheme is that of warm honey tones. The furniture is dark wood and looks as if it could have been hand carved. The torch shaped lamps add a bit of whimsy to the look and feel and the fabric which is draped over the headboard is reminiscent of mosquito netting. The bedspreads are different shades of yellow, brown and gold. It is all very inviting and comfortable.
The bathroom and the vanity area are separated for added privacy. There are two sinks with beautiful granite countertops. The bathroom also has a full length mirror,a hair dryer, and amake-up mirror for your convenience.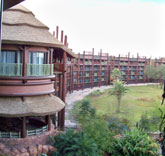 All rooms have balconies but not all of them have views of the savannas. Standard rooms have on average 344 square feet and sleep 4-5 people. Most rooms have two queen beds and a daybed or one queen bed a set of bunk beds and a daybed. Our room had bunk beds and the kids loved it so much that they fought over who got to sleep on the top bunk. The deluxe rooms are basically the same but have an extra 40 square feet to move around in.
The 5th and 6th floor offers concierge level rooms which are the same rooms as the lower floors but they come with a few perks. These perks include a continental breakfast, afternoon snacks and beverages, late afternoon tea and scones, evening wine and cold hors d'oeuvers, and late night desserts and cordials. This category of room also is eligible to book the Sunrise Safari for an extra fee. Please note that not all concierge level rooms have savanna views.
The Disney Animal Kingdom Lodge also offers one and two bedroom suites for the family that requires a little extra space.
Disney Animal Kingdom Lodge Restaurants
The Disney Animal Kingdom Lodge has several choices in restaurants that range from quick counter service, to buffet, to full service. Below is a brief listing and description of each restaurant. The links provided will allow you to view a complete menu and make online reservations at some of Disney's most popular restaurants including the ones listed here for the Animal Kingdom Lodge.
Boma - Flavors of Africa - Boma is a family friendly buffet style restaurant that is located on the first floor of the Disney Animal Kingdom Lodge. When you enter the main entrance to the resort you will see the gift shop to the right, turn and walk past the shop and the elevators then you will see Boma to your left and Jiko to your right.
Boma has been designed to look like an African marketplace. The buffet stations are smaller and look like up scale food venders. The separate food stations cut down on the amount of time that you wait in line to get your food which is always fresh because the kitchen is close to the stations. When we were there, there was even a display village or marketplace, that was totally made out of food items, set up across from the check in desk at the restaurant.
The dishes are inspired by over 50 African countries. Items on the morning buffet may include fresh fruit, African pastries, made to order omelets, pancakes, French toast, bacon, sausage, carved ham, breakfast potatoes, cereal, oatmeal, scrambled eggs and corn beef bobotie-a type of quiche. Two items stand out as being worth a try. They are the pap and the house juice. Pap is almost like grits but made with a smooth white cornmeal instead and the juice is an exotic combination of guavas, oranges and passion fruit. If you would rather stick with familiar foods, the French toast is wonderful with just the right amount of raisins and cinnamon.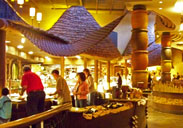 The cost for breakfast is $10 for children ages 3-9, $17 for adults.
The dinner buffet offers favorites prepared with African and American flair. Food choices include an assortment of soups, salads and fresh baked breads. Entrees include vegetarian selections, traditional dishes like prime rib and baked salmon, fire-grilled meats, fresh seafood, and desserts. The menu options change several times per week but a kid friendly station is always available for children with favorites like chicken nuggets.
The cost for Dinner is $11 for children ages 3-9, $26 for adults.
Jiko - The Cooking Place - Jiko is a Disney signature restaurant. It has been said to rival Disney's California Grill in fine dining experiences. Its decor is unique in that it represents the sunset. The back wall slowly changes color every 20 minutes. It provides a relaxing environment in which to eat and drink. Jiko has the largest South Africa wine selection in the United States. So plan to relax, enjoy your meal and sip a fine glass of wine.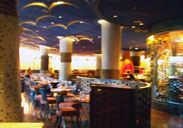 The twin wood-burning ovens add warm colors to the African sunset theme. It also adds the element of energy to the restaurant. The menu includes vegan, vegetarian and meat-based dishes that change seasonally, such as Grilled lamb, short ribs braised in a Kenyan-coffee based barbecue sauce, Durban shrimp curry and roasted chicken, along with other conventional favorites.
Imaginative appetizers include a refreshing sweet cucumber, tomato, and red onion salad, and brick oven-fired flatbreads.
Reservations are required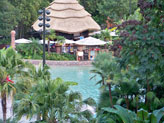 The Mara - Mara is a fairly basic quick service restaurant open for breakfast, lunch and dinner. It's perfect when you want a quick, casual meal. It features a huge selection of soups, sandwiches, salads, pizzas and hamburgers. It is a great place to grab something and go if you are in a hurry.
Disney Animal Kingdom Lodge Bar and Lounges
Kick back, relax and if you are in the right bar at the right time you might get to watch the wildlife outside the Disney Animal Kingdom Lodge.
Cape Town Lounge and Wine Bar - located inside Jiko, this lounge features the largest collection of South African wines in the United States.
Uzima Springs - This poolside thatched roof bar serves specialty drinks like frozen margaritas, daiquiris, pina coladas and non alcoholic smoothies. Traditional drinks include beer and wine.
Victoria Falls - This is the bar and lounge that overlooks Boma. they serve traditional drink as well as exotic African inspired cocktails and African wine.
Disney Animal Kingdom Lodge Activities
There are more than enough activities, besides animal watching, to keep you and everyone in your family busy while vacationing at the Animal Kingdom Lodge. Listed below are some of our favorites. Keep in mind that some of theses activities are complimentary with your room while others like the child care services and spa services require a fee.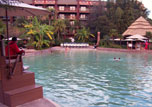 Swimming - Our favorite thing to do is to swim at the Uzima Pool. At 11,000 square feet, this zero-depth entry pool is the largest at a Disney Deluxe Resort. It has a 67 foot slide and stays open 24 hours a day.
The landscaping around the pool includes canopy trees and palm trees. It provides a very relaxing environment. The pool at the new Villas at theDisney Animal Kingdom Lodge is said to be much bigger with a zero depth entry and have a slide that is twice as long as the Uzima pool. There is also a kiddie pool for toddlers and two hot tubs for the adults who want to kick back and soak their tired feet.
Hakuna Matata Playground - is a 24-hour playground located next to Uzima pool. The equipment provides children the opportunity to climb, slide and have fun while burning off a little extra energy. The playground overlooks the flamingo area and the savannah so parents can look for animals while the kids play.
Pumbaa's Fun & Games Arcade - is a 24-hour game room that is located next to The Mara quick-service restaurant. It offers high-tech arcade games and the latest in video game entertainment and fun.
Children's Programs - Simba's Cubhouse is located on the first floor near the Uzima pool; it is a supervised activity center for children ages 4-12. It is open everyday from 4:30 p.m. until midnight. This themed play area has plenty of activities to entertain and keep children occupied while parents are out eating dinner or just having a quiet evening to themselves. Children can play videogames, enjoy dinner and snacks, watch Disney movies and play with other kids their age. Reservations are required if you would like to use this service and the cost is $11per hour per child. I personally could never afford this luxury. With three children, I wouldn't be able to pay for my meal after paying for the child care services. But, I am sure there are plenty of other people who can afford this service.
Zahanati Massage & Fitness Center - is located on the first floor off Giraffe Trail and Uzima pool. This full-service spa and salon offers massage therapy, by appointment only, skin care and body treatments, saunas and the latest in fitness equipment including free weights, treadmills, ellipticals, bicycles and stair climbers.
Organized Children and family Activities - Cast members conduct activities every hour all day long starting at 9:30 a.m. going through to 11:30 p.m. at night. The activities include but not limited to cultural lessons about African folklore, fun and games with music and food, and even searching for animals in the dark with night vision glasses. How cool is that. I have not done this, but it must feel like you are out on a real safari looking for wild game animals. I must put this on my list of things to do on a future Disney trip.
Disney Animal Kingdom Lodge Programs
The Programs listed below are offered by the Disney Animal Kingdom Lodge for an extra fee. Reservations can be made by calling 407-WDW-DINE.
Bush Camp Rafiki from "The Lion King" joins a small group of children as they learn about the African culture through crafts, games and food tastings. The camp takes place only on Saturdays from 1-4 p.m. for children ages 6-14. The cost is $70.
The Wanyama Sunset Safari - A small group of only 12 guests are taken on a 3-hour private tour of the savannas in a specially designed truck that allows for up close views of the wildlife. The tour is followed by a meal at Jiko, the resorts signature restaurant
Guests must be at least 8 years old to participate and the cost $210 per adult and $105 for ages 8-9. This safari may be booked up to 180 days in advance. Call 407-938-3463 for more information or to make a reservation.
Sunrise Safari Breakfast Adventure This program is limited to concierge-level guests. The safari offers an extended early morning trip through the Kilimanjaro Safaris habitats of the Animal Kingdom theme park. The cost is $55 adults, $28 children and includes breakfast at the Tusker House located inside the park. Call 407- 938-4755 for reservations.>
Disney Animal Kingdom Lodge Shopping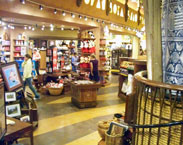 Zawadi Marketplace - This shop is located in the main lobby of the Disney Animal Kingdom Lodge. It offers authentic African-themed merchandise including Zulu baskets, hand-loomed clothing and hand-carved masks. Open daily from 7:30 a.m. to 11:00 at night. The Zawadi Marketplace also sells Disney-branded items like clothes, toys and Disney Character plush.
Disney Animal Kingdom LodgeTransportation
The only transportation that is available to the guests of the Disney Animal Kingdom lodge is by Bus. Bus transportation is provided to all four theme parks, Downtown Disney, Typhoon Lagoon, and Blizzard Beach. To reach other Disney resorts, you must take the bus to Downtown Disney then transfer to the bus going to your resort destination.
The Disney Animal Kingdom Lodge may look like a sleepy little African village but, truth be told, it is more like a huge city. Its enormous size can be a bit disorienting and confusing to those of us who get lost going to the restroom or to younger children. On our first visit to the resort, the children's ages were 6, 8 and 9 years old. I was waiting for our luggage to be delivered to the room while the kids went with their dad to the lobby to look around and to find some animals. It was busy in the lobby and somehow Ruby, who was six years old at the time, got separated from her brother, sister and dad. She panicked and instead of looking for them or waiting for them to find her, she quickly took off looking for our room.
When my husband realized she was missing he called the room to ask if she was with me. I said no and the bellman who was there at the time delivering luggage said that it would be next to impossible for a 6 year old to find their way back to our room from the lobby especially since she had only been to it once and it was two sections of the building and 4 floors away from the lobby. My heart sank, I grabbed the keys to the room and the bellman and I took off to go looking for her. When I opened the door, there stood Ruby. She was scared to death and crying because she thought she was going to be in trouble because she had lost her daddy. That is when we first discovered that she has a bit of a photographic memory. She amazingly found her way back to our room. Praise God!
So, if you have small children, keep in mind that the Disney Animal Kingdom Lodge is huge. It has lots of indoor and outdoor space and it can be very easy to get separated and lost if you are not paying attention.
If you can not find what you are looking for, you can search within our site by using the search box below.
Custom Search
Return from Disney Animal Kingdom Lodge to Disney Deluxe Resorts

Return from Disney Animal Kingdom Lodge to Princess and Pirate Family Vacations Home