Chefs de France Review
The Chefs de France restaurant in Epcot is where we decided to eat on our first night of vacation this year. Why? Well, it is an old favorite and we were able to make an advanced reservation. Plus, we stayed at the Boardwalk Villas so dinner was only a short walk away through the International Gateway .
It is amazing how quickly you start to relax once you get into that vacation state of mind. And all it takes to put me into that state of mind is to walk into the France pavilion. There is just something about the lighting, the music, and the language that is magical.
We relaxed beside a beautiful fountain enjoying a cocktail while waiting to be seated for our reservation at Chefs de France. It didn't take long for the five of us to be seated but unfortunately, we were seated at a table that was meant to seat only four people. We were a little cramped but not enough to ruin the meal.
Our waitress greeted us and quickly took our drink orders. After just a few minutes she returned to the table with our drinks and she also brought a nice warm crusty loaf of French Bread. Thankfully I was able to snap a picture before the kids devoured it!
A nice warm crusty loaf of French Bread from Chefs de France.
It would have been nice to enjoy the aroma of the warm bread as it was torn apart but with my three teens that was impossible. They ripped into and devoured the bread so fast that I had to ask for a second loaf when the waitress came to take our order just so that I could have a taste. The bread was hard and crunchy on the outside and soft and chewy on the inside.
As good as the bread was I didn't want to fill up on it because we still had plenty of food to come. The next course was French onion soup. Every French meal should include a steaming hot bowl of soup.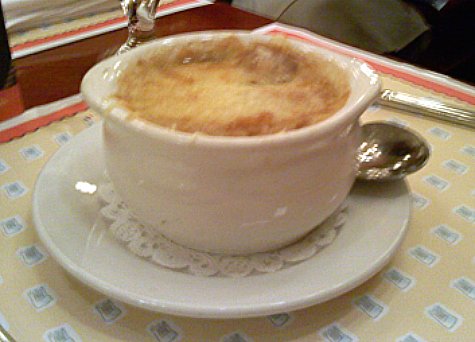 French Onion Soup
While I'm not usually a big fan of French onion soup, this bowl seemed to hit the spot! The flavor of the beef broth was rich and savory and it was thick with caramelized onions and bread. The best part though was the melted Gruyere cheese on top! It was ooey gooey in the center and crispy crunchy around the edges. Perfect!
I probably should have stopped eating after the soup because I was already so full BUT then the entrees arrived and I couldn't resist. Andrew and I ordered the filet. Michael went for one of the seafood dishes and the girls had beef short ribs and Mac and cheese.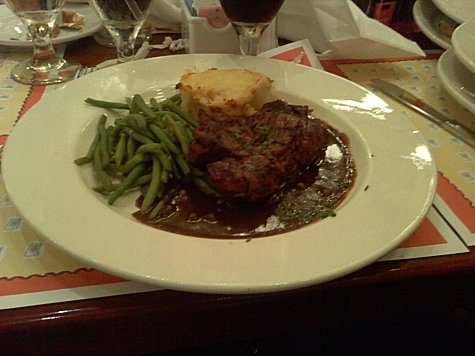 "Filet de boeuf grille, sauce au poivre noir Gratin Dauphinois et haricots verts - Grilled tenderloin of beef with a black pepper sauce original potato gratin of Savoy and green beans"
The filet was tender and juicy but honestly, there was something about the flavor that was off putting. I'm not sure if it was the type of flame used to cook the beef or if it was the pepper sauce but it was not my favorite meal of the week. Andrew seemed to like his filet better than I did. He cleaned his plate.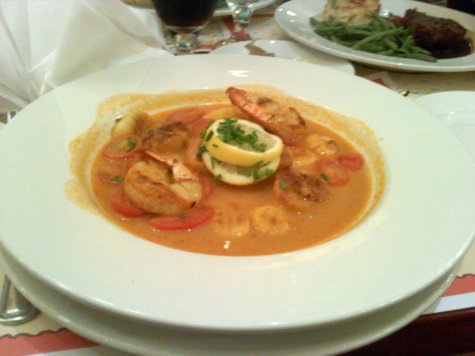 "Brochette de fruits de mer aux herbes - sauteed scallops, mahi mahi, and black tiger shrimp served with Mediterranean herb coulis, grilled tomato and black pearl rice "
While Michael did enjoy his meal; it is a good thing that he had filed up on soup and bread because the size of this meal did not justify the 35.00 price tag. It was very small with only two shrimp, two scallops, and a piece of fish that was literally the size of a quarter. The broth was good and Michael sopped it up with some of the left over bread.
"Plat de Cote de Boeuf au Cabarnet avec pates - Beef short ribs braised in Cabernet with pasta, pearl onions and mushrooms"
Susan ordered and very much enjoyed the beef short ribs. I tasted the beef and it was very tender and flavorful. It tasted like a rich red wine. The beef sat on top of a pile of tender pasta that soaked up the velvety sauce perfectly.
"Gratin de macaroni - Baked macaroni with cream and gruyere cheese"
Madlyn's Mac and cheese was good but nothing special. It was a little on the dry side but it did have a nice mild flavor. It had a subtle hint of nutmeg giving it a warm and comforting taste.
At this point you might think that we were done eating but you would be wrong. Because we were using the Disney Dining Plan we still had dessert to eat. I must admit that I love dessert. I would much rather eat an appetizer as my meal instead of an entree just so I would have room to enjoy dessert. But with the dining plan I got to enjoy all three courses.
The five of us tried four different desserts. We passed them around the table so that we could all have a taste of each one of them. I love sharing!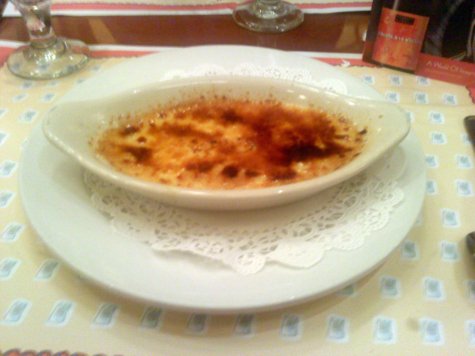 Creme Brulee - Vanilla creme brulee
The Creme Brulee was smooth and creamy with a very rich vanilla flavor just like you would expect to find at any French restaurant. The cream was cool and the burnt sugar top was crisp and tasted like marshmallows that have been in the fire a little too long. Yummy!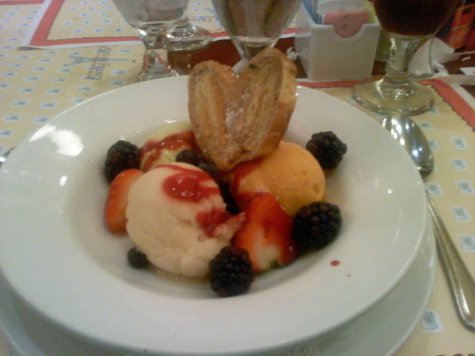 Assiette de sorbets du jour - Daily assortment of fresh sorbets
This dessert was the best by a long shot! The cool crisp flavors of the sorbet were very refreshing. I don't think I could have eaten a heavy dessert after this meal here at Chefs de France so the lightness of the sorbet and the fresh fruit hit the spot without putting me in a sugar induced coma!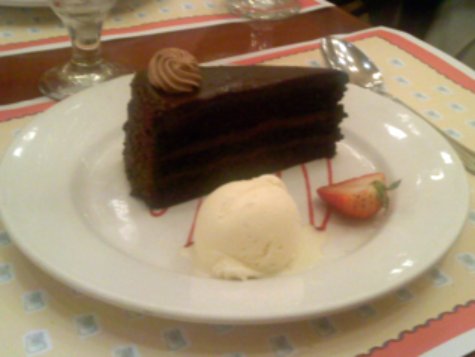 Gauteau au chocola - Chocolate mousse cake, vanilla ice cream.
I did not taste the chocolate cake but Madlyn ate every last bite of hers so I would assume that it was to her liking! She said that it was dense but not dry.
Crepe a la pomme et cannelle, glace vanille, caramel jus de pommes - Crepes filled with cinnamon, apple, vanilla ice cream and apple caramel sauce.
Andrew decided on the apple crepe with a cappuccino to end his meal at Chefs de France and although it appears to look like plastic in the photo, he assured me that it was really quite delicate in texture and in taste. Don't you just love it when your teen talks in foodie speak!
My overall Chefs de France review is favorable. While some aspects of this meal were disappointing it was not enough to keep me from going back again in the future. I would recommend that you try it for yourself then let us know what you think.
Have you eaten at the Chefs de France restaurant in Epcot? If so, we would love to hear all about your experience. Click here to share your review of this or any other Disney Table Service Restaurant .


Return from Chefs de France to Princess and Pirate Family Vacations

Return from Chefs de France to Restaurant Reviews