Tomorrowland
Magic Kingdom
Tomorrowland Magic Kingdom gives you a Disney perspective on what the future might look like. As you will see from the video, most of the rides focus on some aspect of space or space travel. Spending a little time in Tomorrowland Magic Kingdom allows you to imagine that you are living in the future.
Buzz Lightyear's Space Ranger Spin

Join Buzz Lightyear as he battles evil emperor Zurg on this fun interactive ride. Our family loves this ride simply because we get to compete against each other to see who can score the highest. You use one of the laser guns in your space vehicle to try and hit as many Z marked targets as possible. The space car spins around allowing you the chance to hit the targets from different directions. The more targets you hit the higher your score. Your score is displayed on the dashboard of your vehicle. So grab a friend and have a blast with a little friendly competition.

I like Buzz Lightyears Space Ranger Spin because it is like you are competing in a video game. I like to try to get a higher score than my parents and my brother and sister.
Space Mountain
Blast off to explore outer space on this indoor roller coaster in Tomorrowland Magic Kingdom. The experience of riding this coaster is heightened by the fact that this coaster runs its track through space completely in the dark. You can't even tell when and where the next turn or drop is coming. It is a fast, fun and exciting ride. But, if you do not like quick jerking motions then this coaster might not be for you.
The wait is usually rather long so plan on going first thing in the morning or during one of the parades. If you plan on getting a fast pass, plan on getting there early for that too because they go fast.
The queue area has been updated recently and now has video games for people to play while waiting in line. These games are similar to the games found in the queue line in Epcot in the Soarin ride.



I love the roller coaster because it is fast and in the dark.

Space Mountain is a lot of fun. The ride has two sides so when the line splits into two lines, go to the left. I think this side has sharper turns and steeper drops.
Astro Orbiter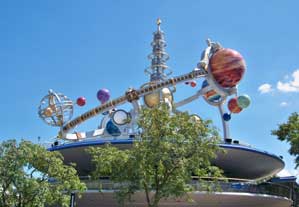 Some people may be unfamiliar with this ride. It is the space rocket looking ride that orbits through space high above the Tomorrowland Magic Kingdom. It is similar to the Dumbo ride in Fantasyland. Only this one is much higher. If you are afraid of heights, this ride might not be for you. But, if you can stomach it, the view of the Magic Kingdom can't be beat.
Tomorrowland Transit Authority
This is a continually moving, very relaxing ride that is propelled entirely by electromagnets. The ten minute ride takes you in and out of Space Mountain and Buzz Lightyear's Space Ranger Spin. Even though it is not very exciting, it is a nice place to sit down to rest your feet for a few minutes. Our kids actually like to go on this ride because it gives them a different view of two of their favorite rides in Tomorrowland Magic Kingdom. And when the transit track takes you outside you get an elevated view of Cinderella's Castle.
Walt Disney's Carousel of Progress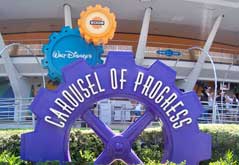 This is an audio animatronics show that takes you on a tour which showcases the progress of electricity and the role it has played in our homes throughout the years. The theater rotates to the different scenes of the show. The first scene takes place before we had electricity in our homes or around the turn of the century.
The second scene shows new electrical devices that could be used in the home to help improve the way people live. The scene shows a refrigerator, a vacuum and electric lights. Scene three introduces indoor plumbing and the last scene takes you into the present day.
Your kids might think this is a boring 20 minutes but it is a good history lesson worth seeing at least once on your next visit to Tomorrowland Magic Kingdom.
If you would like some more information and see how the scenes break down visit Yesterland. They have presented this ride in a way that will make everyone ride it at least once.



Stitch's Great Escape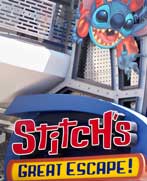 Let me start out by saying that this is not my favorite ride and/or attraction in Tomorrowland Magic Kingdom. So my point of view is no doubt one sided. As you wait in line you get to watch a preshow of sorts on TV monitors. The preshow explains what the show is all about. Everyone is being recruited to provide extra security to help keep the prisoner Stitch from escaping. After this briefing, you are taken into the theater for the main show.
I will not give away anymore of the story line but I will tell you that it was dark and disorienting inside the theater. The seats were uncomfortable and the arm restraint actually pinched my arm. At one point in the show there was an awful smell throughout the theater. It was so bad that I thought I would be sick.
Like I said before, this was not my favorite attraction but that does not mean that you shouldn't try it for yourself. I completely understand that different people like different things. Small children however might find it more than a little scary.

I do not like Stitch's Great escape because Stitch burps a chili cheese burp and the smell doesn't go away.
Monster's, Inc. Laugh Floor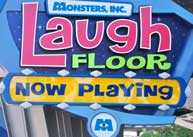 The laugh floor is an interactive comedy show hosted by everyone's favorite one eyed monster, Mike Wazowski, from the movie Monsters, Inc. Once you are seated in the comedy club Roz, the cranky secretary from Monsters, Inc. informs everyone that the purpose of the show is to produce enough laughter to fill the laugh canister. Laugher is the means to make electricity for the city of Monstropolis.
During the show, cameras are used by the cast members, who are backstage providing the voices for the comedians, to pick out people in the audience with whom they would like to interact. Another cast member who is in the audience will then take a microphone to that person and allow them to ask questions to the comic.
Another way for you to get involved in the show is by sending a joke via text message to a special number that is given to everyone before the show. Several jokes will be picked out and used during the main show.
Each show lasts about 15 minutes and even though the jokes are a little silly, the audience always laughs enough to generate the power needed to open the exit doors.
Tomorrowland Indy Speedway

The Indy Speedway is a safe place for the aspiring driver in your family to drive a real car (OK well, a real bumper car). In order for you to be able to drive by yourself, you must be at least 52 inches tall. Even at this height it might be a little difficult to reach the pedals for some children. A parent may have to go along on this scenic drive to help out if needed. The track is less than .5 mile and at 7 mph it only takes about 5 minutes to cross the finish line. If you decide not to ride along with your child, you can wait and watch the race from the observation deck.

The Indy speedway is great driving practice for kids and teens that do not have their license yet. I am only 13. I am so close to the driving age but not close enough. The speedway in Tomorrowland Magic Kingdom gives me a chance to drive even if it is only at a top speed of 7 mph.


Tomorrowland Magic Kingdom Dining
Auntie Gravity's galactic Goodies
Serves soft serve ice cream, floats, sundaes, smoothies, juice and other beverages.
Cosmic Ray's Starlight Cafe
This cafe offers a variety of quick service meals at three different counters. Each counter offers a different kind of food. Rotisserie chicken, grilled chicken sandwiches and chicken strips are available at one counter. Burgers, hot dogs and fries at the second counter and salad, sandwiches and soup at the third counter. All three sections have kid meals and Coca-Cola products available.
The lunching Pad
This snack bar is located under the Astro Orbiter and offers smoked turkey legs and Coke products.
Update
The launching pad in now serving a variety of gourmet hot dogs instead of the usual giant turkey legs. Check out these delicious looking pictures at the
Disney Food Blog.
Have you tried these new gourmet dogs in Tomorrowland in the Magic Kingdom?
We would like to hear about it!
Tomorrowland Terrace Noodle Station
The Noodle station is opened seasonally and offers Asian dishes like egg rolls, beef and broccoli and chicken teriyaki.


Tomorrowland Magic Kingdom Shopping
Merchant of Venus
Futuristic toys and clothes
Geiger's Counter
Disney Souvenir hats with monogramming available
Mickey's Star Traders
Disney clothes and merchandise
If you can not find what you are looking for here at Tomorrowland Magic Kingdom, you can search within our site by using the search box below.
Custom Search
Return to the Magic Kingdom from Tomorrowland Magic Kingdom

Return to Princess and Pirate Family Vacations Home