Disneys Beach Club Villas
Disneys Beach Club Villas is a relaxing and comfortable resort that is full of charm. This Disney Vacation Club resort is our favorite as it offers spacious, villa-style accommodations in a relaxing home-away-from-home atmosphere that is within walking distance of Epcot Center.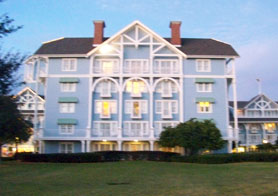 This resort has a relaxing, comfortable atmosphere but it also offers many fun and exciting activities to enjoy. In addition to having access its own quiet pool, Disneys Beach Club Villa guests also have access to all of the recreational activities and amenities of Disney's Yacht Club and Disney's Beach Club Resorts which are located right next door.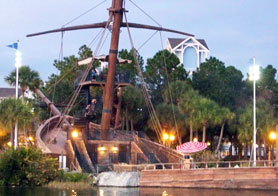 Our favorite recreational activity is spending time at the Storm along Bay Pool. Playing in the sun here on a hot day is so much fun that we sometimes don't even want to go into a park. But, if we do decide to visit a park, Epcot is only a short five minute walk away. What more could a family ask for?
Disneys Beach Club Villas
Rooms
We stayed in a two bedroom unit on our last stay at the Disneys Beach Club Villas. The rooms are decorated in calm inviting colors and a fun Disney beach motif. Here are some of pictures from that trip.
The Master Bedroom has a King sized bed and the master bath that has a huge whirlpool tub and a spacious shower.
The size of the rooms depend on what type of unit you are staying in but regardless, all one and two bedroom villas are spacious and very comfortable.
The second bedroom at the Beach Club Villas is set up much like a typical hotel room with two queen size beds and a bathroom with a tub/shower combination. It is roomy and provides privacy from the quests staying in the master bedroom and even from thoses staying on the pull out sofa in the den.
The kitchen is big enoungh to allow at least two people to cook a nice meal together. The living room area has plenty of space for family to lounge around and rest after a long dayin the parks.
The layout of all Vacation Club Villas are basically the same. To see what is available in each type of room, please see our page about Vacation Club Resorts.

Disneys Beach Club Villas
Food and Drink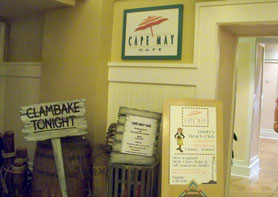 Disneys Beach Club Villas does not have its own restaurant on property but guests of the villas can choose from a variety of excellent restaurants at the Beach and Yacht Clubs like the Cape May Cafe and across Crescent Lake at Disney's Boardwalk.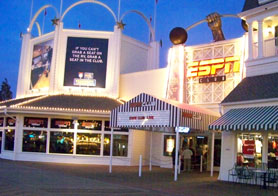 If you are in a casual mood, try Beaches and Cream for the best burgers and great shakes and sundaes, or the ESPN club for some hot wings. If you would like a more upscale meal, then try the Flying Fish Café or the new Kouzzina restaurant over at Disney's Boardwalk. And don't forget that you are also within walking distance to all of the wonderful restaurants over in Epcot's World Showcase.
Click on the link provided to learn more about the restaurants and lounges available at

Beach Club Villas
Amenities and Recreation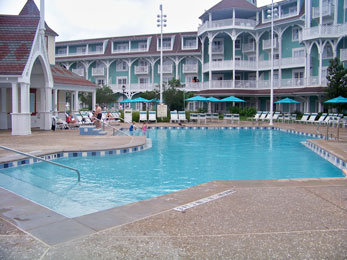 The Beach Club Villas has its own quiet swimming pool and hot tub for guests to enjoy.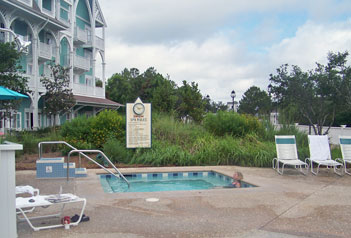 The hot tub has a submerged bench type seat that goes all the way around the tub. This seat makes it a nice comfortable way to relax after running around in the parks all day. The warmth of the water massages the aches and pains out of tired feet and legs.
Guests can also take advantage of all of the activities and amenities offered at the Beach Club Resort.

Beach Club Villas Shopping
Atlantic Wear and Wardrobe Emporium - This shop has resort logo clothes, swim wear, souvenirs, sundries and a small collection of groceries.
Beach Club Villas Transportation
Transportation - Guests can choose to walk to the International Gateway entrance of Epcot or take the Friendship ferry boats to Epcot or Disney's Hollywood Studios. Buses go to the Magic Kingdom, Animal Kingdom, Downtown Disney and the water parks.
If you can not find what you are looking for, you can search within our site by using the search box below.
Custom Search
Return From Disneys Beach Club Villas to Vacation Club Resorts


Return From Disneys Beach Club Villas to Princess and Pirate Family Vacations Home