Bay Lake Tower
Bay Lake Tower is the newest Vacation Club Resort at Disney World. The sleek accommodations and visionary design make for an unforgettable stay.
It is a modern work of art just like The Contemporary Resort was when it first opened in the 1970s. These two resorts are connected by a covered walkway known as the Sky Way Bridge.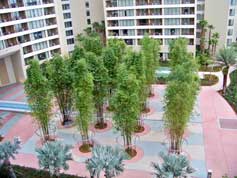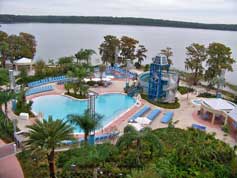 The tower has a crescent shape, lush landscaping, planned recreation opportunities and a lakeside pool complete with a unique water slide wrapped in an intriguing glass block.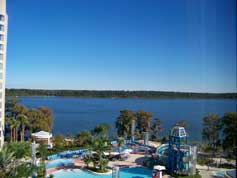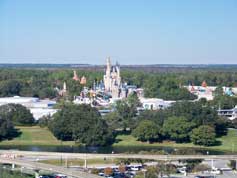 The view from the balconies of the Tower can't be beat. On one side of the resort the view is of the beautiful Bay Lake. This view is serene and peaceful. The other side of the resort boasts views of the Magic Kingdom.

The view of Cinderella Castle is spectacular especially at night during the fireworks. This view is full of energy and excitement.
Guests staying at the Tower have full access to all of the shops, restaurants, amenities and activities offered at The Contemporary Resort plus everything offered at Bay Lake.
Rooms
Bay Lake Tower at Disney's Contemporary Resort offers studio, one-, two-, and three-bedroom accommodations with a contemporary design and modern amenities. Click here to find out more about accommodations.
Here are some new pictures taken on our last stay at Disney in November of 2009.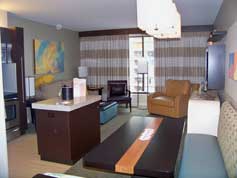 This is the dining area and kitchen in a two bedroom unit. It has loads of counter space, optimal lighting and the glass splash guard adds a special touch.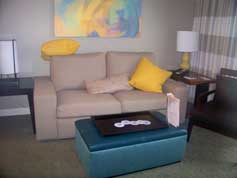 The living area is nice and spacious. The sofa converts into a queen size bed and the chair converts into a twin size bed. The entertainment area has a flat screen TV for watching TV or your favorite Disney DVD.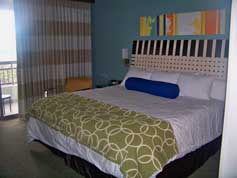 The king size bed in this master bedroom was super comfortable and provided a great nights sleep. Tha master bedroom also has a nice entertainment center with a space saving flat screen TV.
The second bedroom in the two bedroom unit is typical of a regular hotel room. It has two queen size beds, a small sitting area and an entertainment center with flat screen TV.
Restaurants
California Grill - is a Disney Signature restaurant located on the 15th floor of the Contemporary Resort that specializes in California fusion cuisine.
Chef Mickey's - is a character all you can eat buffet dining experience.

The Wave - is a new restaurant at Disney's Contemporary Resort that offers casual health-conscious dining choices. Check out this review of The wave to see if you might be an option for your family.

Contemporary Grounds - is a gourmet coffee bar located on the first floor of the Contemporary Tower.

Disney's Contemporary Contempo Cafe - is open from 6 a.m. until midnight and serves salads, sandwiches and pasta. < /LI>
Bars and Lounges
The Cove Bar - is a pool side bar that serves refreshing drinks.

Top of the World Lounge - located on the 16th floor of Bay Lake Tower at Disney's Contemporary Resort, Top of the World Lounge is a 77-seat full-service bar offering beverages and light appetizers.
Recreations and Activities
Guests of Bay Lake Tower have access to Bay Lake Pool, a round, quiet pool which is shallow on the outside and deeper in the center, and to the larger pool at Disney's Contemporary Resort, which includes a 17-foot high curving slide.
Please note that Tower guests are allowed to use the recreation facilities and the amenities at The Contemporary resort BUT guests of The Contemporary can not use the facilities at Bay Lake Tower.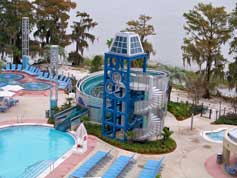 Bay Lake Tower Guests have access to a children's water play area, a pool complete with slide and a hot tub.
To learn more about other recreation, services, activities and shopping opportunities that are available to Bay Lake guests please visit our Contemporary Resort page.
If you can not find what you are looking for, you can search within our site by using the search box below.
Custom Search
Return from Bay Lake Tower to Vacation Club Resorts

Return from Bay Lake Tower to Princess and Pirate Family Vacations Home