Mickey's Toontown Fair
Magic Kingdom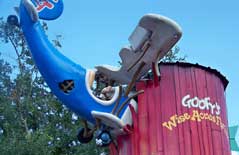 The Barnstormer
at
Goofy's WiseAcre Farm
The Barnstormer is the only ride in Mickey's Toontown Fair Magic Kingdom. It is a mild roller coaster that is perfect for small children or anyone who might be a little nervous about tackling the bigger coasters at Disney. The quick trip on Goofy's crop duster only lasts a little over one minute. The trip takes you through Wiseacre Farm and appears to crash into the barn. It is just long enough to be exciting for younger children but short enough not to be scary.
Donald's Boat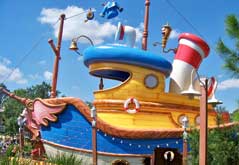 Donald's Boat is a water play area that gives little ones time to cool off and play while parents rest their tired feet.
The play area has lilly pads that will squirt streams of water at you without warning.
Children think this is funny and fun. Children can also run around on the Miss Daisy pretending to steer the ship, ring the ship's bell or blow the ship's whistle. This is a good place to sit and watch the people go by while the children tire themselves out playing.
Mickey's Country House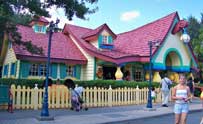 Mickey's Country House is a cute little house with a crooked front porch and has Mickey-eared shaped windows. Inside the house, you will get to walk through Mickey's living room, bedroom, kitchen and recreation room. Out back you can see Pluto's dog house and Mickey's very own garden. Follow the walkway that is outside on into the Judge's Tent. This is the place where you get to meet Mickey Mouse himself.
Judge's Tent
After you walk through Mickey's house, go on over to the Judge's Tent for a chance to meet Mickey Mouse! He is usually there all day ready to sign your autograph book and to take his picture with you. The expressions on some of the children's face are priceless as they get to meet Mickey for the very first time. So don't forget to take your camera.

If you are too old to meet to characters, there's really no reason for you to go into Toontown. It's just for little kids.
Minnie's Country House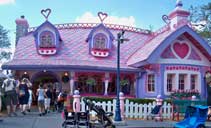 Minnie's Country House is down the street from long time boyfriend Mickey Mouse and across from Goofy's Barnstormer roller coaster. Everything inside Minnie's house is either pink or purple and has heart shapes everywhere. Minnie's house provides for a hands on type of experience. Children can touch and feel everything in the house and can even sit on the furniture. You can listen to her answering machine, look in the refrigerator and even bake a cake in the oven if you want to. When are finished with the inside of the house venture out back to see Minnie's heart and flower decorated pink gazebo.
Toontown Hall of Fame
The Toontown Hall of Fame is where you will have a chance to meet the famous people at Disney. Of course, I am speaking of your favorite characters. This is a great place to meet many of Mickey's friends, including some of the princesses. Grab your camera, autograph book and pen and wait for your child to be amazed.

Mickey's Toontown Fair is more fun for kids who are 6-8 years old or younger. I used to love walking through the houses of Mickey and Minnie and riding the Barnstormer roller coaster but not so much anymore.

There is not anything for teens to do in Mickey's Toontown Fair. Best to skip it completely.



Toontown Fair Magic Kingdom Dining
Mickey's Toontown fair does not have a restaurant. The only food available is at the Farmers Market. This is an open air shop that has fresh fruit, prepackaged snacks, and water and fruit juices.


Toontown Fair Magic Kingdom Shopping
Mickey's Toontown Fair has two places for you to shop.
County Bounty - This cute little shop has Disney merchandise and Toontown souvenirs and toys.
Toontown Farmers Market - Along with snacks, this small outside shop has a few items like toys, hats, sunglasses, disposable cameras and batteries.
If you can not find what you are looking for here at Toontown Fair Magic Kingdom, you can search within our site by using the search box below.
Custom Search
Return from Mickeys Toontown Fair Magic Kingdom to Magic Kingdom

Return to Princess and Pirate Family Vacations Home