The California Grill is my favorite Table Service Restaurant at Disney
by Ethan
(Georgia)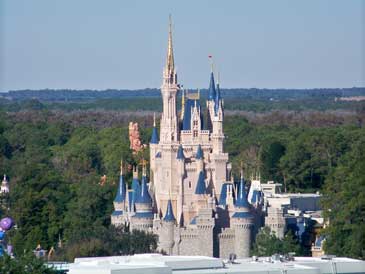 view of Cinderella Castle from the Contemporary Resort
There are so many really, really excellent restaurants at Walt Disney World that it is difficult to narrow the choices down to just one favorite. BUT, I'll try to pick just one.

If I had to choose just one restaurant, it would be Disney's California Grill. It is more adult oriented and better suited for grown up taste. Both the view and the food are awesome. It is the perfect restaurant for adults who would like a romantic night out. The food featured on the menu is more sophisticated than the typical table services restaurants at Disney and has the price tag to match.

The last time we ate there I had a beautiful roasted beet and goat cheese salad and then had a perfectly cooked filet of beef. My husband enjoyed the Sushi and the pork tenderloin. The food was excellent but the best part of the evening was when we enjoyed a cocktail before our meal while watching the Magic Kingdom fireworks.

Join in and write your own page! It's easy to do. How? Simply click here to return to Favorite Table Service Restaurant.