Seashore Sweets
Seashore Sweets is a candy and ice cream shop located on Disney's Boardwalk. It is the perfect place to grab a sweet snack whenever the craving hits.
We stay at Disney's Boardwalk for at least a few nights during each of our vacations so we tend to frequent this fun shop often.
This trip we went there on our first night for some sweet treats after walking around Epcot. I decided on the strawberry cheesecake ice cream sundae made with whip cream and hot fudge. It was delicious. The ice cream had strawberry swirls and huge chucks of cheesecake in a yummy vanilla cream.
Strawberry Cheesecake Sundae
The children each had milkshakes but my pictures did not turn out well so I decided not to post them. They flavors they chose were espresso chip, peppermint and cookies and cream.
Honestly, it was the best ice cream I have had in a very long time. I liked it so much that I went back to get another scoop later in the week only to be told that they were out. It was a sad, sad day!
Being out of the ice cream wasn't the only thing that had changed either. When I first got the strawberry cheesecake sundae it was covered on the Disney Dining Plan as a snack credit but when I went back the only ice cream covered on the plan was a single or double scoop. Sundaes and milkshakes were no longer snack credits.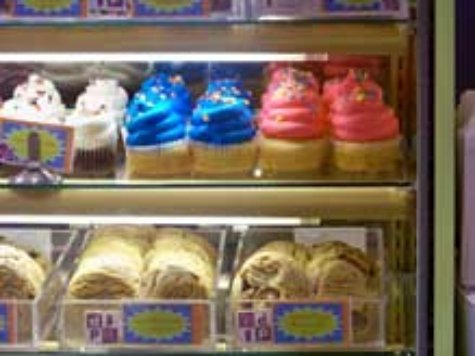 Cupcakes and other treats at Seashore Sweets
There are other treats available at this sweet shop besides ice cream and many of them are on the Dining Plan as snack credits.
If you can not find what you are looking for, you can search within our site by using the search box below.
Custom Search
Return to Princess and Pirate Family Vacation Home

Return from Seashore Sweets to Disney Restaurant Reviews