Pleasure Island Restaurants
Even thought the night clubs have been shut down, the Pleasure Island restaurants and shops remain open for business. Currently there are only three eateries and just a few shops for guests to enjoy. If you can't find anything here that suits your taste, other restaurants and shops can be found at Disney's Westside and Disney's Marketplace. I would suppose that as Disney continues the rebuilding phase of Pleasure Island that more restaurants and shops will be added as they are completed.
Fulton's Crab House


The Fulton's Crab House is a Pleasure island restaurant that serves fresh seafood flown in daily from ports worldwide for your lunch and dinner. Set in an authentic riverboat replica docked right on the waterfront, this restaurant features over 50 fresh seafood selections, as well as a variety of non-seafood specialties.
Try a specialty like Alaskan Crab Legs or Filet Mignon and Australian Lobster Tail. And pair your meal with a perfect wine from the 2,000-bottle wine cellar. Menus are changed daily to highlight fresh fish selections chosen by the award-winning chefs. There's even a menu for children, with their own favorite foods.
Paradiso 37, Street Foods of the Americas
Paradiso 37 is a new waterfront dining spot at Downtown Disney Pleasure Island that features North, Central and South American cuisine. This high-energy restaurant and bar serves up unique cuisine inspired by the Street Foods of the Americas. The restaurant showcases an extensive one of a kind tequila tower bar with more than 50 kinds of tequila as well as a selection of signature frozen margaritas. There is also an international wine bar plus nightly entertainment.
Open daily for lunch, dinner, and late-night dining. Restaurant hours: Sunday-Thursday, 11:30 a.m. to 12 a.m.; Friday and Saturday, 11:30 a.m. to 1 a.m. Advance reservations are available by calling the restaurant directly at (407) 934-3700.
This restaurant does not participate in the Disney Dining Plan.
Portobello
This waterfront Pleasure Island restaurant has a casual elegant atmosphere. The dining experience here is one of celebration as guests gather around the table with family and friends to enjoy the simplest, most vivid flavors of Italy. On the menu, you will find a selection of crusty breads, sun-ripened tomatoes, imported prosciutto di Parma, freshly caught fish, and fruity olive oils.
The wine menu features fine wines from Italy and America and gives Guests an opportunity to sample, taste and experience vintages in a relaxing atmosphere.
Raglan Road Irish Pub & Restaurant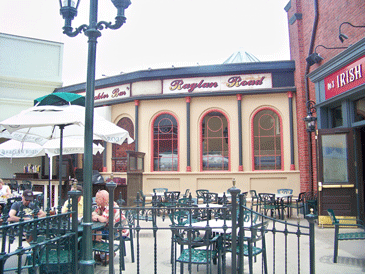 Raglan Road™ Irish Pub and Restaurant is located in the center of Downtown Disney Pleasure Island. This traditional pub is open for lunch and dinner and serves authentic Irish food created under the direction of Kevin Dundon, one of Ireland's celebrity chefs. Menu offerings include modern twists on classics, like creamy colcannon soup, beef stew with a hint of Guinness, and fish 'n' chips, as well as traditional English cuisine like bangers and mash.
When you step inside this Irish Pub & Restaurant you'll feel like you have been transported to the Emerald Isles. The furnishings are custom-made with fixtures from Ireland including the leaded glass and delicately carved woodwork. The atmosphere is spirited with the beer on tap and nightly entertainment including energetic live bands. Guests are encouraged to dance a jig as the band blazes with foot-stomping Irish music.
Cooke's of Dublin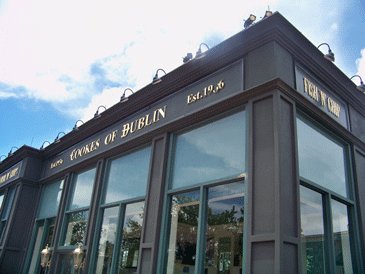 This quick counter service restaurant is located next to Raglan Road™ Irish Pub and Restaurant. They serve fish and chips, meat pies and deep fried candy bars.
Return from Pleasure Island Restaurants to Disney Pleasure Island

Return from Pleasure Island Restaurants to Princess and Pirate Family Vacations Home
If you can not find what you are looking for, you can search within our site by using the search box below.
Custom Search