My Favorite Moderate Resort is Disney's Port Orleans Riverside
by Anonymous
(South Carolina)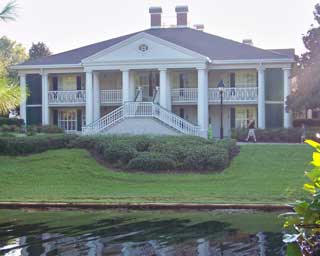 Port Orleans Riverside
Port Orleans Riverside is my favorite Disney Moderate resort. I like the way the resort is spread out into different buildings instead of in one big high-rise. The property has more of an apartment type feel and appearance than that of a hotel or resort.

Because of this layout, the resort feels to be a lot smaller than it is actually. Unless you are in the lobby or in one of the restaurants, you don't ever really see that many other people at one time. I loved the way some of the buildings looked like old southern mansions. I love the south and part of this resort has a very southern look and feel.

The rooms are nice but nothing super special. I liked it because the room we had could sleep up to five people with one sleeping on a trundle bed. In a regular hotel room it can get a little cramped with five people so it was nice to be able to push one bed underneath another to make some extra space during the day. The basics are provided along with a refrigerator and coffee pot which came in handy for keeping a few foods on hand for snacks and breakfast.

Another good thing about Port Orleans Riverside is that is has two types of Disney transportation available. If I am remembering correctly, you can take a bus to any of the theme parks and take a ferry boat to Downtown Disney. The boat ride to Downtown is nice and it is a good way to see other Disney resorts. On the way to Downtown, you'll pass by Port Orleans French Quarter, and the Saratoga Springs Resort. It is particularly nice at night when the lights sparkled on the water.

Overall, I enjoyed this resort and would recommend it to family and friends.

Join in and write your own page! It's easy to do. How? Simply click here to return to Disney Moderate Resort Recommendations.