Mickey Mouse... by a Mouse tail!
by Judy and Mark
(The Wide Wonderful World!)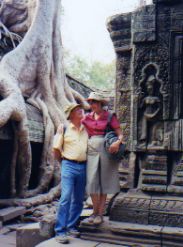 MouseToursTravels to an Ancient Cambodian Temple
I love all the characters, but my favorite has to be Mickey Mouse. As a child, waaayyyyy back in the 1950s, I remember watching a black and white Disney short film on our old home movie projector. It was ever so much more fun to watch Mickey and the gang than my parents old home movies!


In the mid 50s, we loaded up the family station wagon and drove to Disneyland! It was a young park then, but oh, so magical with the characters running around. And then there were the exotic destinations you seemed to visit in Frontierland, and especially Adventureland..... I mean a Jungle Cruise? With hippos and rhinos?? And exotic temples covered with strangler vines??? Wow!

Even though my hubby and I didn't know each other then, I think those early Disney adventures set us both to dreaming about seeing the world.

We grew up with the Mickey Mouse Club and all of the Mouseketeers... not to mention Spin and Marty and the Hardy boys. Mark was glued to "What I Want To Be" with a little boy learning about being an Airline Pilot.... he loved aviation and travel even at an early age! I guess that's why we've started both mousetourstravels.com and antique airplanes.com too!

When we were newlyweds, I bought Mark a Mickey Mouse watch because his initials were MM. At work he picked up the nickname of "Mouse". Now he worked for an airline, and we were able to travel and explore the world we had dreamed about at Disneyland. Early on, my sister said that when you traveled with us, you were on a "Mouse's Tour" because we scurried around so much.

We took our nieces
to Walt Disney World and Epcot... Of course they loved the Magic Kingdom, but they were fascinated with Epcot too.... Were other countries in the world really that different? Mickey Mouse and friends set us all to dreaming of the wide wonderful world beyond Disney again.
Mark's brother ran a club for collectors of Disneyana for years. There were annual conventions (at Disneyland) where we were all lucky enough to meet many of the original animators of films, those that helped Walt Disney with the development of Disneyland, Mouseketeers and Imagineers. Being family, we were always part of the helper-crew.
I remember one dinner where there was to be a surprise (for the convention goers) visit by Mickey and Donald. The speaker was Herb Ryman or Ken Anderson no less!!! (And how cool is this... they were Uncle Herbie and Uncle Ken to my nieces.) I can't remember which spoke that time, but whoever it was, they ran overtime just a little.... the stories they could both tell!
In the hallway outside of the dining room, we waited..... alone with Mickey and Donald for about 15 minutes!! Both were impish and completely in character the whole time. As an adult, I can tell you THAT was really a magical experience.
Mickey seems to have woven magic all through our lives... just as that little mouse did for so many. Walt and Mickey inspired us to travel and dream... and our effort to tell you about our travels is at MousetoursTravels.com.
So while it is hard to choose from all the great Disney characters, I really do have to say that my favorite is Mickey Mouse... and that is no mouse tale!
Judy and Mark