Main Street
Magic Kingdom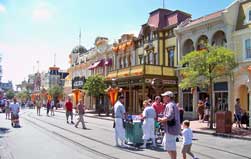 Main Street Magic Kingdom is the first place you will see after you enter the Magic Kingdom and pass through the tunnel under the Walt Disney World Railroad. If you did not know any better you might be tempted to think that you have actually stepped back in time to the turn of the century. The storefronts and sidewalks are reminiscent of what you might have found in small towns all across America during that time period.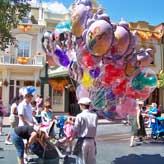 The sights, sounds and even smells will take you back to a time when life was simple and definitely not as hurried or stressed. You can listen to the sound of the horses' hooves as they pull a trolley car down the street or maybe catch the Barbershop quartet as they sing in perfect harmony. Take a deep breath and inhale the delicious aroma of freshly baked cookies and freshly popped corn. It can intoxicaiting. Delight in your senses and enjoy the moment.
As you continue to stroll down Main Street Magic Kingdom toward Cinderella Castle do a little window shopping. Look carefully at the names on the second floor windows for advertisements bearing the names of Disney executives, artists and family members. Can you find the offices of "Aye Four"? This and other company names were used by Walk Disney for the original land purchases for the resort (without anyone being the wiser).

Main Street Magic Kingdom is a great place to shop and eat, which of course is my favorite things to do. I love to get a pastry from the bakery in the mornings. It always smells yummy in there. I also like to get ice cream from the Plaza Ice Cream parlor. I like to get the Mickey ice cream cone. Cookies are used to make Mickey's ears. It is fun and it taste good too.





Walt Disney World Railroad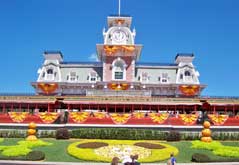 It has been said that Walt Disney loved trains. This might be the reason why a railroad station is one of the first things you see and perhaps even hear as you enter the theme park. He incorporated his love of trains into the design of the Magic Kingdom.
The 1.5 mile track circles the theme park. The trip takes about 20 minutes and the train makes stops near Splash Mountain in Frontierland and near Toon Park in Mickey's Toontown Fair. You may board or depart from the train at any or all of these stops throughout the day. A train will come around about every 7 minutes so don't worry if you do not make it on the first one.
During the ride you can sit back and relax in the open passenger car. Each car has bench style seats which gives you plenty of room to stretch out. Be sure to listen to the recorded narrative that explains the beautiful scenery you are seeing on your journey.
The Walt Disney World Railroad currently has four trains in service. They are all vintage stream locomotives that have been restored and converted from wood burning engines to oil burning engines. So hop on board and enjoy your trip around the Magic Kingdom.

I like the relaxing train ride around the park. You can never get too old to enjoy trains!
City Hall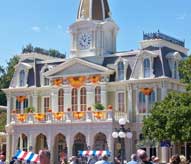 After you pass through the tunnel under the railroad station, the first building to your left is City Hall. This is where you will find guest relations. Stop in and ask any questions you might have about your visit. The cast members there will be happy to help out in any way they can.
Main Street Magic Kingdom Vehicles


During the course of each day you can find several different types of transportation available to take you and your family down Main Street Magic Kingdom toward Cinderella's Castle. If you would like to be escorted to the castle like a king or a queen then hop onto any of the vehicles. You might get to ride in a horse drawn trolley car, a fire engine, or maybe even a horseless carriage.
Town Square Expedition Hall


Town Square Hall is located opposite of City Hall. It is to your right once you pass under the Walt Disney World Railroad station. This is where you pick up your photos that have been taken by Disney's photographers during the day.
Town hall is sponsored by Kodak and has everything you might need for your camera. The area also has a little museum of sorts that pays tribute to early cameras and motion pictures.
In the back of this shopping area there is a place where you can pose for pictures with cut out displays of scenes from some of your favorite Disney movies. You might even see a few characters hanging around for picture opportunities and autographs.

Main Street Magic Kingdom Dining


Full Service Restaurants
Crystal Palace - This restaurant offers a buffet style all you can eat character dining experience. Pooh and all his friends can be found at breakfast, lunch and dinner.
Tony's Town Square Restaurant - Tony's serves up classic Italian food like pasta, pizza, and salads in a charming and romantic atmosphere. The look and feel of Tony's was recreated from the movie The Lady and the Tramp. It is open for lunch and dinner daily.
The Plaza Restaurant - The Plaza is located at the castle end of Main street opposite that of the Crystal Palace. The restaurant is open for lunch and dinner and serves specialty sandwiches, hamburgers and salads. They also serve up ice cream sundaes for dessert.
Counter Service Restaurants
Casey's Corner - Casey's serves up hot dogs, French fries and ice cold Coke products. It is open for lunch and dinner and located at the end of Main Street Magic Kingdom.
Main Street Bakery - The bakery offers coffee, pastries, sandwiches and snacks all day long. It is located in the middle of Main Street on the right hand side looking toward the castle.
Plaza Ice Cream Parlor - This popular ice cream parlor is hosted by Edy's Grand Ice Cream. They sell ice cream by the scoop, and a variety of milkshakes and sundaes.

I love the candy and ice creams shops on Main Street Magic Kingdom. Why? I am a teenager, I am a boy and I have a huge sweet tooth.

Main Street Magic Kingdom Shopping


The Chapeau - "Chapeau" is the French word meaning hat or topper. So of course this shop specializes in Hats. Pick out your very own pair of Mickey Ears and have your name monogrammed on the back.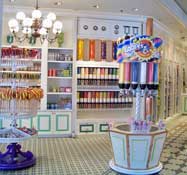 Confectionary - Just walking past this shop can give you a sugar rush. The sweet aroma coming from this shop is absolutely divine. You can find just about any kind of sweet treat here including candy, baked goods, fudge and candy apples.
Crystal Arts - Crystal Arts has an abundance of beautiful crystal figurines in the shape of various Disney characters. There is usually a glass blower on duty creating their art as you watch.
Disney Clothiers - This shop carries all types of Disney Character clothing for everyone in the family.
The Emporium - This store is huge. If you can not find all your Disney shopping needs here then I venture to say that it can not be found anywhere. They sell all sorts of toys, clothing, house wares, CD's, DVD's and many other souvenirs.
Firehouse Gift Station - The firehouse station sells 101 Dalmatians toys, fireman hats and badges, and other gifts and clothing.
Harmony Barber Shop - Stop in for a good old fashioned shave and a haircut.
Athletic Club - Disney character sports apparel and ESPN merchandise can be found at this shop.
Main Street Cinema - This shop has a good selection of Disney CD's and DVD's. You can also find stuffed animals, and books here.
Main Street Gallery - Just as you would expect, you can find all sorts of Disney art at this gallery on Main Street. You can purchase anything from porcelain figurines to animations cells here.
Uptown Jewelers - Uptown Jewelers has a nice selection of watches, snow globes and other nice jewelry.

Main Street Magic Kingdom Entertainment


Dapper Dan's Barbershop Quartet - Keep a look out for this street performance throughout the day. The members of the quartet dress in colorful striped vests with matching bowtie and straw hats. Their beautiful four part harmony will bring a smile to your face and pep to your step.
Daily Flag Retreat - Every day at 5:00 pm the American flag that flies over the Magic Kingdom in Town Square is taken down in a small patriotic ceremony. A veteran who has been pre selected usually has the honor of lowering the flag.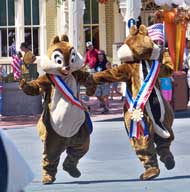 Family Fun Day Parade - This fun little parade is part of Disney's Year of A Million Dreams celebration. This patriotic parade moves up Main Street toward Town Square where it ends with everyone singing and paying tribute to the good old USA while waving theirs American flags.
If you can not find what you are looking for here at Main Street Magic Kingdom, you can search within our site by using the search box below.
Custom Search
Return from Main Street Magic Kingdom to Magic Kingdom

Return to Princess and Pirate Family Vacations Home