Liberty Square
Magic Kingdom
Liberty Square Magic Kingdom is the smallest section of the park, and it is cradled in between Fantasyland and Frontierland. The theme is set around the time period of the Revolutionary War and that of Colonial America.
In this area of the theme park you will find Liberty Tree. It is a beautiful old oak tree that is said to be 135 years old. Thirteen lanterns hang from the branches of this old oak. There is one for each of the original thirteen colonies.
Don't forget to look at the Liberty Bell while you are in this section. It looks just like the original, cracks and all. Parents, you shouldn't worry about taking your kids out of school, they can get in a history lesson while having fun.
The Hall of Presidents
The Hall of Presidents is a 25 minute audio animatronics American history lesson. You can learn about the history of the United States through the lives of the men who have held the office of President of United States. From George Washington to George W. Bush this patriotic show accurately portrays each President and the role he played in the history of this great nation.

I think the Hall of Presidents is boring but if you like history you might just like it.
Liberty Square Riverboat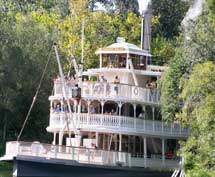 Cruise around the Rivers of America on a real steam powered riverboat. The Liberty Belle cruises around Ton Sawyer Island several times each day. Several years ago, when our children were younger, the captain of the Liberty Belle gave them each a turn at "steering" the riverboat. Afterwards, they were each awarded a certificate that stated that they were honorary captains of the Liberty Belle. They were so excited that you would have thought that each had been given a million dollars. It is just another part of the Disney Magic.
The Haunted Mansion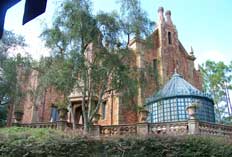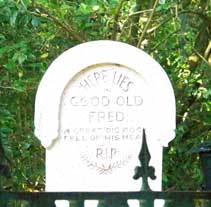 This Haunted Mansion may look scary and creepy from the outside but only friendly ghosts live there. The grave yard outside is full of headstones that have silly sayings on them like "Here lies dear old Fred, a great big rock fell on his head". After spending a few minutes in the stretch room, visitors are escorted in the dark to board their Doom Buggy for a tour of the mansion. Don't worry about the 999 ghosts that live there, they are said to be happy haunts. Even the hitchhiking ghouls that you unknowingly pick up along the way are gentle spirits.

I don't think there is much fun stuff to do in Liberty Square Magic Kingdom except for the Haunted Mansion. It is one of my favorite rides.

The Haunted Mansion is in the dark and can sometimes be a little scary but it is a good ride.

The Haunted Mansion is more silly than scary. I have always liked it but I like it more since the movie The Haunted Mansion with Eddie Murphy came out.

Liberty Square Magic Kingdom Dining
Liberty Tree Tavern - This is a family style sit down restaurant that serves American dishes.
Columbia Harbour House - Here you can enjoy dishes like fish and chips, chowder, salads and sandwiches.
Sleepy Hollow - This is a snack stand that offers funnel cakes and ice cream.
Liberty Market - This snack area serves up all kinds of snacks including fresh fruit.

If you are a teenage boy like me try the giant turkey legs that are for sale. They are really good.

Liberty Square Magic Kingdom Shopping
Heritage House - This shop specializes in gifts that have to do with America. Historical items including flags are available.
The Yankee Trader - You can find everything that you might need for the kitchen in this quaint little shop. All items are in Disney design of course.
Ye Olde Christmas Shoppe - At this Shoppe you can shop for Christmas decorations all year long. You will find Christmas ornaments galore here.
Disney for Dads Alert!
- There's a fresh fruit stand here, right beside The Hall of Presidents. Two of your kids' favorite things, right? Not so much. Get the kids to count the lanterns in the old oak tree. A little American History never hurt anyone. Get them to pilot the River Boat. They'll never forget it.
Back in the Day - One of my mother's favorite rides was The Haunted Mansion. It became one of mine, too. Did you catch the hidden Mickey in the ballroom scene? Did you catch the Grim Reeper holding a Mickey head? Only the most experienced HM riders know where that one is. And what happened to the bride's wedding ring?
What does your inner Ghost Host recall? Click on the Sail With The Tide logo above and share.


If you can not find what you are looking for her at Liberty Square Magic Kingdom, you can search within our site by using the search box below.
Custom Search
Return from Liberty Square Magic Kingdom to Magic Kingdom

Return to Princess and Pirate Family Vacations Home