Frontierland
Magic Kingdom
Have you ever pretended to be or wanted to be a cowboy? Come on, I know you have. Frontierland Magic Kingdom looks like a settlement town of the old west, and everyone can pretend they are a cowboy for the day.
All that is missing is the tumble weed blowing down the street - and your imagination, of course. So allow yourself to have a little fun and go back to your childhood, pull out those cowboy boots and have a blast!
Frontierland is where you will find two of our favorite rides in the Magic Kingdom: Splash Mountain and Big Thunder Mountain Railroad.
Don't miss the adrenaline rush you get from riding them. Another thing that you should not miss is the attention to detail in the architecture of the buildings and rides. It really does look like you are in the old west. Take your time and mosey on along the storefronts of the General Store or the Trading Post to take in a little nostalgia of the old days before you take that plunge on Splash Mountain. Keep your eyes open while you stroll along, you might just spot a cowboy or two walking through the streets or maybe even Woody and Jesse from the Toy Story movies.
Splash Mountain


Get ready to get wet, and maybe even soaked, on Splash Mountain. I always seem to walk away from any ride that you could possibly get wet on, including this one, completely soaked while everyone else manages to stay dry. I think my kids always put me where they know I will get soaked. Anyway, as the castmembers will tell you, "You will get wet, you may get soaked."
Float down the river with Brer Rabbit in a dug out hollow log that is big enough to hold six people. Choose your seat wisely because during this eleven minute ride someone will get wet.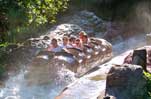 The log ride will float you past various scenes from one of Disney's early films, Song Of the South. You'll see Brer Rabbit, Brer Bear and Brer Fox and all of their friends.
After floating through the scenes from the movie, you drop down a five story waterfall into the brier patch. Try to keep your eyes open and smile for the picture that is taken at the top of the drop. You'll laugh at it later just like Brer Rabbit laughs in his laughing place.
Warning: the songs from the ride are cheerful and rather contagious. Once your heart rate slows back down to normal, you might find yourself humming the tune of Zip-A-Dee-Doo-Da and have "Mr. Bluebird" on your shoulder for the rest of the day. And then next. And the next... you get the idea.

I love Frontierland Magic Kingdom because of Big Thunder Mountain and Splash Mountain. They are so much fun. I always get soaked on Splash Mountain then go dry off on Big Thunder Mountain.

In Frontierland Magic Kingdom there are some fun things to do. There is Splash Mountain that has several drops including a 52' one. It is very fun. Big Thunder Mountain is pretty fun too; sometimes it feels like you lift out of your seat. Try to ride these when it is dark, from the top of each you can see all the lights in the park. It's cool!

Splash Mountain is my favorite ride in Frontierland Magic Kingdom. I used to be scared of it because you can see the big drop before you ride it and it looks scary. But after I rode it once I loved it and now it is my favorite ride especially the big drop.
Big Thunder Mountain


After you ride Splash Mountain you can walk over to take a ride on Big Thunder Mountain Railroad. If you got wet on Splash Mountain, then Big Thunder Mountain Railrod will dry you off as it speeds you past gold mines left over from the days of the gold rush. The clay colored rocky landscape of the ride continues the old west theme of Frontierland Magic Kingdom. Board an old mining car and take a wild ride through collapsing mine shafts and dark, creepy bat caves. No one has been in these dark places since gold fever hit the west. This fun and fast yet mild roller coaster doesn't have any big drops, twists or loops but it will still put a smile on your face as you fly out of your seat a few times. So hold on tight and scream to your heart's content. No one will mind a bit, except maybe the person in the seat next to you.

The Big Thunder Mountain Railroad is a great starter roller coaster. It doesn't go upside down and there are not any big drops but it is fast and fun.
Country Bear Jamboree


Join the Country Bears for a good old fashioned hoe-down at Grizzly Hall. This audio animatronics musical has plenty of singing and toe tapping music to entertain you for the 15 minute show. Some children might think that this show was made from the Disney movie The Country Bears, but the truth is that this attraction was here in Frontierland long before the movie was ever made. You'll still get to see the same hillbilly type of bears from The Country Bears, but you will not find Beary Bear from the movie. Nonetheless, children seem to like the bears and the show so sit through it at least once. Then say, "Been there, done that" and check it off your list.
Tom Sawyer Island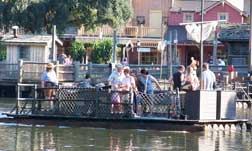 Are you a fan of Tom Sawyer, Huck Finn or Becky Thatcher? If so, hop on a river raft and float on over to Tom Sawyer's Island to play and explore as Tom and Huck once did. The raft ride is only two minutes long and you usually will not have to wait long if at all to make the trip. While on the Island you can explore caves and a mineshaft, test your balance on a barrel bridge and walk through a gristmill with a working waterwheel. If time allows, play an old fashioned game of checkers or look out over the top of the fort. The trails and caves can be a bit confusing to navigate, so be careful not to get lost. Just remember that all the trails will eventually lead you back to the loading dock for the raft ride back across the river to Frontierland.

I like Tom Sawyer's Island because I like walking through the caves and exploring the island.
Frontierland Magic Kingdom Shootin' Arcade


Test your levels of skill using a buffalo rifle at this shootin' gallery with an old west theme. Its fun, but you will have to cough up the extra change for the experience.



Frontierland Magic Kingdom Dining


Pecos Bill Tall Tale Inn and Cafe - This counter service eatery offers burgers and fries with a topping bar, sandwiches and salads. The taco salad is a nice change from the same old burger and fries and the Caesar salad is tasty too.
Snacks - Snack carts are positioned throughout frontierland and have a variety of food choices from smoked turkey legs and pretzels to frozen lemonade and popcorn.



Frontierland Magic Kingdom Shopping


Brier Patch - This shop is located at the exit of Splash Mountain. You will find stuffed animals, Splash Mountain clothes, candy and other merchandise. This is also the place to purchase your photo that was taken from the top of the drop on Splash Mountain.
Frontier Trading Post - This shop is where you can find cowboy and Indian costumes, wooden guns, sheriff badges and plenty of other items reminiscent of the old west.



Frontierland Magic Kingdom Entertainment


Woody's Cowboy Camp-As part of Disney's Year of a Million Dreams celebration, Disney has added some new street entertainment throughout the park. Woody's Cowboy Camp rides into Frontier land several times each day to entertain and interact with the people who have gathered in the streets to watch the show.
Woody, Jessie, Bullseye and Sam the Singin' Cowboy do the Hokey Pokey and sing "You've Got a Friend in Me" while they make their way through a cowboy obstacle course of people wearing silly hats in the shape of mountains and cacti.
If you happen to stumble upon the show stop and join in on the fun. You will have a hootin' and hollerin' good time!
Disney for Dads Alert!
- A Dad can get overwhelmed in Frontierland Magic Kingdom. You'll be pulled in so many directions, your newly-learned steering skills are going to get tested. While this portion of the park doesn't lend itself to relaxation, grab a turkey leg or two with some drinks and the kids will stop to nibble for a while.
Back in the Day - I remember my mom loving Country Bear Jamboree. I am so grateful to the imagineer who came up with Big Thunder Mountain. I'm not so grateful to the one that came up with the tune heard in Splash Mountain. Exactly what are the characters singing before the drop?
What at Disney makes you sing Zip A Dee Doo Dah? Click on the Sail With The Tide logo above and share your Brer Moments.




If you can not find what you are looking for here at Frontierland Magic Kingdom , you can search within our site by using the search box below.
Custom Search
Return from Frontierland Magic Kingdom to Magic Kingdom

Return to Princess and Pirate Family Vacations Home