The Cabins at Disney's Fort Wilderness Campground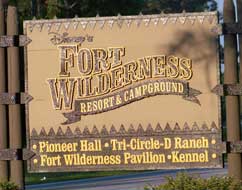 Your family can rough it in style and comfort in one of the cabins at Disney's Fort Wilderness Campground. The campground has almost 800 campsites and a little over 400 wilderness cabins. For the purpose of discussing Disney's moderate resorts, we will only talk about the cabins for now but, camping can be a fun way for your family to experience Disney.


Our family stayed in one of the wilderness cabins a few years ago. The cabins can sleep up to six people so the five of us were very comfortable. Each cabin has one bedroom that has a double bed and a set of bunk beds. There is also a wall mounted hair dryer, a night stand, a closet and a TV that sits on the dresser. The three children took this room and their dad and I slept on the Murphy bed in the living room. We would pull down the bed at night and put it back in its hiding place in the mornings. The living room also had a sofa and a few chairs that you could kick back in to watch TV.
Each cabin at Fort Wilderness Campground has a small bathroom with toilet, tub/shower and a sink with mirror. Nothing fancy here, just your basic setup. You are supposed to be camping remember? One of the big conveniences of staying in a cabin at Disney's Fort Wilderness Campground is that each cabin has a full kitchen. The kitchens have a full size refrigerator, a stove top oven, a microwave and plenty of pots, pans and cooking utensils. Other basics like a coffee maker, a can opener, flatware and dishes are all provided too. You can sit down and enjoy your meal in the comfort of your own room at the dinner table that sits six people.
Having access to a full kitchen gives you one of the benefits of staying in one of Disney's Villas only at a Disney moderate resort price. Being able to prepare your own meals might save you a considerable money if you do not want to eat out every meal. You can purchase some basic groceries from both the Settlement Trading Post and The Meadow Trading Post.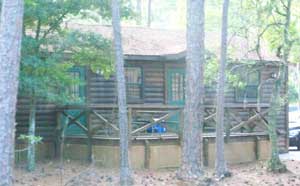 The outside of the cabins are nice, too. There is a patio with a charcoal grill and a deck with a picnic table. Having the picnic table gives you the chance to enjoy your meals outside or just sit and take in the beauty of your surroundings. You are in a campground, take advantage of it.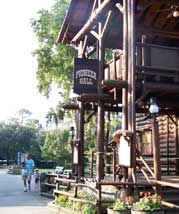 If you decide you want the night off from cooking, there are several options available at the resort. Hop on a bus that will take you the settlement area of the campground. This is where you will find the restaurants. Trail's End Restaurant is located in Pioneer Hall and is an all you can eat buffet for breakfast, lunch, and dinner. One of my favorite meals to eat out while on a family vacation is breakfast. The buffet at Trail's End Restaurant has things like eggs, bacon, sausage, fruit, French toast and all kinds of other goodies. Yum!
The dinner buffet is equally as good with things like fried chicken and BBQ ribs. I think Disney actually may lose money when our teenage son eats here. He loves it! The good part about this restaurant is that you can get your food to carry out and take it back to your cabin to enjoy in privacy.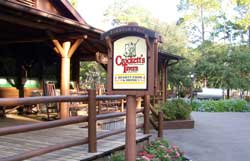 If the food at Trail's End sounds too heavy to you then you can go around the corner to Crockett's Tavern which is also located in Pioneer Hall. Here they have pizza and a few other options for you to choose from.
There are two other dinning options that would also fall under the category of entertainment. The Hoop-De-Doo Musical Revue is a dinner show that will get your hands clapping and your feet tapping. They serve the meal while you watch the show. The food consists of salad, cornbread, fried chicken, BBQ ribs, cowboy beans and strawberry shortcake for dessert. The meal and drinks are all you can eat including wine, sangria, and beer. Of course you can also have tea, soda or water. There are three shows nightly to choose from, but you will need to make a reservation because the shows usually sell out quickly. Now I'll admit that even though we enjoyed the food and show, it is a bit on the expensive side. Spending the extra money was worth it to us because the children enjoyed themselves.
Mickey's Backyard BBQ is another all you can eat buffet that is only offered on certain days. We have never been to this so unfortunately, I can't really give you any other information.

For Dining Reservations Call 1-407-WDW-DINE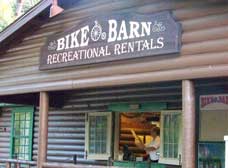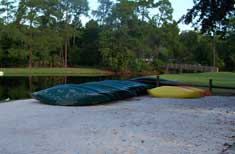 Disney's Fort Wilderness Campground has plenty of ways that you and your family to have fun and keep busy. You can rent a bike or a golf cart from the Bike Barn and take a scenic tour of the campgrounds. The Bike Barn also has non motorized water toys for rent to be enjoyed in the pond that is right there at the rental shop.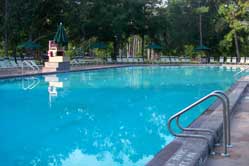 If swimming is your thing, the resort has two pools. But, if you would rather zip around on Bay Lake, you can rent a variety of motorized watercraft from the marina down past the settlement and the gift shop.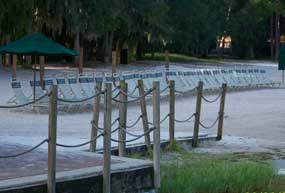 Another way for you to enjoy yourself while staying at Fort Wilderness Campground is to relax on the sandy beach of Bay Lake. Pick yourself out a lounge chair and wait for it to get dark. This is a good spot to watch the Electrical Water Pageant, a light parade on the water, float by the resort.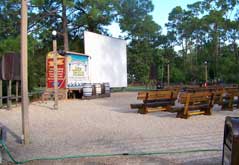 Fort Wilderness Campground also has a family time each evening with a sing along and marshmallow roast. Afterwards, settle down to watch whatever Disney movie they will be playing that night. Chip and Dale usually make an appearance during this camp fire time.
If you still can't find enough to do, try playing tennis, basketball or tetherball on the courts scattered around the campground. There are also two arcades available if you have some time to waste.
Let's talk about bus transportation. Buses to any of the theme parks, water parks and Downtown Disney can be boarded at the Outpost Depot. Outpost Depot is located at the front of Disney's Fort Wilderness Campground.
Thankfully the resort also has an internal bus service to take you to the different sections of the campground. Without this service, you certainly would not get anywhere fast. It will still take you a few minutes to get to where you want to go, but at least you do not have to walk.
Our stay at Disney's Fort Wilderness Campground was fun. It was a very different experience from our other trips to Disney. It was a nice break from the concrete jungle.

Disney for Dads Alert!
- Well, if you're the outdoors hunting or fishing Dad, this is the place for you. This might as well be a Disney Park in and of itself. There's a lot for you and the family to do here. Don't miss the musical water parade and the fireside story time.
Back in the Day - I have relatives in Orlando, and when I came down with my parents we stayed with them. So, my memories of Disney resorts prior to my travels with my wife and kids are very limited. But on a recent trip, we took the kids to the Hoop-De-Doo Musical Revue.
I got the shock of my life when one of the characters unexpectedly slammed a pewter pot of fried chicken onto my pewter plate, and the chicken took flight one last time with a literal "bang". I caught the chicken breast in mid-air only because my arms had flown up in response to the slamming pot!
Ever stayed at the Fort Wilderness campground? Click on the Sail With The Tide logo above and tell us about it. I have a sneaking suspicion that there are some interesting stories to be told.


If you can not find what you are looking for here at Fort Wilderness Campground, you can search within our site by using the search box below.
Custom Search
Return from Fort Wilderness Campground to Disney-Moderate-Resort

Return to Princess and Pirate Family Vacations Home