Fantasyland
Magic Kingdom
Fantasyland Magic Kingdom is the heart and soul of the Magic Kingdom park. The dreams of every little boy and girl can come true in this section of the park. This is evident from the joy and excitement of the children as they get to ride Dumbo the Flying Elephant or Cinderella's Golden Carrousel for this first time. Even though the rides are geared more toward younger children who still believe in fairytales, everyone can enjoy the timeless enchantment of Fantasyland Magic Kingdom.
Cinderella Castle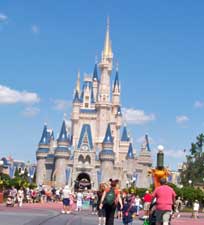 Cinderella Castle has become synonymous with the Magic Kingdom. It is hard to think of one without the other. When you enter the park and look down Main Street USA, Cinderella Castle captures your attention and your heart. It doesn't really matter if you are 2 or 102, seeing Cinderella Castle for the first time is awe inspiring. On your first visit to the Magic Kingdom make sure you enter Fantasyland by way of the Castle. Inside the castle hallway you will see murals with scenes from the movie Cinderella recreated out of colorful mosaic tiles. The story of Cinderella captures your imagination and makes your entrance into Fastasyland a magical experience.
Bibbidi Bobbidi Boutique
New to Cinderella castle is the Bibbidi Bobbiti Boutique. The helpers at the boutique make you feel like a princess. Little girls of all ages love to be made to look like their favorite princess. Appointments are recommended and be prepared to pay a king's ransom. Being made to look like royalty can be expensive depending on the extent of the make over chosen.
Cinderella's Golden Carrousel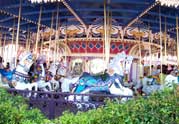 What's not to love about Cinderella's Golden Carrousel? The Carrousel is painted with different scenes from Cinderella and the horses are all painted in bright happy colors. The ride lends itself to the imagination. Little boys can pretend that they are Prince Charming as their horses gallop around Fantasyland. Their job is to rescue Cinderella from her evil step mother. Little girls can pretend that they are Cinderella and have found their Prince Charming. Maybe they will ride their Carrousel horse off into the sunset to live happily ever after.
Mickey's Philarmagic

Mickey's PhilarMagic is a 12 minute 3D movie that is shown on a 150 foot screen. The movie showcases many characters from some of Disney's beloved movies. You will see characters from movies like Aladdin, The Lion King, The Little Mermaid,and Peter Pan. The 3D effects will make you feel like you are a part of the show. With the help of 3D glasses, you can feel like you are flying through the air with Aladdin and Jasmine on a magic carpet. The entire show is fun and exciting and keeps you engaged. Don't miss it.

There is not much in Fantasyland Magic Kingdom for teens to do unless you like Snow White, Dumbo or Peter Pan. My favorite thing to do in Fantasyland is to see Mickey's Philharmagic because it is in 3D. It is pretty funny.
Peter Pan's Flight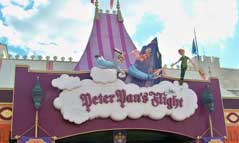 On this ride, you can soar over the streets of London with Wendy, Peter Pan and Tinker Bell in your very on pirate ship. Your journey starts out in the big city at the Darling home but ends in Never Never Land with the lost boys and Captain Hook. Peter Pan saves the day and Wendy from walking the plank when he wins a sword fight with Captain Hook. This adventure packed ride will make you believe that you really can fly. Just remember that all it takes is a little faith, trust and Pixie Dust. The line for this ride can be unusually long at times.
Snow White's Scary Adventures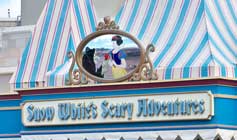 A mining cart is the mode of transportation that takes you through various scenes from Disney's beloved fairytale Snow White and the Seven Dwarfs. You will see scenes such as when the wicked old witch disguises herself to look like a peddler and gives Snow White a poisoned apple. The Seven Dwarfs and all of their forest friends can be found at their cheerful cottage in the woods. The last scene is of course when the handsome prince leans over Snow White and awakens her with a kiss and they all lived happily ever after. This ride might be a little too scary for some children.
Pooh's Playful Spot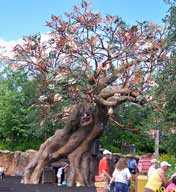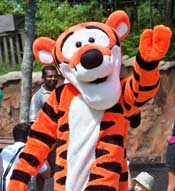 Looking at Pooh's Playful Spot makes me feel like I have been transported into the Hundred Acre Wood. Owl's House, the big old oak tree, stands tall in the middle of this play area in Fantasyland Magic Kingdom. Children can take a break from riding rides for a while and pretend they are running around the woods with their favorite storybook friends. Don't forget your camera and autograph book. This is a good spot to meet and greet Tigger and Pooh.
Ariel's Grotto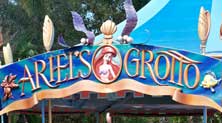 Another good place to cool down in Fantasyland Magic Kingdom and take a break on a hot day is at Ariel's Grotto. Ariel herself keeps watch over this water playground and will pose for pictures and sign your autograph book.
The Many Adventures of Winnie the Pooh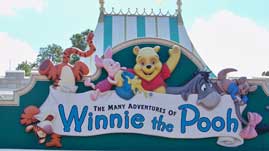 I do love Pooh Bear. What is not to love about a chubby little cubby all stuffed with fluff? Ok. I do understand that this very mild ride might not be adventurous enough for everyone, but young children, and adults wanting to experience a little nostalgia, will love it. You get to ride in a hunny pot through the Hundred Acre Wood and through the pages of one of Pooh's many adventures. Along the way, you'll see Pooh and all of his friends including Kanga and Roo.
Dumbo the Flying Elephant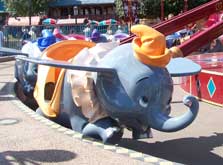 On this ride you can soar through the air over Fantasyland Magic Kingdom in a cheerful flying Dumbo. This short ride is a must for you and your little one especially if you are on your first visit to Disney World. The lines are usually long and the ride is extremely short but there is something magical about the experience.
"it's a small world"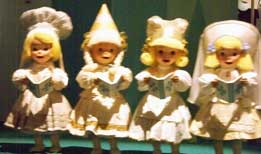 This charming ride is a must if you love dolls. This gentle boat ride floats you through several rooms that are filled with dolls from many different countries. The costumes of these dolls are beautiful. Most of the dolls sing and dance according to the country that they represent. The result of this ride is that you will no doubt have the song "it's a small world" stuck in your head for the rest of your day in Fantasyland Magic Kingdom. And even if dolls aren't your thing, this ride is a must for a first time visitor to Fantasyland Magic Kingdom.
Mad Tea Party
Tea Anyone? 'Round and 'round and 'round you go on this maddening teacup ride. Join Alice for some fun, and jump into a pastel colored teacup and spin to your heart's content. But be careful, you do not want to feel sick the rest of your day in Fantasyland Magic Kingdom!

Fantasyland Magic Kingdom is more for little kids but I still love to ride It's a Small World, Peter Pan's Flight, Cinderella's Golden Carrousel, The Many Adventures of Winnie the Pooh and the Mad Tea Party. A visit to the Magic Kingdom just would not be the same without riding them.

Fantasyland Magic Kingdom Entertainment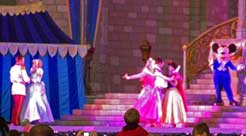 Dream Along with Mickey-Dream Along with Mickey is a musical stage show that lasts about 20 minutes. You can watch the performance several times a day on the front stage or court of Cinderella's Castle. The show is hosted by Mickey and Minnie. Many other Disney "stars" make appearances during the show too.
The Musical is all about dreams. Can your dreams really come true? In the first scene, Cinderella, Sleeping Beauty, and Snow White dance with their Prince Charming to songs from each of their fairytales. You will hear each of these songs: "A Dream is a Wish Your Heart Makes", "Someday My Price will Come" and "I Danced with You Once Upon a Dream". All of their dreams did come true.
The second scene is about the dreams of adventure. Peter Pan and Captain Hook fight it out until Hook is scared off by the tick tock of a giant clock. The show ends with everyone in the audience shouting "dreams come true" to overpower Evil Queen Maleficent's wish that all dreams become nightmares. Good once again wins over evil because everyone in the audience believes that dreams really do come true.
Story Time with Belle-Listen to Belle retell the story of Beauty and the Beast in the Fairytale Garden which is located next to the Enchanted Grove snack stand. The show uses a lot of audience participation so stand in the back if you do not want to be a part of story time. After story time, Belle is available for pictures and autographs.

Fantasyland Magic Kingdom Dining
Cinderella's Royal Table - American cuisine. Open for breakfast, lunch and dinner.
You are sure to feel like royalty when you dine at Cinderella's Royal Table. Your little prince or princess will think they have stepped into the pages of a fairytale. The atmosphere in the restaurant is definitely medieval with its stone floors, suits of armor and waiters and waitresses dressed in Renaissance clothing. The children are addressed by either prince or princess and the adults are addressed by Lord or Lady. Your meal will be one to remember for a lifetime.
Although you can dine at breakfast, lunch, or dinner, the character breakfast is by far the most popular meal at the castle. In fact, this is the most popular character breakfast at Disney. For this reason, be sure to make reservations well in advance.
To view a menu for Cinderella's Royal Table please visit allears.net
Pinocchio Village Haus - This counter service eatery is decorated to look like a German village. German music can be heard playing inside and the table outside offer a nice view of Fantasyland Magic Kingdom. Your food choices include pizza, sandwiches, soups and salad.
Scuttle's Landing - This snack bar is located near Ariel's Grotto. They serve up refreshing frozen Coca-Cola treats.
Mrs. Potts' Cupboard - Mrs. Potts' is located between the Many Adventures of Winnie the Pooh and the Snow White ride. She serves sweet treats like cookies, brownies and ice creams sundaes.
Enchanted Grove - The Enchanted Grove is hosted by Minute Maid and offers fruit juices, strawberry sorbet and ice cream swirls, and lemonade.

Fantasyland Magic Kingdom Shopping
Fantasy Fare - If you like Donald Duck then this is the shop for you. Located at the exit of Mickey's Philharmagic.
Pooh's Thotful Shop - This shop located at the exit of The Many Adventures of Winnie the Pooh ride. You can find everything associated with Pooh and all of his friends here. They have everything from baby clothes to huge stuffed animals.
Seven Dwarf's Mine - Snow White and the Seven Dwarfs clothing and toys.
Sir Mickey's - Mickey Mouse clothes, stuffed animals and other toys can be found here.
Tinker Bell's Treasures - This shop is a treasure trove of princess costumes and accessories. Including Tinker Bell clothes, jewelry and jewelry boxes.
Disney for Dads Alert!
- Warning for Dads: That song will stick in your head. You know the one I'm talking about. You'll catch yourself humming it at least once later in the day. If you want the kids to meet some characters, there's often one or two on the back walkway to Tomorrowland behind the stores to the left, looking at the Castle.
Back in the Day
- Mr. Toad's Wild Ride and 20,000 Leagues Under the Sea. My kids look at me as if I were crazy when I mention these former rides. All you'll find there now is a bunch of "pooh"!
What's your Disney fantasy? Click on the Sail With The Tide logo above and tell us about it. G-rated only, please.


If you can not find what you are looking forhere at Fantasyland Magic Kingdom, you can search within our site by using the search box below.
Custom Search
Return from Fantasyland Magic Kingdom to Magic Kingdom

Return from Fantasyland Magic Kingdom to Princess and Pirate Family Vacations Home