Epcot Norway Pavilion
The Epcot Norway Pavilionis a favorite of many Disney fans. Why? The pavilion has a boat ride, good food, and unique shopping opportunities. The pavilion celebrates the rich history, the folklore, and the culture of country.
In this small village you will find a Norwegian Castle that is fashioned after Akershus, a 14th-century fortress that still stands guard over Oslo's harbor today. The castle at Epcot is the Akershus restaurant. It is home to one of Disney's most popular character meals. How fitting that guests can dine with royalty (Disney Princesses) while enjoying the medieval look and feel of a castle.



The Epcot Norway Pavilion Attraction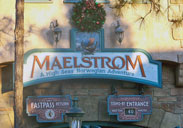 Maelstrom-This is an indoor boat ride that takes you on a tour through both real and fantasy scenes of Norway's history. The purpose of this tour or journey is to search for the spirit of Norway. Your longboat sails you past old fishing villages and all is well, but then everything turns into a confused chaos (maelstrom) as trolls take over your boat. The troll sends the boat backward toward a cliff and then forward again over a waterfall. You land safely in a modern day fishing village.
The second part of your tour takes place in a theater, the five minute film interrupts the daydreams of a little boy. As he inspects an old Viking ship he imagines all kinds of people, from ski jumpers and seafarers to businessmen and scientists. The boy knows that the spirit of his country comes from its people.

The boat ride is cool because it goes backwards down drops.

The Maelstrom is very fun because it goes backwards and forward.

I like riding Maelstrom. It is a fun boat ride.



The Epcot Norway Pavilion Entertainment
Spelmanns Gledje-Group of five that plays dance tunes. It is a delightful mix of folk and country.



Norway Exhibits
The Vikings: Conquerors of the Seas- is a display inside the Stave Church Gallery. It includes life-sized recreations of Norway's great Vikings like Erik the Red, King Olaf and Rognvald the Raider. The exhibit also has authentic axe blades, arrows and swords.



Norway Food and Drink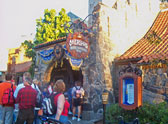 Akershus Royal Banquet-Dine with royalty in a Norwegian castle. Meet, greet, and eat with your favorite Disney princesses for breakfast, lunch and dinner. This character meal is an American breakfast while lunch and dinner features Norwegian fare.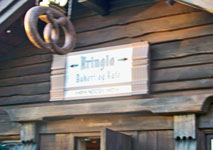 Kringla Bakeri Og Kafe- This counter service bakery is one of our favorites in the World Showcase. The sweet pretzels are great. You can also get berry tarts, cheesecake, apple danish, or the open faced sandwiches with smoked salmon or ham and cheese.



Norway Shopping
The Puffin's RoostThis shop has Norwegian specialty items like wool sweaters and hats, warm jackets, rugs, Christmas ornaments, jewelry, toys including troll dolls and Viking helmets.



Kid Activities in Norway
Kidcot-tables are located inside the Puffin's Roost.
If you can not find what you are looking for, you can search within our site by using the search box below.
Custom Search
Return From the Epcot Norway Pavilion to World Showcase

Return From the Epcot Norway Pavilion to Princess and Pirate Family Vacations Home