Downtown Disney Shopping
Westside
Downtown Disney Shopping is at its best in the Westside section of Downtown. It is where guests can have a fun and unusual shopping adventure away from the crowds of the theme parks. Although you can find some Disney themed merchandise on the Westside, the majority of the specialty shops offer unique gifts and souvenirs.
**NEW**
littlemissmatched a specialty store offering everything from socks to accessories for boys and girls ages 1 to 101. Here you can buy signature socks in packs of 3 so you can mix it up, express yourself and solve the age-old problem of the missing sock all at the same time! You can even top off your favorite pair of shoes with some crazy laces. You can also pick up water bottles, wallets, and other fun accessories in bold prints and bright colors.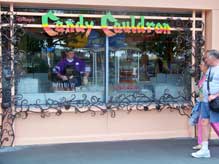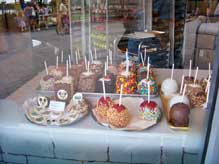 Candy Cauldron - candies are made fresh before your eyes to tempt you to do more than window shop. It is a great place to satisfy your sweet tooth. This dungeon themed sweet shop is full of treats including jelly beans, fudge, caramel and candy apples, chocolate dipped strawberries and much, much more.
The Cirque du Soleil Boutique - is located next to the box office, beneath the auditorium. They sell Cirque du Soleil Boutique branded fashion apparel including scarves and purses. They also sell show inspired games.
DisneyQuest Emporium - Inside DisneyQuest you can find DisneyQuest logo merchandise .
House of Blues Company Store - this interesting shop has a unique mix of Blues CDs, apparel and folk art. They even have food items including hot sauce and cornbread mix.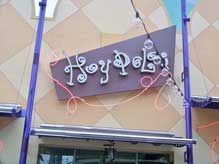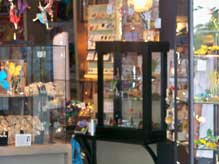 Hoypoloi - this shop offers a one-of-a-kind art collection created by Ron Hoy. Guests will find some rather remarkable art pieces here that are made of glass, ceramics, metal, wood and stone. Stop in for a look around even if you are not in the market to buy, window shopping can be interesting and enjoyable.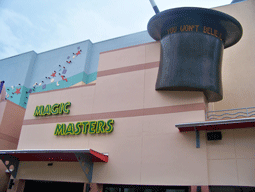 Magic Masters - The interior of this magic store is designed as a re-creation of Harry Houdini's private library. Classic effects include easy-to-master coin and card tricks, linking rings and a furry raccoon that springs to life. Expert magicians entertain guests continuously with illusions and sleight-of-hand.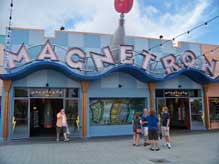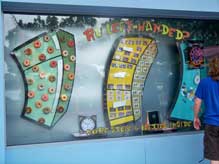 Magnetron - Specialty refrigerator magnet shop with an assortment of collector-quality magnets. This shop contains over 20,000 magnets of every shape, size and description. Interestingly enough, there are NO Disney magnets in this store. You can find plenty of Warner Brother items, however. If you are looking for an inexpensive souvenir, you should be able to find one here.
Mickey's Groove - is located in Downtown Disney's West Side across from Wetzel's Pretzels. Mickey's Groove is a store dedicated to selling Mickey memorabilia including clothes, souvenirs and toys. This property offers access for patrons with disabilities.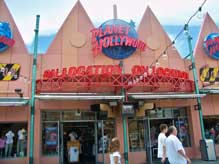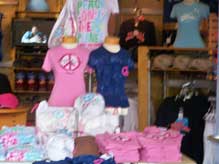 Planet Hollywood on Location - This small souvenir shop carries everything branded Planet Hollywood.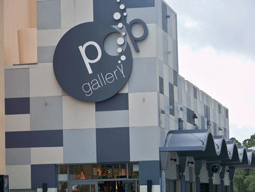 Pop Gallery - This shop carries original, artist-signed limited edition sculptures and paintings, and other high-end gift items. The gallery gets its name from the limited edition art pieces that appear to "pop" through the store windows with a rainbow of color.
Sosa Family Cigars - Premium cigars from around the world, clothing, books and gifts are featured, as well as demonstrations showcasing the art of hand-rolling cigars.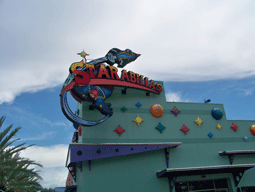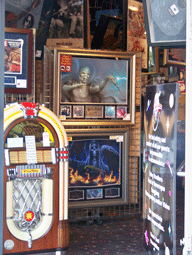 Starabilias - If you are a movie buff then this shop is the place for you to visit. They have restored jukeboxes, vintage Coca-Cola machines, themed key chains, posters, autographed celebrity photos and clothing too.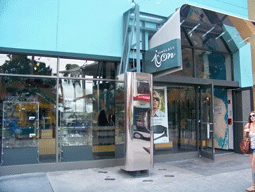 Sunglass Icon - Guests can look like the stars while Downtown Disney shopping with the designer sunglasses and other eyewear featured in the studio, which is designed like a small movie set. Some of the glasses in this full-service boutique are exact replicas of glasses worn by celebrities in recent films.
If you can not find what you are looking for here at Downtown Disney Shopping, you can search within our site by using the search box below.
Custom Search
Return from Downtown Disney Shopping Westside to Westside

Return from Downtown Disney Shopping Westside to Princess and Pirate Family Vacations Home