Downtown Disney Entertainment
Westside
Cirque Du Soleil, La Nouba
Seeing a Cirque du Soleil performance is on my Downtown Disney entertainment to do list for the near future. Because I have not personally seen the show, I can only give you the general info found on the Official Disney site and from my friends and family who have seen the show.
I have heard that Cirque du Soleil or La Nouba is a spectacular theatrical performance unlike anything that you may have experienced before. It is a combination of circus and theater with elements of modern dance, staging, humor and acrobatic stunts. Performers and musicians make the impossible seem possible in a style that is all their own. It certainly doesn't sound like any circus that I have ever been to.
The name La Nouba is derived from the French phrase "faire la Nouba," which translated means to party or to live it up. This ensemble of performers lives it up with such Downtown Disney entertainment acts as:
Clowns Flying Trapeze Aerial Cradle Cycles German Wheel Balancing Chairs Aerial Ballet in Silk Diabolos High Wire Power Track Trampoline
Located on Downtown Disney's Westside the La Nouba show is performed twice daily five days a week at 6 p.m. and 9 p.m. (No shows on Sunday or Monday.) The performance last 90 minutes and is uninterrupted.
Disney Quest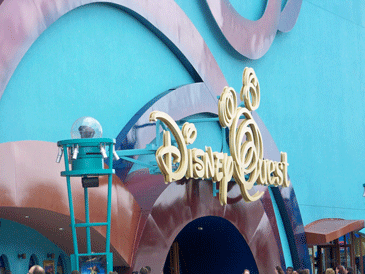 Disney Quest is Downtown Disney Entertainment at its best. It is an indoor interactive video arcade/virtual theme park/ entertainment center of the future. Disney Quest blends the magic of the Disney theme parks with new and exciting, cutting-edge immersive technology. It is definitely more than just an arcade. If you have older kids and teenagers in your party you don't want to miss this must see (and do) experience. Even though your kids and teens will certainly enjoy this Downtown Disney entertainment option, it is a virtual playground where everyone will have fun.
DisneyQuest is designed very similar to Disney's other theme parks. Guests enter through a main plaza called Ventureport. From Ventureport guests can choose and enter one of the four themed zones.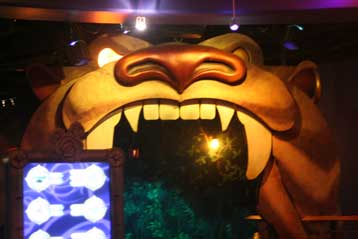 Photo courtesy of breezy421
Explore Zone is a virtual adventureland where guests are immersed in exotic and ancient locales. It is recognizable from the tiger's head cave from Disney's Aladdin.
Score Zone is a superhero competition city where guests can match their game playing skills. Guests enter this area through an opening in a giant comic book.
Create Zone is a private "Imagineering" studio for artistic self-expression and invention. A high tech artist's palette will guide you into this zone.
Replay Zone is a carnival on the moon where guests experience a futuristic spin on classic rides and games. This area is themed similar to Tomorrowland in the Magic Kingdom.
Listed below are a few of the attractions that can be found within these four zones:
Pirates of the Caribbean - Battle for Buccaneer Gold, puts you in the middle of the action as you steer your pirate's ship, fire cannons, and fight swashbuckling buccaneers as you race for the gold! (Guests must meet a minimum of 35" to ride)
Virtual Jungle Cruise - Your Jungle Cruise experience in the Magic Kingdom will never be the same after you plunge down the raging rapids of this prehistoric river during the Dinosaur Age on a raft. This attraction uses 4-Dtechnology so you might even get wet on your wild ride!
CyberSpace Mountain - Bill Nye the Science Guy helps you design your own roller coaster (on a computer). You can make it as wild or as mild as you want but keep in mind that when you are done designing you coaster, you get to climb into a simulator and ride your creation. (Guests must meet a minimum of 51" to ride)
Buzz Lightyear's Astroblasters - Pilot your own futuristic bumper car "Astroblaster". The only problem is you're in a battle and always under attack! So you must fight back by scooping up "asteroids", loading them into your blaster and firing away at the other cars. This takes Buzz Lightyear's Space Ranger Spin from the Magic Kingdom to the next level. (Guests must meet a minimum of 51" to ride)
Animation Academy - Have you ever wondered what it is like to be a Disney animator? Here is your chance to find out. An instructor takes you through the process of drawing a Disney character step by step. It is fun to see what you are capable of creating!
Photo courtesy of breezy421
Mighty Ducks Pinball Slam - If you love the classic style pinball games of the past then you will love this life sized Mighty Ducks pinball game. (Guests under 48" tall should see a Navigator for assistance.)
Ride the Comix - get ready to battle supervillians as you fly through a virtual reality comic book world!
Aladdin's Magic Carpet Ride - lets you fly through the alleys and streets of Agrabah as you hunt to find the magic lamp and save the Genie!
If you are planning a day of fun at DisneyQuest, keep in mind that some attractions, especially those involving virtual reality, may cause motion sickness in those who are prone to it. The most likely culprits include Ride the Comix, Aladdin's Magic Carpet Ride, and Pirates of the Caribbean: Battle for Buccaneer Gold. Of course, the attractions that involve real motion may cause discomfort as well: the CyberSpace Mountain simulators, Virtual Jungle Cruise, and Buzz Lightyear's AstroBlasters.
Most of DisneyQuest's attractions seem to be best suited for ages 10 and up. However, younger kids would probably enjoy the Create Zone the most because there are plenty of hands-on activities to entertain guests of all ages. The 4th floor has a section devoted to games for children ages 2-7 but keep in mind that the environment inside DisneyQuest can be very loud which can quickly overwhelm toddlers.
Hours of operation are as follows: Sunday - Thursday: 11:30 a.m. to 10:00 p.m. Friday - Saturday: 11:30 a.m. to 11:00 p.m.



House of Blues
The House of Blues is a Downtown Disney entertainment option located on the Westside is a concert venue that hosts some of today's popular bands. Concert tickets, tour dates and event information is available at House of Blues Orlando.
AMC 24 Theatres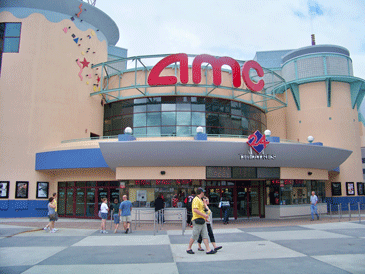 Going to the movies might not seem exciting when you consider all of the other Downtown Disney entertainment options but this is not just any old theater. According to the Official Disney website "AMC Entertainment upgraded one auditorium to be the first Enhanced Theater Experience (ETX™) in the United States. The ETX auditorium includes a 20 percent larger, floor-to-ceiling screen, 3D technology, 12 channel audio and digital projection that delivers higher resolution than HD. AMC debuted the ETX auditorium for the premier of Alice in Wonderland in 3D on March 5."
In all of the other auditoriums at the theater guests can "catch all the current box office smashes and award-winning features in comfort and style. Stretch out in loveseat-style stadium seating while taking in the THX Surround Sound and Sony Dynamic Digital Sound. The 24-theatre complex provides the finest in film presentation while capturing the grandeur of the spectacular Art Deco movie houses of the 1920s."
Characters in Flight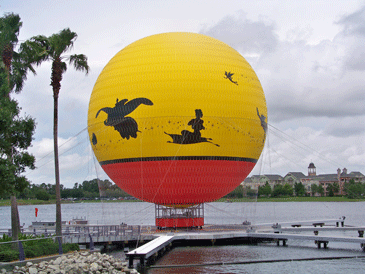 Characters in Flight is the newest attraction at Downtown Disney Westside that opened in April, 2009. It seems to be more of an attraction that a form of Downtown Disney entertainment but is considered to be entertaining none the less. Characters in Flight is a giant tethered balloon that takes guests up 400 feet above the Downtown Disney Area for approximately 8 to 10 minutes to experience the breathtaking, 360-degree view of Walt Disney World Resort in Florida.
This colorful balloon is covered in Disney character silhouettes from some of Disney's most popular films like Mary Poppins, Aladdin, and Dumbo. It is the world's largest tethered gas balloon! The balloon itself is attached to a gondola that is 19 feet in diameter and holds up to 29 Guests and the pilot at a time. Once in the air, guests have a spectacular view of Disney World and up to 10 miles away!
Tickets for this Downtown Disney entertainment option may be purchased at the attraction's ticket window. Ticket Prices are: -$16 Adult (tax included) - Guests ages 10 and up -$10 Children (tax included) - Guests ages 3 - 9
Weather permitting, the hours of operation are every day from 9 a.m. to midnight.
If you can not find what you are looking for here at Downtown Disney Entertainment, you can search within our site by using the search box below.
Custom Search
Return from Downtown Disney Entertainment to Downtown Disney Westside

Return from Downtown Disney Entertainment toPrincess and Pirate Family Vacations Home