Downtown Disney Dining
Westside
Your Downtown Disney Dining choices for the Westside include several eateries that were based on or were inspired by those in the entertainment industry.
I have always thought that the restaurants on the Westside were more "grown up " in theme and taste and therefore perhaps better suited for couples out on date night or for groups of young adults out for the night painting the town (downtown)red . I don't really have anything to base this opinion on other than knowing that our family with young children has gravitated toward the more family oriented restaurants of the Marketplace through the years.
At any rate, these fun and energetic restaurants are so diverse in the type of atmosphere and menu options that they offer, I am certain that everyone will find something that appeals to their personal preferences.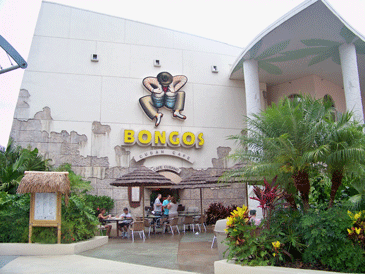 Bongo's Cuban Cafe - is located across from the AMC Theaters on the banks on the Buena Vista Village Lake. It can be recognized by the 75 foot tall pineapple that is part of the restaurant but looks like it sits outside between the restaurant and the water's edge. This restaurant's style is similar to the clubs of Miami's South Beach.
Bongos was created by singer Gloria Estefan and her husband Emilio. It offers a taste of authentic Cuban cuisine in a wonderful atmosphere that recreates a lively 1950s Havana nightclub. Guests can dine and if the mood strikes they can even dance to the Latin beat. By the end of your meal you'll feel you've been transplanted to a Miami hotspot-if not Havana itself. There is entertainment on Friday and Saturday nights.
FoodQuest - is located inside DisneyQuest and is a counter service Downtown Disney Dining option. Here you can find pizzas, pastas, sandwiches, salads, burgers, hot dogs, wraps, and assorted snacks.
Forty-Thirst Street - located next to Pleasure Island Bridge. Menu selects include an assortment of beverages and snacks such as fruit juices and smoothies, cappuccino, and desserts .
The House of Blues - is a live music club and a popular Downtown Disney Dining option on the Westside. It brings a taste of the Mississippi to Central Florida by serving Southern cuisine for lunch, dinner and Sunday brunch. The menu offers a wide variety of tasty Cajun and Southern specialties. Mouth-watering favorites include Voodoo shrimp, slow-smoked baby back ribs, Creole seafood jambalaya, Louisiana crawfish, sizzling steaks, beefy blues burgers, pizzazzy pizzas and homemade banana bread pudding.
The Sunday Gospel Brunch offers an all-you-can-eat buffet of Southern cooking and as you feast music is performed by top gospel groups. Brunch fare includes fresh pastries and assorted fruits, buttermilk biscuits and gravy, scrambled eggs, cheese grits, bacon, sausage and omelets made-to-order at an omelet station. Southern favorites such as fried chicken, chicken jambalaya and smoked catfish are also on the menu, along with homemade banana bread.
Come by to eat a delicious brunch and have your spirits raised in an atmosphere of Southern hospitality where authentic gospel music is celebrated. Praise the Lord and pass the biscuits!
Planet Hollywood - is a popular Downtown Disney Dining option that is perhaps more famous for its owners than for its food. The menu offers standard fare like burgers, BBQ ribs, steak, chicken and pasta. To be honest, I have only been to Planet Hollywood once and I really wasn't impressed with my food. The atmosphere is fun and entertaining as famous movie memorabilia decorate the inside and outside of the restaurant, but I did not find the food to be anything special.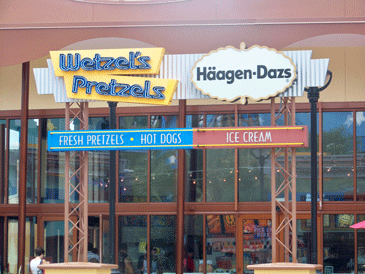 Wetzel's Pretzels - is an indoor snack stand that features hot gourmet pretzels in a variety of flavors and Haagen-Dazs ice cream, milkshakes, and sundaes. They also have fresh squeezed lemonade and much more.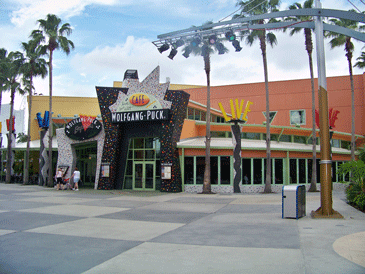 Your Downtown Disney Dining options include four Wolfgang Puck dining options or experiences all under one roof:
Wolfgang Puck Express - is for guests on the go. It is a quick, counter service area designed for takeout. The menu offerings include a large selection of soups, salads, sushi and some of Wolfgang Puck's signature entrees. Open for lunch, dinner and late night snacks.
The Wolfgang Puck Cafe - is a casual dining restaurant that serves up signature specialties like gourmet pizzas from wood-burning oven, fresh hand-tossed salads, zesty pastas and decadent desserts. The menu offers selections that should satisfy everyone in your party
The Wolfgang Puck Sushi Bar - offers fresh, high quality sushi. All of your favorites are offered separately or on platters and Sushi samplers.
Wolfgang Puck Dining Room - Dine on the inventive creations of master chef Wolfgang Puck at this exciting, upscale eatery. Guests can enjoy specialty pizzas, duck three ways, lamb, sushi, pasta, fresh fish, short ribs, lobster and the delectable desserts like baked meringue Key Lime pie. Complement your meal with one of the many excellent, affordable wines.
Wonderland Cafe is located inside of DisneyQuest. This snack counter offers various desserts, snacks, adult beverages, and ice cream novelties. When FoodQuest is closed Wonderland Cafe may offer select wraps, salads or sandwiches.
If you can not find what you are looking for here at Downtown Disney Dining, you can search within our site by using the search box below.
Custom Search
Return from Downtown Disney Dining to Downtown Disney Marketplace

Return from Downtown Disney Dining to Princess and Pirate Family Vacations Home