Disneys Streets of America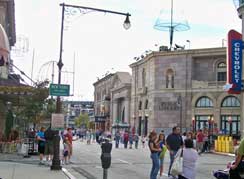 Disneys Streets of America consists of building and street facades that were made to look like New York City. You'll find recreations of The Chrysler, The Empire State and The Flatiron Buildings.
As it is true with all things Disney, the magic is always in the details. Listen carefully as you walk down the street and you will hear the sounds of the city. Some of the sounds include playing children, honking horns, screeching buses and police whistles.
Look around Disneys Streets of America and the magic continues. You'll see antique stoplights that were actually used in the streets of New York during the 1930's. The brownstone stoops and the broken fire hydrants add to the charm of the Streets of America at Hollywood Studios.
Muppet Vision 3D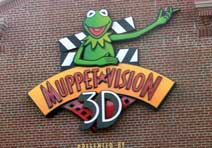 Muppet Vision 3D is located on Disneys Streets of America and runs continuously throughout the day with a new show starting about every 25 to 30 minutes. All of your favorite Muppets star in this funny presentation that is brought to you directly from the Muppet Labs. Dr. Bunsen Honeydew and his assistant, Becker introduces a new character, Waldo, to the audience. Waldo is the "Spirit of 3D" and he makes several appearances during the show.

If you were a fan of the TV series "The Muppet Show", you will instantly recognize the 3D theater. The red velvet theater comes complete with the two grumpy old men, Statler and Waldorf, who always sat in the balcony and made wisecracks during the TV series.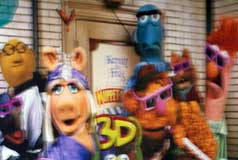 There are two parts to this attraction. The first is a 12 minute pre-show video that gives clues as to what is to come and what to expect from the actual movie itself. You'll get to see Kermit the Frog, Mrs. Piggy, Fozzy Bear, and even Gonzo during the show. Watch out for the wacky 3D effects like flying pies, squirting water, blasting cannons and the occasional attack of floating bubbles.
The movie is very funny and the 3D effects are very life like. This attraction at Disney's Hollywood Studios was one of Jim Henson's last major projects before his sudden and unexpected death in 1990.
"Honey, I shrunk the Kids" Movie Set Adventure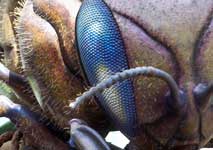 Have you ever felt small in this big world, maybe even as small as an ant? If not, spend some time playing on this oversized playground equipment that has been made to look like common backyard items from the "Honey, I shrunk the kids" movie set.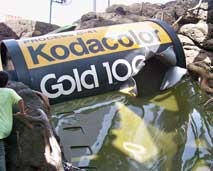 This is a soft floor outdoor playground located just off of Disneys Streets of America that has equipment that looks like items from the movie. You can explore ant tunnels, climb on spider webs, and slide down the film that has unraveled from a giant film canister. You can also have fun playing on big squishy fruit loops and giant Lego blocks.
This is a fun spot or kids but not so much for the parents. The playground is usually crowded and there is not many places for parents to sit while their children play.
Lights, Motor, Acton Extreme Stunt Show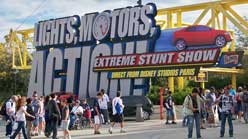 In the Lights, Motor, and Action Extreme Stunt Show you get an insider's view of how vehicle stunts are done for big time blockbuster Hollywood action films. The show originally debuted at Disneyland Paris. That is the reason why the set resembles a marketplace from a village in France. If you look at the set carefully, you will notice that one of the shops is named Cafe' Frances.
The Lights, Motors, Action Show is a 33 minute high adventure stunt show that consists of four scenes. Some of the action includes cars and motorcycles flying through the air then the vehicles skid and spin as they land on the ground.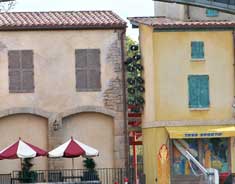 The premise of the stunt show is the filming of a European spy thriller that has a working crew on a live film set. As each scene is completed, the director appears to put the scenes together into one video that is then displayed on a large video screen for the audience to view.
The show takes place several times each day at the end of Disneys Streets of America so be sure to pick up a Times Guide when you arrive at the park for current show times.

The Lights, Motors, Action show is very interesting because after they show you the stunts then explain how they are done.

I think boys would like this stunt show more than I do.
Studio Backlot Tour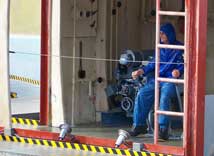 Discover the magic of movie making on this 35 minute backlot tour. Even though, technically the studios at Disney no longer has a working backlot.
The first stop on the tour is at a large outdoor special effects area where water effects, like the use of water cannons and fire bursts are demonstrated. Volunteers are used to film movie clips for a fake movie called "Harbor Attack". The clips are edited and put together to make a funny video for the members of the tor to see.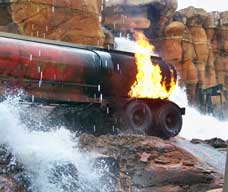 The second part takes you on a walking tour of one of Disney's prop rooms. Pay attention because you might recognize some items from some of your favorite movies. Next, you climb on board a tram that takes you past the wardrobe department, more props and pieces from different movie sets. The tram ride takes you to Catastrophe Canyon. Catastrophe Canyon is a desert themed special effects area. On this part of the tour you will experience the effects of an earthquake, a fire caused from a tanker truck explosion and a flash flood. Never fear, your tram escapes without incident.
The tram then takes you to the exit area. On the way you will pass some vehicles that were used in various movies and even the jet that Walt Disney personally used during the 1960's. When you exit the tram you walk through the American Film Institute showcase. The exhibit in this area changes periodically. Currently, the exhibit features some costume pieces from some famous movie villains.

My favorite part of the Backlot Tour is seeing the dresses and costumes from the movies.

Disneys Streets of America Entertainment
Mulch, Sweat, and Shears- Landscape workers that are taking a break from work, drive their work vehicles into Disneys Streets of America to rock out and entertain you with a live rock show. Mulch, Sweat and Shears isn't really landscape workers at all. They are actually a group of men that belong to a rock band. They entertain guests at Disney's Hollywood Studios several times a day. The band performs popular hit songs while getting the spectators involved by letting them to play cowbells and air guitars. The group is rather funny and changes the words to some of the songs to make them family friendly. Check the Times Guide for performance times.

Disneys Streets of America Dining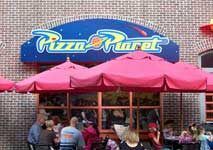 Toy Story Pizza Planet Arcade is a two story pizza factory that serves personal sized pizza and a variety of salads. After eating, relax a little while the kids play some video games.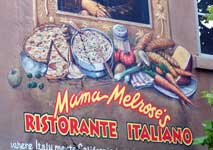 Mama Melrose's Restorante Italiano also serves pizza but in a slightly more upscale casual atmosphere. The restaurant is made to look like a New York style eatery in a warehouse setting. In addition to pizza, the menu consists of various chicken, steaks, seafood and of course pasta dishes.
The Studio Catering Co./ Flatbread Grill is located near the "Honey, I shrunk the Kids" playground. It is an open air covered counter service restaurant. The menu offers Greek salads, pulled pork sandwiches, grilled chicken wraps, drinks and ice cream.
The Writers Shop -This is a combination coffee/sweet shop and bookstore. You can sit and sip on a specialty coffee while enjoying a sweet treat like a cookie or brownie and relax for a few minutes. Or you browse around to find a book to purchase.
Herbie's Drive In is actually a street vendor in the shape of a racing trailer. They sell different snacks like pretzels, chips, churros, frozen drinks and Coke-Cola products.
High Octane Refreshments- As the name implies, you can purchase specialty drinks containing alcohol at this location.

Disneys Streets of America Shopping
It's a Wonderful Shop -This is a year round Christmas shop that sells Disney inspired holiday gifts and ornaments
The Writers Shop -As mentioned earlier, this is a combination bookstore/coffee Shop. You can find everything here from Disney books to best sellers. The shop also carries a small collection of CD's, videos and coffee related items.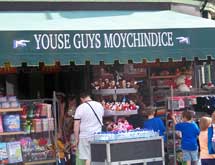 Youse Guys Moychindice-This Disney sports related store looks like a street vender from New York has been relocated to Disneys Streets of America. They sell stuffed animals, Disney logo jerseys, and a selection of different sports balls.
The Stage 1 Company Store is located near the exit of Muppet Vision 3D. The shop sells all sorts of Muppet related toys, clothes and lots of other merchandise too.
American Film Institute Showcase Shop -This shop is found at the exit of the Backlot Tour and the Film Institute showcase. They specialize in movie related items like honorary Oscars, books, postcards, and memorabilia from movie stars like The Three Stooges, Lucille Ball and Marilyn Monroe.
If you can not find what you are looking for here at Disneys Streets of America, you can search within our site by using the search box below.
Custom Search
Return from Disneys Streets of America to Hollywood Studios

Return from Disneys Streets of America to Disney Theme Parks

Return to Princess and Pirate Family Vacations Home