Disneys Hollywood Boulevard




The Great Movie Ride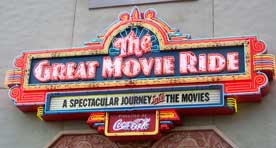 At the end of Disneys Hollywood Boulevard is The Great Movie Ride housed in a realistic recreation of Grauman's Chinese Theater. This ride is a slow moving indoor tram tour that pays tribute to Tinseltown's biggest and best blockbuster hits.
As you make your way through the line, stop and look at the movie memorabilia that is on display. You will see the costume that the character Susan wore in The Chronicles of Narnia and the carrousel horse that Mary Poppins rode in the movie by the same name. These are just two of the items that can be found in display cases along the way to the actual ride.
Once inside the theater section of the line you will see a wide variety of film clips, from Mickey Mouse in Fantasia to Gene Kelly in Singing In The Rain. You are sure to see a few movies that you recognize from years past.
Finally, you board a tram for a tour through some of the movies from the golden age of Hollywood. Full size dioramas recreate 16 different scenes from Hollywood's greatest movies. These movies include "Casablanca" (1942), " Footlight Parade" (1933), "Mary Poppins" (1964), and "Raiders of the Lost Ark" (1981). The tour ends with a wonderful movie montage with almost 250 film clips.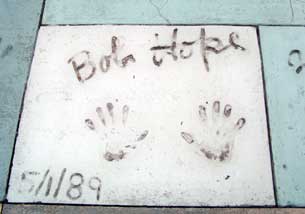 After the ride, go outside and see if you recognize any of the famous names and hand prints set in concrete in front of the theater.



Disneys Hollywood Boulevard Entertainment
High School Musical III Pep Rally - Several times throughout each day you can sing and dance along with the performers of the High School Musical Pep Rally. This high energy street show takes place in front of the Sorcerer's Hat and is a must for any fan of the hit HSM movies.
Block Party Bash - The Block Party Bash is an interactive street party that was inspired by some popular Disney/Pixar films. The processional is lead by the little green army men from the Toy Story movies. The party includes trampoline acrobatics and audience participation.
The Citizens of Hollywood - is a group of about 17 improv actors that are what I think is a true to life representation of what actors from the 1940's would have been like in Tinseltown. The actors chat with guests in the streets and get them involved in different skits. Watch the various characters closely; they never, ever break character. They are very entertaining and a lot of fun to watch.



Disneys Hollywood Boulevard Dining
Hollywood Brown Derby
The Hollywood Brown Derby Restaurant in the Hollywood Boulevard section in Disney's Hollywood Studios is another true to life recreation. This restaurant at Disney is very much like the real Brown Derby from the glamorous years of Hollywood's history. The atmosphere and décor have a classic sophistication highlighted by rich tones and warm woods of mahogany and teak. Almost all available wall space is covered with celebrity caricatures. This only adds to the authenticity and charm of the eatery.
The menu has several signature dishes that have made the Brown Derby famous through the years. The Cobb salad and the grapefruit cake are both from the original menu. The menu in general is more sophisticated and is a great choice to eat for adults. Children may prefer simpler food choices. Reservations are suggested.
To make reservations call 1-407-WDW-DINE
To see a menu from the Brown Derby visit
allears.net



Disneys Hollywood Boulevard Shopping
Celebrity 5&10 - This large shop has kitchen items like aprons, ice trays and glasses, bath products and some other common household items.
The Darkroom - This shop carries all of your camera and video camera needs. They have a good supply of memory cards, camcorder CDs, batteries and disposable cameras.
Crossroads of the World - Located just inside the main entrance this shop sells pins and postcards. Locker rentals are available as well as guide maps and show schedules.
Cover Story - Park photographs can be purchased at this little spot next to The Darkroom camera center.
Keystone Clothiers - Men and Women's clothing.
L.A. Cinema Store - Children's cloths and toys that all feature Disney logos and characters.


Mickey's of Hollywood - Character clothes, toys and watches.
Movieland Memorabilia - This outdoor shop has everything to meet all of your Hollywood Studio souvenir needs.
Sid Cahuenga's One-Of-A-Kind - Old and new movie memorabilia, souvenirs and collectibles.




If you can not find what you are looking for here at Disneys Hollywood Boulevard, you can search within our site by using the search box below.
Custom Search
Return from Disneys Hollywood Boulevard to Hollywood Studios

Return from Disneys Hollywood Boulevard to Princess and Pirate Family Vacations Home