Disney World Japan Pavilion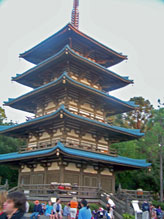 The Disney World Japan Pavilion is a beautiful section of the World Showcase. It has peaceful gardens and koi filled ponds. But, the first thing most people notice is the five story pagoda that rises 83 feet above the pavilion. Each level of the pagoda represents a different element in the Japanese culture. The five elements are earth, water, fire, wind and sky.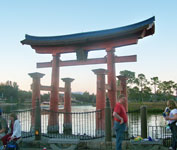 The Disney World Japan pavilion is divided into 3 sections. The left side including the pagoda represents culture and religion. The right side where the stores and restaurants are located represents commerce. The rear of the pavilion symbolizes the political history of the country.



Exhibit
Tin Toy Stories - This exhibit is located in the Bijutsu-kan Gallery at the back of the pavilion. This exhibit showcases dozens of tin toys from the Kitahara collection.



Entertainment
Matsuriza Taiko Drummers - These performers pound out hypnotic rhythms on giant hand made drums. The drums can often be heard throughout the World Showcase but you need to be up close watching to see the graceful way they play these drums. It is truly a magical performance.
Miyuki - This is a candy artist who will amaze you as she creates colorful candy animals out of a taffy like rice dough. If you stand up front the artist will ask what colors and animal you would like and she will create it for you as you watch. She then gives you the piece of artwork for you to eat or to admire.



Dining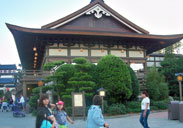 Teppan Edo - New in 2008, this restaurant replaced the Teppanyaki Dining Room. Chefs use grills set into the table to cook your choice of beef, seafood, or chicken as you watch. Guests share tables with other guests.
Tokyo Dining - This restaurant provides outstanding food, atmosphere and service. It also provides an excellent way to fully experience the Japanese culture. Dishes include beef teriyaki, shrimp tempura, sushi, and sashimi.>
The Yakitori House - Serves beef and shrimp bowls, miso soup, terriyaki chicken, sushi, and Japanese desserts.
Kaki Gori - This snack stand serves fruit flavored shaved ice in flavors such as honeydew melon, tangerine, and strawberry. If you can't make up your mind as to which one to try, try all three in one delicious cone.

Yuck! Sushi!



Shopping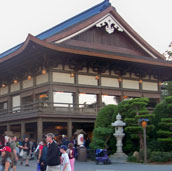 Mitsukoshi Department Store - This is a 10,000 square foot department store that is divided into four main sections.
The Festivity Area - has all kinds of cooking equipment, chopsticks, teas and candy. There is also a sake tasting area in this section of the store.
The Interest - section has children's item like toys, Seiko clocks and watches and a pick-a-Pearl (from a oyster) bar.
The Harmony - this section has items such as hand bags, sandals, shirts, glass-bead jewelry and silver.
The Silence - this section has apparel including Kimonos and embroidered jackets, and items for the home like draperies, small table and bonsai trees.
Mitsukoshi Kiosk - This outdoor cart sells novelty items and candy.



Kids
Kidcot - Japan's Kidcot table is located in the back of the pavilion at the rear entrance to the Mitsukoshi store.
If you can not find what you are looking for here at Disney World Japan Pavilion, you can search within our site by using the search box below.
Custom Search
Return from Disney World Japan to World Showcase.

Return from Disney World Japan to Princess and Pirate Family Vacations Home