Disney Port Orleans French Quarter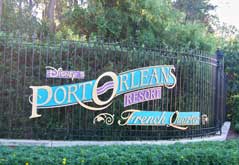 Disney Port Orleans French Quarter is a Disney moderate resort. Staying here lets you experience the fun and excitement of New Orleans while on your family vacation to Disney.
The resort has recreated the look and feel of the French Quarter district in New Orleans. The attention to detail will make you feel like you are actually in Louisiana.
The resort has seven three-story buildings with a total of 1,008 rooms. The buildings have iron railing and bright colors. Looking out over the railings from the outside corridor you get the feeling that you could be looking down from a balcony in New Orleans watching the Mardi Gras parade.
The rooms at Disney Port Orleans French Quarter and in all moderate resorts are slightly larger than those in a value resort with an approximate 300 square feet. The set up of the room is the same as Port Orleans Riverside with two double beds. A limited number of rooms have a king bed. Each room has a small table with two chairs, a sitting bench, a nightstand, dresser and a TV. A refrigerator and coffee maker are provided for your convenience.
The bathroom includes a tub/shower and toilet in one area and the sink and vanity in another area. Hair dryers are provided as are irons and ironing boards.
The prices for this moderate resort start at $149.00/night. Each room sleeps a maximum of four people.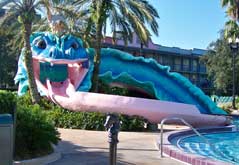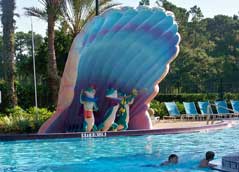 You will find plenty of activities at the resort if you want to take a break from the parks for the day or for just a few hours. The main swimming pool is called Doubloon Lagoon. It has a giant dragon slide that will keep the kids busy for hours.
You can also rent a cane pole to go fishing at the resort. However, you will not get to keep the fish that you catch. Disney has a strict catch and release policy.
The sidewalk beside the Sassagoula River makes for a nice stroll or a bike ride. The landscaping is beautiful with the gas lamps and flowering trees.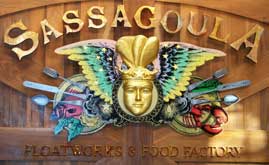 When you get hungry, you can head over to Disney Port Orleans Riverside to Boatwright's for a nice sit down meal. Or you can take advantage of the fast service at the food court at Sassagoula Floatworks and Food Factory.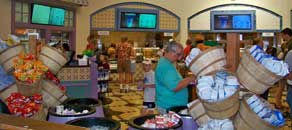 They offer a wide variety of food choices from pizza and pasta to hamburgers and BBQ. The food court looks like an old warehouse. The area is decorated with Mardi Gras masks and costumes.
Getting around Disney World is easy when you stay at a Disney Resort. Different types of transportation are available to take you where you want to go. You can take a bus from any of the stops within Port Orleans French Quarter to get to the theme parks, water parks and Downtown Disney. The buses run about every 15-20 minutes. Ferry boat transportation is also available at the resort to Port Orleans Riverside and the Downtown Disney area.
The lobby is in the main building along with the front desk where you will need to check in upon your arrival. This is where you will also find Scat Cats Lounge. They serve both alcoholic and nonalcoholic beverages here.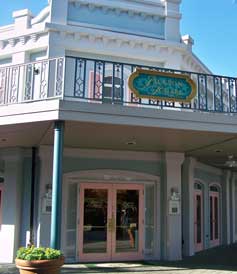 The resortls gift shop, Jackson Square, is located in the main building, too. You can find just about everything you can think of including toiletries and over the counter medications in this store. Snacks and soda are available for those occasional snack attacks. Remember that each room has a refrigerator so if you buy any items that need to be kept cold you will have a place to store them.
Disney Port Orleans French Quarter is a Disney moderate resort that offers many amenities at an affordable price.
If you can not find what you are looking for, you can search within our site by using the search box below.
Custom Search
Return from Disney Port Orleans French Quarter to Disney-Moderate-Resort

Return from Disney Port Orleans French Quarter to Princess and Pirate Family Vacations Home