Disney Morocco Pavilion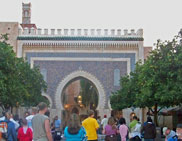 The Disney Morocco pavilion in the World Showcase is a combination of the old and new architectural styles. The exterior of the buildings are made from brick, plaster and sandstone. The interior of the buildings have beautifully detailed tile mosaics. There is a courtyard with a fountain and a working waterwheel. The pavilion as a whole is a work of art.
The Moroccan National Tourist Office is an information center offering literature that if useful if you are planning a trip to the country. The center also provides tours that give in depth information on the culture, history and agriculture of Morocco. Tours are held daily and last about 20 minutes. You can inquire about tour times at the information desk in the tourist office.



Entertainment
Mo' Rockin - This band performs live several times each day on stage beside the lagoon. The style of music is modernized Arabic. Belly dancers move to the hypnotic sounds of the band that combine authentic Moroccan instruments with modern day keyboards and violins. Each show is about 20 minutes long. You can enjoy the music while you stroll around the pavilion.



Dining
Restaurant Marrakesh - serves traditional dishes such as roast lamb, beef kebabs, and couscous. A belly dancer often entertains guests while they are enjoying their meal.
Tangierine Cafe - Consider this Moroccan fast food. Menu items include lentil salad, hummus, tabbouleh, and a variety of meat sandwiches including lamb, beef and chicken.



Shopping
Tangier Traders - This shop has traditional Moroccan clothing and accessories for sale including woven belts, purses, and leather sandals.
Marketplace in the Medina - Available here are straw hats, baskets, sheepskin wallets and bags, scarves and carpets.
The Brass Bazaar - among the brass in this shop you will also find ceramics, ornate bottles, soapstone craving framed prints and other Moroccan collectibles.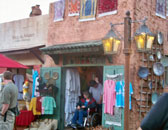 Souk Al Magreb - this shop is located on the World Showcase promenade next to the entertainment stage. You can find baskets and leather good here along with toy camels and a small selection of clothes. If you want a henna tattoo, you can get one on those here, too.



Morocco for Kids
Kidcot - The kidcot table is located in the Marketplace in the Medina.
Characters - appear daily in the room behind the marketplace. Aladdin, Princess Jasmine and sometimes Genie will pose for pictures and sign autographs.
If you can not find what you are looking for here at the Disney Morocco Pavilion, you can search within our site by using the search box below.
Custom Search
Return from Disney Morocco Pavilion to the World Showcase.

Return from Disney Morocco Pavilion to Princess and Pirate Family Vacations Home